The Oscars aren't all about the ballgowns and tuxes. We take a look at the stars' fancy footwear...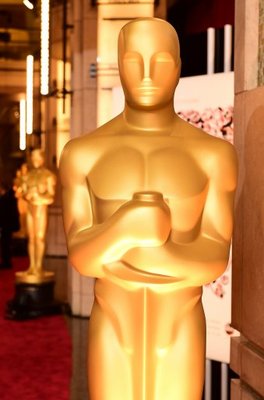 The Oscars are as much about fashion as they are about movies. Film-buffs may be flocking to cinemas to see the big-winning flicks like Birdman and The Theory of Everything, but fashionistas will be hitting the shops, inspired by the stylish ensembles they saw sashaying down the red carpet.

And it's not just about the stunning gowns and sharp tuxes, this year the stars put their best feet forward in some eye-catching , on-trend footwear. We take a closer look at some of the best shoes spotted on the red carpet and how you can get the look yourself.


Add a caption
Emma's custom-dyed Louboutins matched her dress perfectly
Co-ordinating colours
This year saw many leading ladies choosing one colour to wear from their head to their toes. Emma Stone, Rosamund Pike and Jessica Chastain all opted for shoes in the exact same shade as their stunning floor-length gowns (all of which featured a slit skirt –all the better for showing off their coordinating footwear).
Emma opted for some custom-dyed Christian Louboutin peep-toe sandals to match her chartreuse Elie Saab dress, while Best Actress nominee Rosamund chose some ruby sandals to match her Givenchy gown and Jessica modelled some navy satin platforms with her Givenchy by Riccardo Tisci dress.
Get the look yourself – If you can't find shoes the exact shade you're looking for, why not follow in Emma Stone's footsteps and dye a p
air?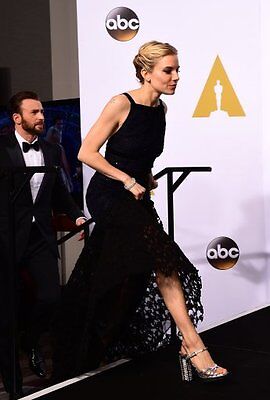 Add a caption
Sienna could walk with confidence in her chunky heels
Chunky heels
Every actress's worst nightmare must be to slip up on the red carpet, but when you're wearing skyscraper heels and floor-length gowns it's always a risk. Sienna Miller opted to combine style with a touch of practicality in some platform sandals by Prada with a chunky heel. Disco platforms have been picked out as a top trend for next season and the American Sniper actress showed she is ahead of the game in theglittery silver sandals.
Get the look yourself – Disco platforms were first fashionable in the 70's, why not
hunt for the perfect vintage pair on eBay
?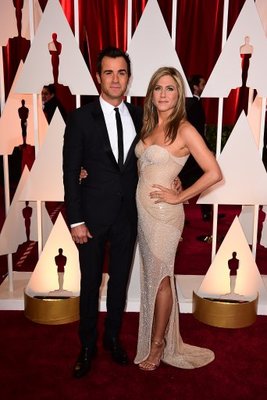 Add a caption
Jen had a trial run of walking the red carpet in her strappy shoes
Slim straps
For many actresses, less was more when it came to shoes, with barely-there strappy sandals letting the rest of their outfit do the talking. Jennifer Aniston paired her glittery dress with some gold sandals with a thin toe bar and ankle strap. The four inch heels may have looked tricky to walk in, but Jen managed it like a pro having taken her shoes to the Dolby Theatre on Saturday for a trial run, according to reports.
Chrissy Teigen opted for some almost identical strappy sandals in silver, while Rosamund Pike's were ruby red.
Get the look yourself – Jimmy Choo is the undisputed king of the barely-there sandal. Out of your price range?
Why not hunt for a second-hand pair
?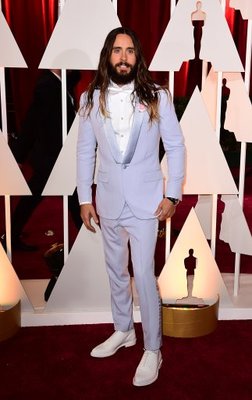 Add a caption
Jared's bright white shoes stood out on the red carpet
Statement shoes for men
Best Actor winner Eddie Redmayne may have played it safe, pairing his navy Alexander McQueen suit with some classic black dress shoes, but a number of other male attendees stretched their sartorial wings and opted for some statement shoes.
Last year's Best Supporting Actor Jared Leto may not have been up for a gong this year, but he still made sure he was the centre of attention in bright white dress shoes and a lavender suit.
Musician and The Voice judge Will.i.am was another star who made sure all eyes were on him, or more specifically his black leather studded sneakers with a chunky white sole. While his footwear was certainly more casual than most attendees', the trainers suited his laid-back monochrome ensemble.
Get the look yourself – For a relaxed look like Will.i.am, why not team your suit with some
Converse trainers
?