6 of the best surround speakers to buy
Buying a set of surround sound speakers can be something of a mission. One of the big problems is likely to be the niggling doubt that you have bought a set that don't suit your amp, or that you're not getting a good deal for the large sum of money you're spending.
Buying a speaker package is one really good way to make sure you're getting a system that's well-matched. Usually, there will be a few choices for you to make. For example, do you want your front speakers to be floor-standing, or on stands? Do you need a massive subwoofer, or something that won't disturb the neighbours? Companies selling packages may well offer a choice in these things, or if you want to make your own system, you can do that from their existing standalone speaker ranges.
Expert Reviews contributing editor Ian Morris guides you through the maze of jargon and recommends six systems to a range of budgets.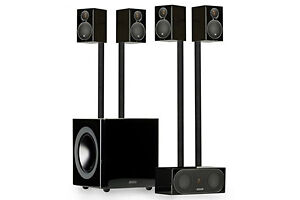 eBay loves:
Amazing build quality, fantastic movie sound
Watch out for:
Bass can overwhelm if you don't set the subwoofer up properly
RRP:
£1,500
The
Monitor Audio R90HT1
system is best suited to a more restricted listening environment. If your room is a little smaller, then these speakers will give you enormous power, but without taking up a huge amount of space.
The Radius 390 subwoofer is absolutely crazy at producing bass. You might find that you need to turn it down quite a bit, especially if you are in a smaller room. It does, however, produce a sound you'd expect from a much larger subwoofer and as much crisper low-range than we'd expect.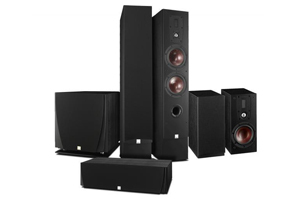 eBay loves:
Great for movies and music, beautifully designed
Watch out for:
Very expensive for a 5.1 system
RRP:
£2,450
Dali speakers are truly brilliant. The company has been making them since the early 1980s and has developed some of the best-sounding hardware we've ever heard. The important thing is the company designs its own speakers from the ground up — and it shows.
At £2,450, the
Dali Ikon 5.1
is enormously expensive for a 5.1 system, but we think it's worth it for such beautifully engineered and amazing-sounding speakers. The surrounds are direct-radiating, too, so you will need to be sure this suits your taste for surround sound.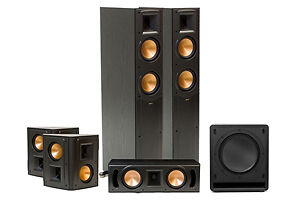 eBay loves:
Beautifully smooth sound, amazing surround quality
Watch out for:
Really needs 7.1 to shine
RRP:
£2562 (7.1) or £1964 (5.1)
The
Klipsch RF-52 II
setup is one of the nicest you can buy. Klipsch has a unique sound that's very well-suited to home cinema. The two floor-standing front speakers are incredibly capable and produce the mid to high-end frequencies. They can almost carry the sound on their own, without the need of a subwoofer or centre channel. But of course, the results when you add in the subwoofer and centre channel are incredible.
Klipsch doesn't have a specific subwoofer for these packs, so we've chosen the sensibly priced SW-110 at £500. You can spend more than £1,000 on a sub from Klipsch and, of course, you might opt for a pair of to give the bass a proper, well-rounded sound. The rear speakers give a wide sound field and you can choose two or four, depending on your preference.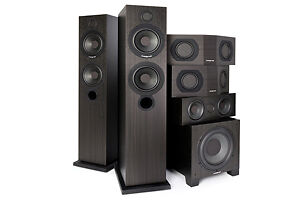 eBay loves:
Good value, bipole speakers give good results
Watch out for:
Subwoofer can get swamped sometimes
RRP:
£1,500
The
Aero 5.1
is a good example of a well-matched speaker system. Cambridge Audio has put together something that justifies buying surround-sound speakers as a pack — everything works well together and the result is a very smooth and immersive sound.
Stereo music is also handled well, which is a rarity for surround-sound speakers. It's a nice-looking, if slightly bulky system, but one that we'd be pleased to put in our own living room. The subwoofer also has a nice trick up its sleeve, too — two drivers. One points into the room and is active, while the other points downwards and is passive, which is an interesting way to maximise bass.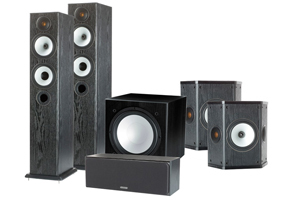 eBay loves:
Amazing build quality, and superb surround sound quality
Watch out for:
Need to be set up properly to give the best sound
RRP:
£1,349
Monitor Audio
speakers are incredibly well designed and beautifully constructed. In fact, they're far better made than their reasonably modest price would lead you to believe. Monitor goes for dipole speakers for the surround speakers in this kit, which are very good and produce an amazing, wide sound field.
Monitor Audio also has a talent for subwoofers. Tight and incredibly controlled bass is their calling card, so anyone investing in this system will be able to enjoy some seriously powerful low-frequency sound. Adding in another pair of surround-sound speakers for a 7.1 system will cost you around an extra £250.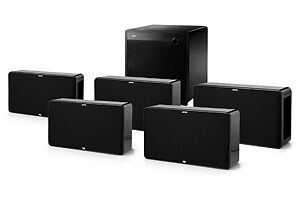 eBay loves:
Beautiful THX certified sound, great looking speakers
Watch out for:
You need a large room to enjoy the sound
RRP:
£1,700
The
Jamo D 500
is very expensive, but supports THX Select2 audio, which is designed for large rooms where you sit around 12ft from the screen. This means these speakers are very powerful and are designed to perform to the exacting standard of THX. The three front speakers are all identical to give an even response from all channels — unusual in normal speaker packs, but standard for THX.
In THX setups, the main speakers don't reproduce any sound below 80Hz, so the front and surround speakers are a little smaller than usual, making them easier to position in some rooms. The rear channels in this pack are dipoles, too, so expect a good immersive sound.
Buying a set of surround sound speakers is quite simple, though there are a few things worth knowing. The first is how much power can your amp deliver to each channel. If you want to drive the speakers hard and have a big room, make sure you get speakers that can handle the maximum output of your amp.

You'll also need to know if you want a 5.1, 5.2, 7.1 or 7.2 setup. Most amps these days will be able to drive 7.2 speaker configurations. That means two subwoofers, one centre channel, one front stereo pair and four surround sound speakers. If you can afford it, consider at least a 7.1 set-up (with one subwoofer) — it makes a huge difference to the sound and gives an astonishing listening experience.

Direct radiating vs. dipole and bipole
There's a choice of three speakers types when it comes to the rear surround speakers. Direct-radiating speakers emit sound from drivers on the front of their cabinet, whereas bipole speakers have drivers on opposite either side to emit sound along the rear wall for less-directional ambient sound. Bipole speakers have drivers that emit sound 'in phase' (at the same time, in other words), but dipole speakers emit sound 'out of phase' — i.e. only one driver works at once. These create an even more enveloping sound effect, which is ideal for films.

Two subwoofers or one?
There used to be an argument that bass wasn't directional and that you really only needed one subwoofer that could be positioned almost anywhere in a room. This is actually not the case and bass is somewhat directional, so you should never hide a subwoofer away — it will change the tone of the sound considerably.

Although room shapes will force some people to make compromises with their subwoofer positioning and most won't want two, it's still worth considering where you put yours. Try to place it somewhere it can give an even sound to the whole room, or you may find that the bass sounds different in every seating position. Two subs will create a more balanced low-bass sound, but they'll also cost more— and take up more space.

Don't forget about cables
We don't advocate buying overpriced cable for your surround sound speakers. It's worth getting something made from good-quality copper, but bear in mind you might need quite a lot of it and copper is quite expensive these days.
You'll also need to calculate how much you'll need. Be generous, because running out of cable, or having to join two lengths, could cause problems with signal quality. On the whole, these things are pretty forgiving though, so don't fall into the trap of over-paying.