http://www.ebay.co.uk/gds
Looking for the best baby carrier for your baby can be very time consuming as I have found out, you want the best for baby (safety and comfort) and also comfort when your carrying baby around for any length of time.
I have been using the Stokke Baby Carrier for around 3 months now and I highly reccomend this.
It is fidly at first but this is only because unlike some baby carrier with a basic clasp (which I found came undone very easily when looking around at carrier) this has a very secure metal clasp, which has not come undone whilst I have been out and about with baby.
It has 3 positions, 1 inward facing for smaller babies, 2 forward facing for older babies and 3 you can carry toddler on your back.
This baby carrier has been very well thought out and may seem a little expensive, but the quality more than exceeds other baby carriers.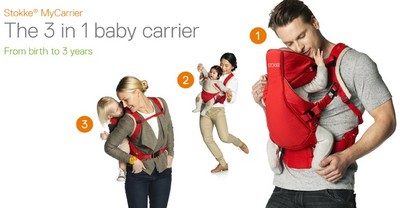 Showing the different ways you can use the carrier. Suitable fom birth a baby's head is protected and can be used up to toddler age (picture 3)