For those of you who don't mind if an item is a fake, as long as it looks real. Have you ever thought if it actually WORKS like the real thing? Or even works like it's supposed to?
Face it, a lot of people don't care that what they're buying is fake, as long as they can show it off as the real thing to others. But there is a real price to pay when it comes to USB Pen Drives. Your 2GB USB Stick, doesn't save 2GB at all! Think of it as 'virtual data'. Only 128MB is really saved, the rest is unstable. Sure, you look at it, it works great you think, but a few days of weeks down the line you cry obsceneties when you realise you've been duped!
Just type FAKE SONY 8GB (or whichever size you have, 2GB, 4GB), or FAKE SANDISK into yahoo or google and click search. Do it now, and then come back after you read. You won't be back for a while, there's plenty to read, plenty of cries, and I feel for them, I really do.
Below picture collection of many of the notorious Counterfeit USB Drives with Fake capacities ranging from 1GB to 8GB - this means they don't actually have 2GB when they say they do. They actually have about 128MB and have been programmed, very easily done I might add, to make it appear to have 2GB, or more, upto 8GB. You'll think you have 2GB saved on your shiny new 2GB USB Pen Drive, when in fact you are about to lose most of the files saved on it within a few days, or weeks. The hex data, as a result of unstable compression, eventually collapses and you'll only have 128MB left, out of the 2GB you saved. If you have a fake 8GB Pen Drive, the same applies to you. I am not the most technical, but I understand the basics, and all I really need to know is a fake 1GB, 2GB, 4GB or 8GB will only save about 128Mb, anything above that will only last a few days. Do you want to risk it?
Even if you buy from a UK seller, he or she may have themselves bought from the Far East, where most fakes originate. There is a company called iCreate that some countrefeiters particularly prefer as they manufacture very cheap flash memory, used in USB Pen Drives. The counterfeiters simply re-program a 128MB USB Pen Drive, and get a famous brand like Sony, or Sandisk printed on an outer case. It is very simple for them to do.
Hope this helps everyone to identify and avoid buying them!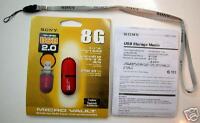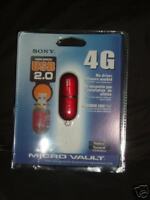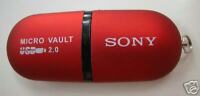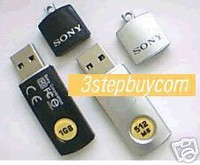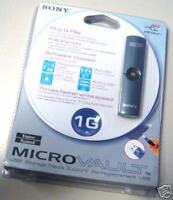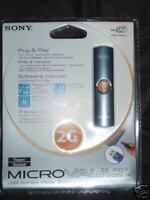 ================================================================
================================================================
CAVEAT EMPTOR, BEWARE of SCAM
Millions of eBayers have been DECEIVED!
================================================================
(1). A very high number (more than 95%) of all 1GB, 2GB, 4GB and 8GB USB Flash Drives listed on eBay are Counterfeit items and have 'Fake' capacities.
- They were reprogrammed from much smaller cousins 128MB, 256MB and 512MB capacity drives for quick profit!
- Difficult to differentiate visually, as they look like cousin to a real mccoy. Most of them even have brand new packaging like a real mccoy.
(2). COMMON counterfeit brands found flooding on eBay are:-
- Sandisk - Cruzer Mini or Micro. (Counterfeit SanDisk does NOT have bundled software such as 'CruzerLock 2, PocketCache, CruzerSync & SecurDataStor') & its retail packaging does NOT have the metallic 'SanDisk Hologram/Holographic 3D sticker'. Another quick way is to identify the label on the actual physical drive body where usually the fake has 'cruzer mini 2.0 GB' label and genuine has 'cruzer mini 2 GB' label.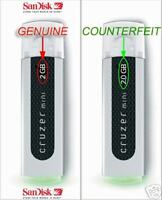 - Sony - Micro Vault. (Counterfeit Sony does NOT have bundled software such as "Virtual Expander").
- Kingston - Data Traveller I & II. (Counterfeit Kingston does NOT have bundled software such as 'Migo').
- Imation - Swivel & Mini. (Counterfeit Imation does NOT have bundled software such as 'Imation Flash Manager').
- Hyundai, Laser, LG, Transcend, TwinMOS.
- No Name or No Brand.
(3). How to tell if your USB drive is counterfeit and has fake oversize capacity?
- The fake will deceive you by displaying the 'false/oversize' capacity when you connect it to your PC, but they will NOT be able to hold the data size to the capacity as stated.
- So you MUST perform data test by writing a BIG (1GB/2GB/4GB/8GB) file to the usb drive, then READ back the same file from the usb drive to another location on your PC to compare. The READ process is the only proven way to uncover its 'REAL' capacity.
- A genuine USB flash drive will complete data transfer of a single 1GB file anywhere from 60 to 180 seconds written to and usually the write to time is twice as long as the read back time.
- The fake will take an excessively long time (1 to 2 hours) only 'pretending' writing to but the data was not actually being written. Hence when you try to read it back, it will claim data as being CORRUPT. It has also been reported that many strange files/folders will appear and you cannot delete them.
- The fake flash drives are usually shipped out from ASIA especially from China, Hong Kong, Korea or Singapore, and they are also listed on Australian, USA and European's eBay. Beware some even 'pretend' to be Australian sellers!
- The counterfeit model cannot be located or matched with any genuine models on the manufacturer's web site.
- Fake 'USB Flash Drive / Secure Digital / Memory Stick' are flooding the eBay market at very low Buy-It-Now price, mostly out of CN/HK/KR/SG, for example [$45 for 2GB<=128MB], [$75 for 4GB<=128MB/256MB] and [$100 for 8GB<=128MB/256MB] which you think is an absolute BARGAIN!
(4). How to avoid buying or bidding on fake/counterfeit USB Flash Drives?
- They will advertise that their product as not yet available in Australia, USA or Europe as they are only available in China, Hong Kong, Korea or Singapore. Some sellers will display as 'Opening Special'. Some sellers will even say 'I am using one and it works very well for me'.
- Beware of low eBay rating sellers and also sellers that 'ONLY list USB Flash Drives and no other flash memory products'. Some high 100% feedback (and Australian) sellers do not even know what they are selling are fake or counterfeit units.
- AVOID bidding on listings from overseas sellers especially from Asia. They also charge your an arm and a leg for shipping fee. Think of the hassle and also the return shipping fee when you need to return the item to them if they are fake or counterfeit? The fact is you are most likely NOT able to get your refund (even though you may be foolish enough to ship them back believing they will refund your money!)
- No manufacturer's free software preloaded on counterfeit Sony, SanDisk and Kingston USB drives!
- Check the model against the manufacturer's web sites to see if you can locate the same model. Some are easy to spot. Sony, SanDisk and Kingston models are the most difficult to differentiate visually as they usually use 'genuine' pictures from manufacturers' site!
- Do your homework, check the seller's past selling history!
(5). OK, I have done the tests and I realise now I have a fake/counterfeit USB Flash Drive, is it too late? What steps can I take next?
- If you have won the item but have not yet paid and feel that it was dodgy, do not pay otherwise you will not see your money again!
- Whether you have paid or not, you should complete the Significantly Not as Described dispute after 10 days, don't wait, you have 90 days period and you are protected by eBay's Standard Purchase Protection Program.
- If you have paid by Paypal, you can also complete the Paypal Buyer Complaint Process to get your money back.
- If your sellers refuse to reply or refuse to provide a full refund, you must proceed to file it under eBay's Standard Purchase Protection program as above within 90 days of your purchase. You will get your money back from eBay but this takes time, eventually this will also result in full termination of the seller's account.
- So don't let those dodgy sellers run away with YOUR MONEY, make them PAY for their FRAUD and have their eBay and Paypal accounts TERMINATED before they steal money from more innocent eBayers!
It's not just on holiday in the Far East you get scammed, you also get scammed on eBay if you aren't careful.
Good luck to you all!