Bicycle Tyre Valve Types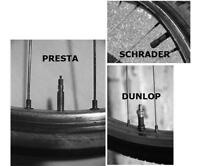 There are three types of valve that you might find used on bicycle tyres. The two current types are Schraeder (Schrader) and Presta though you may still see the now obsolete Dunlop type valve on older bikes.
Schraeder valves are sometimes called 'car type' valves because they are similar in design to the valve you will see on your car tyre. They have sprung loaded core with a pin in the middle that can be pushed with a thumb nail or narrow object to release air from the tyre. If you do not know which type of tyre valve you have, they are most likely to be Schrader type valves.
The other common type of valve is known as a Presta valve and these are found on higher pressure tyre tubes such as those found on racing bikes. Presta valves have a slimmer stem and to inflate or deflate a tyre via a Presta Valve, the entire top section is unscrewed (not to be confused with the dust cap on a Schrader valve). In Presta valves it is the air pressure that shuts the valve and it is kept closed by screwing on the top section.
Dunlop valves (sometimes called Woods valves) are now rare and they are only really found now on much older bicycles. Dunlop valves look a little like a cross between a Schrader and Presta. They have a wider bottom section similar to that of the Schraeder, a collar and a narrow top section similar to the top section found on a Presta.