I've just bought a "Big german tank" from H&F trade (Hamburg) and thought I'd share my experiences with you. The tank itself (a Panther BTW) was an absolute bargain (£26). Despite the location on the listing being "Bristol" it was actually despatched from Hamburg, Germany, however H&F use a great courier DPD which has a very good parcel tracking website so you can follow the progress of your order. It arrived 7 days after I paid. Most comments here about H&F are complaints, but you have to remember that satisfied customers make less noise than angry ones... generally their feedback is very good.
The tanks themselves (made by Heng Long) seem to have a bit of an unreliable reputation. I've read on-line reports suggesting 10% have some sort of problem, however that means that 90% work fine so as with everything E-bay related you have to take a chance. H&F only appear to sell early model Heng Longs. The later ones have better gearboxes and a smoke & sound capability. Reading on-line forums it seems that the smoker unit is the part most likely to fail (usually because of small leaks around joints- this is normally user repairable), but replacements can be bought easily from E-bay. Send a message to the seller to confirm which version they're selling. Smoke & Sound ones cost ~£10-15 more.
The smoker unit is a bit of a pain and Heng-Long's instructions are in Chinese-glish which can be hard to understand. If you overfill the smoker or let it run dry you can permanently damage it. When your tank arrives it should be full. DON'T ADD MORE OIL. A full tank of 5mls of oil is good for 2-3 hours. I'd recommend you get a small syringe for re-filling. If in doubt add less oil. The smoker works best if you upgrade your battery- the 1700mA battery provided is fine, but between running the tank and making the smoke it can drain fast. my new Tiger has a 3000mA battery which is a good investment.
Equally the plastic tracks aren't that strong, however they're quite sophisticated and work exactly like real tank tracks. If a link breaks you can remove the broken bit by pushing out two pins and fitting in a new link. I would REALLY recommend that you get some spares. 10 links should cost you ~£2.50 + p+p. My Panther had very loose tracks on arrival, however removing one link from each track improved it a lot. You can buy steel tracks and gearboxes for Heng Long's pretty easily, but they're expensive (~£70 for a set of tracks). Strangely you can usually find tanks with the metal tracks & gearboxes ready fitted for about £100, so if you anticipate upgrading you can save yourself a lot of time and money by buying the tank ready modified.
As models go these are at the bottom end of the market. The best by a long way are made by Tamiya but a full option Tiger can cost you around £800!!! Frankly they're better built that the real item, but out of the price range of the average hobbyist. The Heng Longs look a bit cheap and toy like in comparision, but I repainted & weathered mine (faded Panzer grey rather than that awful green & brown it originally came in) and added some extra accessories (small bits of model foliage on the sides look great) and with an extra £20 or so investment and some reasonable modelling skills you can make a Heng Long look really good. There are some good T34's on Ebay made by "trumpeter". They're really nice models but don't have the soft-air BB gun and need 8 AA batteries in the tank (Heng Longs have a 7.2V rechargeable battery pack).
Its worth pointing out that the Heng Long Panther is really a Panther body on a Tiger chassis. On the plus side it easy to get extras & as Panthers are less in demand they're cheaper, but its not 100% accurate as a model. A real Panther has a very heavily sloping front. Heng Long's Tiger & M4 Shermans (actually an M26 Pershing... I don't know why H&F have it listed wrongly) are more accurate models. One final note- the tanks from H&F have a european style 2 pin charger- you need a shaver adaptor to use them in the UK. I've since bought a UK charger for my tank which performs a little better.
I've found a couple of websites that give very good advice on "customising" these tanks. Several E-bay shops sell extremely high quality accessories for large scale tanks which can really transform them.... please message me for some recommended sellers.
My Panther was originally a standard H&F model in a green, light green & brown cammo finish. This is my finished tank. All accesories, barrels, paints and model foliage were bought off E-bay. I also got hold of some plastic card and made the additional skirt armour for the sides.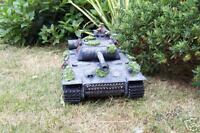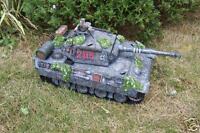 A final note: sometimes these cheap RC tanks bought from abroad don't work. This is a pain in the proverbial but it can actually be quite profitable. You can usually get a full refund via paypal and normally the sellers don't want the hassle of getting the tank back. The way to look at it is that you don't have a broken tank: you have a huge collection of valuable spare parts that can be resold: tracks, sprockets, batteries, gearboxes all sell easily if correctly priced (check out '1/16 tank' and see what other sellers charge). even if it all goes wrong you may end up ahead financially.