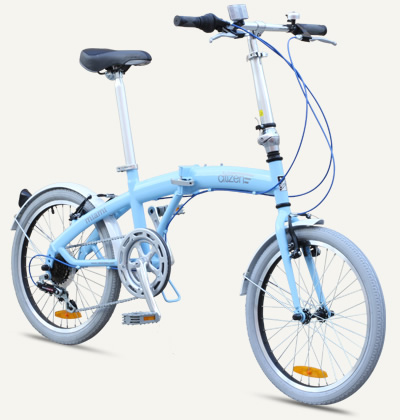 With so many models, sizes and makes of bicycle on offer in the modern marketplace, any rider, or anyone who wants to become a cyclist, could be forgiven for feeling slightly overwhelmed by the sheer volume of choice on offer.
But whatever the buyer's shape and size, there's the perfect bicycle for everyone. Research beforehand pays off, as does buying the best quality machine the buyer can afford.
This guide aims to break down the available options, to make the final decision easier.
Choosing a Bicycle Style
Clearly different machines do different jobs, and typically most are fairly narrowly confined to the purpose for which they are intended, although there may be some overlap, and some models may be more versatile than others.
Here are some of the different styles of bicycle to choose from:
Touring Bikes
As their name suggests, these are good for travelling around on and can cover long miles on the road. It's possible to get these models with dropped (racing style) handlebars as well as flat ones like mountain bikes have.
Touring bikes typically have pannier racks at the front and rear, so that luggage for longer tours can be carried in a balanced way.
The build of the machine allows for the rider to be in an upright, comfortable position over long distances, and so that the bike can still be handled well, even when heavy panniers are attached.
Gearing tends to be lower than on other kinds of cycle, so that hills can be scaled, despite heavy loads, and many cyclists prefer low ratio gears like those found on a mountain bike or a triple chainset.
Tyres tend to be wider to help handle the additional weight and provide extra protection against punctures, while brakes need to be particularly strong.
Comfort is of the essence for this model of bike, and it's especially important to get the right saddle.
Mudguards can be especially useful on touring bikes, as can softer grips on the handlebars and padding below the bar tape.
Mountain Bikes
Mountain bikes are intended to provide good performance over rough ground, and be very hardwearing, since they need to absorb shocks and handle obstacle from stones to tree roots.
They offer a wide, upright setting to offer greater control. Tyres are thick and chunky with deep treads and plenty of grip and good traction. The brakes on mountain bikes tend to be very strong, while gears cover a broad range of settings of as many as 30 speeds.
Over the years, full front and rear suspension has become more popular, replacing previous models in which front wheel suspension was more typically found.
For additional leverage when ascending steep hills, some handlebars have bar ends on them.
In recent years, different styles of off-road riding have evolved, from downhill to cross-country and single speed models are more commonly found. Equally, disc rather than rim brakes are becoming more popular, as are single speed varieties.
Road Bikes
Road bikes are for riders who are keen to stay on Tarmac, with lightweight frames and 700cc wheels. Models include those for riders whose aims are sportier and more ambitious in terms of speed and competition. Dropped bars permit a number of different positions of the hands while riding, and boost aerodynamics.
For serious racers, the choice needs to focus on the stiffest and lightest machine that can be found, weighing under 20lb. These have twin chainsets, and up to 11 sprockets at the back to provideclose set gears aimed at very speedy riding.
Racers encourage a stretched aero position, and offer quick handling. For racing shorter distances, comfort may be a less important factor than speed.
Sportive Bikes
Sportive bikes offer a little more comfort over longer distances, with a top tube which is a bit shorter to encourage a more upright seating position and reduce pressure on the lower back. Frames are aimed at reducing fatigue by offering a good compromise between stiffness and comfort.
Chainsets are compact or triple. The former have the standard couple of rings, but slightly easier to handle for travelling uphill. A triple version offers a greater selection of gears.
One option for serious racers may be to have a training bike for putting in the miles outside competitions and keeping their very best machine for race days. Shop somewhere like eBay and it's possible to find a range of models for different needs at affordable prices.
Hybrid Bikes
Hybrid bikes have only appeared on the market within the last 20 year or so, but have become a fixture in the cycling world, and combine the most popular elements of road and mountain models.
Wheels are big and turn rapidly, but the controls and handlebars (flat or turned slightly upwards) have more in common with off-road bikes. These machines can cover a variety of different terrain, and so are quite versatile.
Other characteristics include:
Gear systems offering up to 27 speeds, and greater speeds are possible with flat riding than on mountain bikes, while low gears are still available for inclines.
Most wheels are 26 inches. Tyres allow for speed on smooth ground, with some knobbles for grip over more uneven terrain.
"V" brakes are most commonly found, with disc brakes popular on some urban hybrids as well as sportier models.
Hybrids won't be suitable for serious racers or committed off-roaders, but can handle a number of uses for commuters and leisure cyclists.
Specialist Bikes
As well as the three main styles of bicycle mentioned above, a number of other, specialised models are available, including:

Choosing Gears
It's increasingly common to find machines with as many as 30 different speeds, allowing riders to pick up speed on the flat, while scaling hills of any size.
Again, it's important to consider the style of riding most likely to be undertaken. More than how many gears are on the bike, it's important that they suit the kind of terrain most likely to be encountered.
Flat roads don't require a mountain bike's very low gearing systems, however, riders planning to ride up a lot of steep hills will need gears to be as low as possible.
Derailleurs are the gearing mechanisms that move the chain over the various sprockets, and the majority of models have them. However, they are open to the weather and so prone to damage in riders more likely to damage their machines.
For more practical machines used to get around town, enclosed rear hub gears of up to 14 speeds are increasingly popular. They're user-friendly, but can add weight to some machines.
Single speed gears are increasingly popular for simple transport in flat, usually urban areas. With single speed bikes, the rider does not have to think about gear choice at all.
Whatever gear system the bike has, it's important that the rider feels comfortable with it.
Suspension
There are several different kinds of suspension on the market:
Front suspension only – these bikes are known as hardtails, and suspension is in the fork
Full or dual-suspension machines have suspension at the rear as well as the front
Most mountain bikes designed for serious off-roading have shock absorbing systems. More affordable versions, along with some hybrids, come with suspension forks. However, some suspension systems on less expensive models merely add weight without working well.
Shop somewhere like eBay to find quality combined with affordability.
Sizing
Seat tube length is how cycle size is measured, or, like clothes – large, extra large and so on.
Clearly this is crucial, since riding a bike which is too large can be potentially dangerous, while pedalling will not be comfortable if the model is not big enough.
It should be possible to stand over the frame with feet on the ground, and to clear the machine with a couple of inches to spare. Off-roaders, who may need to come off the bike quickly, may need to allow a little more room.
It should also be possible to raise the saddle so that the pedals can be reached comfortably.
On female-specific bikes, the top tube may be shorter as women typically have a shorter reach. Equally, on pricier models, suspension is sometimes specially altered to suit the female rider.
Finally, riders also need to be able to reach their handlebars comfortably.
Choice of Frame Material
Material

Advantages

Disadvantages

Steel

This is a popular, tough metal that absorbs uneven ground well. It's also a flexible material.

· Being prone to corrosion

· Its relatively heavy weight

· Knocks and scratches on the paintwork can reduce the strength of the frame as well as looking unsightly

Aluminium

Aluminium is more lightweight than steel, while retaining a good strength, and modern technology is constantly improving these frames.

Aluminium bikes are a good choice for those planning on doing a lot of hill riding.

It is not as flexible as steel, and some riders say aluminium frames are not as easy to repair.

Other Materials

It's possible to find bicycles made of titanium, carbon fibre and even bamboo – especially if you shop somewhere like eBay which offers extensive choice.

For most cyclists, steel or aluminium will offer the best balance between robustness, weight and price, with high grade chromoly steel a good all-round choice for the more undecided cyclist.

Some of these materials are expensive, and the technology is still emerging.
Buying Bikes on eBay
Visit eBay.co.uk for an extensive selection of all types of new and vintage bikes at excellent prices from an extensive selection of manufacturers, all shown in the sporting goods section. You'll also find it highly convenient to shop at a time and in a place that best suits you, under one virtual roof.
If you can't find the machine you're after, try using keyword searching to quickly narrow down any search. Just input the words related to what you need in the relevant box and immediately see listings matching your specific requirements. There are more tips and hints on eBay's search tips page, or go to eBay stores.
Many vendors now offer free shipping, and excellent money back and refund policies, and a local seller could get your machine to you more quickly. Equally, don't be afraid to ask any potential seller as many questions as you need to before committing.
You can search by:
Colour
Condition
Price
Size
Finally, thanks to eBay's payment partner PayPal, purchases can be made with complete peace of mind and security.
Conclusion
Cycling on or off road offers so many health benefits and is an easy and inexpensive mode of transport.
But whatever kind of biking they do, and however seriously they take the activity, any cyclist will have a much more enjoyable ride if their machine suits them and their body type and preferred style of riding.
Some riders may even benefit from using different machines for different purposes – say a road bike or a hybrid for the commute to work, and a mountain bike for going off-road at the weekends.