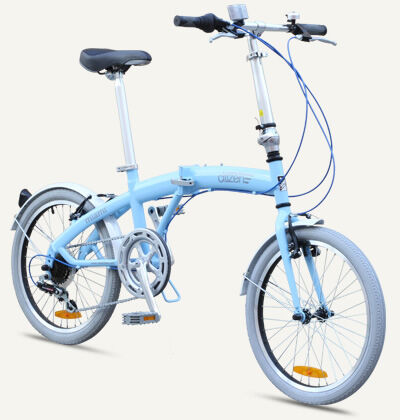 Headsets are a vital part of a bike's structure, as the contact point between its fork and frame. To understand the function of a headset, it is important to first understand a few terms. A bicycle's fork is the forked part of the frameset that holds the front wheel. The fork column extends upwards, passing through and pivoting within the head tube. Finally, the stem connects the fork tube with the handlebars. The headset manages this connection between the steering mechanism and the rest of the bike frame. Its job is to allow for smooth fork rotation within the head tube, whilst still withstanding all the impact the bicycle handles. A basic headset structure consists of two cups pressed into either end of the head tube; inside each cup are ball bearings which provide a low-friction contact point between cup and steerer.
With different kinds of standard headsets available, it helps consumers interested in purchasing a headset to understand some basic terms, the differences between headset types, and how to find the right headset size. In addition, they can consult bike repair specialists or online resources for further information. The more knowledge they have, the easier it is to find a quality headset to match their bicycle.
Bike Headset Sizes
Headset size is determined by the fork column's outer diameter. While for many years 1 inch (25.4mm) was the traditional size, the standard size is now 1.125 inch (28.575mm). Additional sizes include 1.25 inch (31.74mm) and 1.5 inch (38.1mm). There are also tapered headsets, whose lower bearings are 1.5-inch and upper bearings are 1.125-inch, which increases stiffness and reduces weight, respectively.
Types of Bike Headsets
Bike headsets are categorised according to the way the ball bearings are held in place, or according to their location. In threaded headsets, the ball bearings are held in place by a lock nut, while in threadless headsets a clamping stem does this job. Integrated headsets have the ball bearings placed inside the head tube and have no cups holding them in place; internal headsets are similar in that the ball bearings are inside the head tube, but they retain all the components of traditional threadless headsets.
Threaded Headsets
Threaded headsets are a traditional headset design that has been in decline. In it, two locking nuts hold the headset in place on a threaded fork column, also known as the steerer tube. They may be 1 or 1.125 inches (25.4 or 28.575mm). Threaded headsets consist of eight parts: a crown race, lower bearings, a lower frame cup, an upper frame cup, upper bearings, an upper race (or upper cone), a washer, and a locknut.
The installation process involves the following steps:
Threading is cut into the fork column.
The head tube is faced and the cups inserted into it, squaring them.
The fork column is faced and the crown race is pressed onto it, squaring it.
The bearings are fit onto the crown race.
The fork column is inserted into the head tube.
The upper bearings are then fit into the upper cup.
The upper race is tightened onto the steerer.
The washer is placed on top of the upper race and the lock nut screws on to keep everything in place.
Once the threaded headset is in place, a quill stem is attached to the fork by an expander bolt which passes through the inside of the stem and into the tube.
Threadless (Aheadset) Headsets
The threadless headset is a more recent development, and has replaced threaded as the new standard. Also referred to as the registered trademark "Aheadset", threadless headsets have a more convenient and potentially more durable setup than threaded headsets. The essential difference is that threadless headsets do not feature threaded fork columns or threading in the top headset race. In this configuration, the fork column extends all the way up from the fork, through the head tube and headset, attaching to the stem via a clamp.
Threadless headsets share many common features with threaded headsets. The bearing cups or races are pressed into the ends of the head tube, with ball bearings sitting above and below them. Instead of threading to hold races in place, alignment is maintained either by an an internal centring sleeve on the upper race or a star nut placed in the fork column. A cap or preload bolt runs from the top of the stem down through to the star nut and is used in tightening the headset.
Advantages of Threadless Headsets Over Threaded Headsets
There are several reasons why threadless headsets have come to dominate in bicycles produced today. First, threadless headsets are easier in terms of manufacturing, because one fork size works for different frame sizes, and production is faster with the threading process eliminated. Moreover, installation is faster and easier. From the performance standpoint, threadless headsets are slightly lighter than threaded, which can be an advantage for some cyclists. A threadless stem is more firmly attached to the fork column, which improves handlebar rigidity. Finally, while with threaded headsets that have not been maintained, water may seep in between stem and fork tube and cause corrosion, threadless headsets do not have this problem. What's more, threaded headsets require cumbersome tools for adjustment, which can be difficult to take on the road.
Integrated Headsets
Integrated headsets are also a relatively recent trend and are quite common. With these types of headsets, the ball bearings are set directly into the head tube, doing away with the upper and lower cups or races. These headsets are favoured particularly for road bikes, since they make it possible for the front of the bike to be lower to the ground. In addition, removing the two races significantly reduces the overall headset weight. Integrated headsets must be routinely cleaned and greased, however, since any dirt or debris that enters wears on the frame.
Internal Headsets
Internal headsets have several different names, including ZeroStack, low-profile, integral, and semi-integrated. They are similar to threadless headsets, with the difference that the cup or race has a lip or flange, allowing it to sit completely inside the head tube. This necessitates a wider head tube, usually approximately 50mm for a 1.125-inch headset or 62mm for a 1.5-inch headset; the wider head tube is generally stiffer and stronger.
Common Headset Specifications
If replacing a headset or building a bike from scratch, determining the correct headset size can be a daunting task. There are industry standards that help smooth this process, although different manufacturer systems and discontinued models prove a continuing challenge in some cases.
Types of Ball Bearings
There are three types of ball bearings used in bicycles: loose balls, caged balls, or presealed cartridge bearings. It is important to distinguish between the three sub-types of cartridge bearings used in integrated headsets, since they are not interchangeable. The following chart outlines these sub-types.
| Cartridge Bearing Standard | Cartridge Angle | Common Bikes | Head Tube Inner Diameter |
| --- | --- | --- | --- |
| Campagnolo | 45/45 | BMX, road bikes | 42.0mm |
| Cane Creek | 36/45 | Mountain bikes; some road bikes; | 41.1mm |
| FSA | 36/36 | Rare; used by some niche brands; also used on FSA internal and standard headsets | N/A |
If the cartridge ball bearings are available from the existing headset, there is valuable information written on it regarding headset specification. This includes the fork tube diameter, the angles of the inside and outside chamfer, and the part number.
Standard Measurements
Depending on the type of headset, it is possible to determine the size required based on the measurements of other parts of the bike. The following charts outline the standard compatible measurements.
For traditional, threadless headsets, use the following as reference.
| Fork Standard | Stem-Clamp Diameter (nominal) | Crown-Race Seat Diameter (nominal) |
| --- | --- | --- |
| 1 inch ISO (International Organisation for Standardisation) | 25.4 mm | 26.43 mm |
| 1 inch JIS (Japanese Industrial Standard) | 25.4 mm | 27.03 mm |
| 1.125 inches | 28.6 mm | 30.015 mm |
| 1.25 inches | 31.8 mm | 33.0 mm |
| 1.5 inches | 38.1 mm | 39.76 mm |
For traditional threadless and internal headsets, measurements can also be based on the head tube inside diameter (ID).
| Head Tube ID (nominal) | Head Tube Standard | Head Tube Type |
| --- | --- | --- |
| 29.9 mm | 1 inch JIS | Traditional |
| 30.1 mm | 1 inch ISO | Traditional |
| 33.95 mm | 1.125 inches Standard | Traditional |
| 36.95 mm | 1.125 inches Standard | Traditional |
| 41.4 mm | 1 inch Internal | Internal |
| 44.0 mm | 1.125 inches Internal | Internal |
| 49.61 mm | 1.5 inches Standard | Traditional |
| 55.95 mm | 1.5 inches Internal | Internal |
Finally, for integrated headsets, the head tube standard is indicative of the inner diameter.
| Head Tube ID (nominal) | Head Tube Standard | Head Tube Type |
| --- | --- | --- |
| 38.15mm | 1 inch Cane Creek Integrated Standard | Integrated |
| 41.1mm | 1.125 inches Cane Creek Integrated Standard | Integrated |
| 42.0mm | 1.125 inches Italian/Campagnolo Integrated Standard | Integrated |
| 47.0mm | 1.25 inches Integrated Standard | Integrated |
| 52.1mm | 1.5 inches Integrated Standard | Integrated |
The head tube ID is the most important measurement. It can also be measured manually once emptied of all components, such as bearings or non-bonded parts. The upper and lower ID should be assessed.
Finally, users should note that while these are industry standards, there are many proprietary headsets that do not fit within these parameters, as well as old models and hardware that are no longer standard. If in doubt about what kind of headset a bicycle requires, it is best to consult the manual, manufacturer, or a bike repair professional.
Standardised Headset Identification System (S.H.I.S)
In an effort to create a universal language for dealing with headsets, the Standardised Headset Identification System was established in 2011. Through S.H.I.S., headsets by participating manufacturers have vital information inscribed on the hardware. The information includes upper and lower headset type (external-cup, internal, or integrated), upper and lower head tube inside diameter, the fork's stem clamp diameter, and the fork's crown race seat diameter.
The manufacturers participating in S.H.I.S. include Cane Creek, Acros, Hope, Race Face, Reset, and Ritchey.
What to Look for in a Bike Headset
Dirt and moisture are a common contributors to headset wear. Headsets that include high-quality rubber seals are a good choice, particularly for mountain bikes. And while stainless steel bearing races are more expensive, they are not prone to corrosion and are therefore potentially much more durable. Another way to keep headsets cleaner and drier is to add a bike fender.
How to Buy a Bike Headset
Bike headsets can be purchased as a complete set with all the components included, or bought as separate hardware spares, such as caps or star nuts. Once the buyer knows what kind of headset they require, they can shop for one in person at a cycling shop, or online through one of numerous cycling supply retailers. Purchasing directly from the manufacturer is also an option, as is shopping an online auction site like eBay, which can offer a wide selection at competitive prices.
How to Buy a Bike Headset on eBay
With over 100 million users, the eBay community has a wide selection of bicycles and cycling supplies, including headsets and spare parts. To search for a headset, begin on eBay's home page and enter keywords, such as "Cane Creek integrated headset" into the search bar. The more specific your keywords, the narrower the search results will be.
When you've found a headset you're interested in, take a few moments to check product details to make sure this is what you want. The item description should contain vital information: model specifications, quantity, and condition (new or used). Note that postage fees are additional, and see what the seller's return policy is. Should you need to, you can ask them a question through eBay.
Finally, check the seller's feedback score and have a look at some of the comments left by recent customers. This helps ensure you're buying from a knowledgeable, reliable source.
Conclusion
Bike headsets are a very important part of a bike's setup, as they ensure both smooth and responsive steering. They serve as the contact point between the fork tube, or steerer tube, and the head tube, which is connected to the main body. Ball bearings allow the fork tube to rotate smoothly within the head tube, but there must also be adequate tension so that there is not excessive play, or movement, between parts.
There are four common kinds of headsets: threaded, threadless, integrated, and internal. Threadless and integrated headsets are the most common. Determining what kind of headset a bike requires involves looking at the existing headset, if available, or assessing the other parts, including the head tube, fork tube, and stem. These components also affect what size headset is needed; there are certain industry standards that can help in finding headset size based on head tube inner diameter, for example, and recently there has been an effort by certain manufacturers to label new headsets with all the vital information to make finding replacement parts easier.
When it comes to headsets, the more informed the buyer, the more likely they are to find a product that will fit and perform optimally.