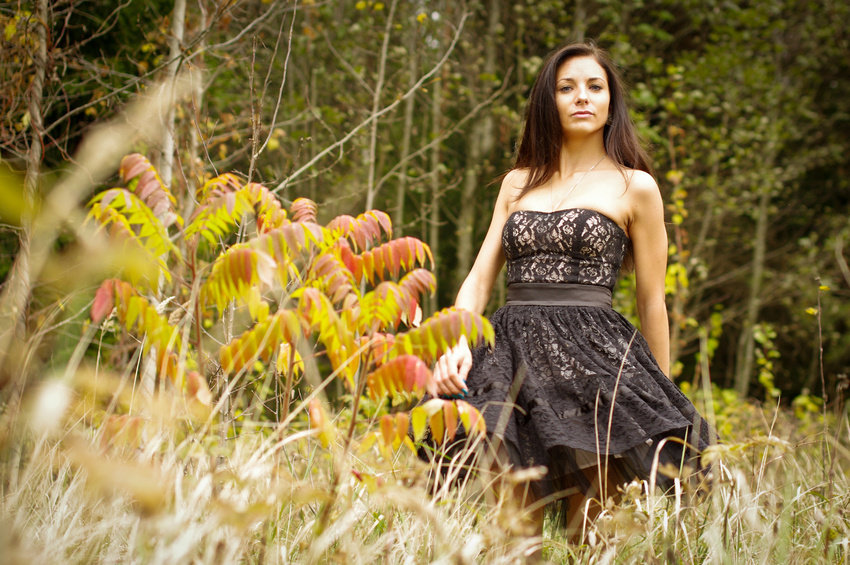 Lace is feminine and beautiful, and black lace adds a chic and sexy quality to a black dress. A black lace dress works for cocktail nights, parties, or special occasions, and when mixed with the right accessories, creates a dramatic, elegant look. Search for the perfect black lace dress based on your preference, budget, and overall design aesthetic, and enjoy the look of lace.
Lace Accents

Love lace but only in small doses? Consider a black dress with lace accents instead of an all-over lace look. Select a dress with lace appliques, such as an ASOS lace dress, or a River Island lace dress with a lace-covered top but a solid-coloured bottom, for a striking, contrasted look. Simply edged in lace, a sophisticated Karen Millen lace dress features a lace-trimmed neckline and hem for a flirty, sweet look. Other dresses with lace accents include black dresses with lace sleeves, lace trim, or lace back panels. Choose a dress which has a lace overlay that fits atop of a regular black dress for a layered look that is dramatic but not inappropriate. A black dress with a bit of sheer lace around the waist adds visual interest or a dress with cut-out lace side panels.
All-over Lace Designs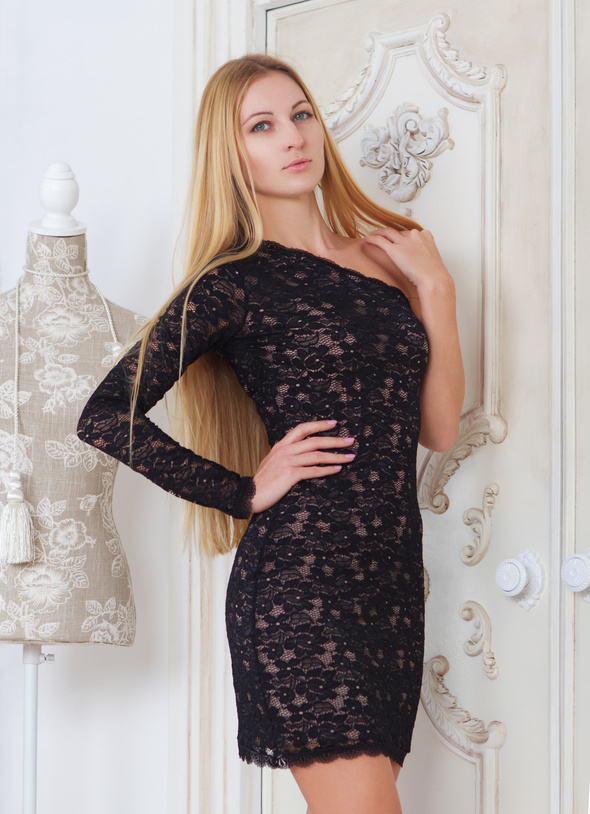 There is never too much lace, as you will see when you look at dresses with an all-over lace designs. Black lace dresses come in many styles, including tight bodycon dresses which emphasise your curves, body skimming sheath styles, or loose-fitting dresses that are floaty and feminine. Solid lace dresses have black slip linings underneath to keep you covered, but the lace designs allow just enough skin to peek through. Some pretty black lace dresses to look for include curvy pencil dresses by New Look, or H&M black lace crochet dresses for a Bohemian look. Choose a skater-style dress for a flattering fit for every figure, or opt for a lace maxi dress for a cool, trendy look. Slip dresses are perfect for evenings, and lacy black strapless dresses work for formal occasions when paired with high heels.
Vintage Lace Dresses
Opt for something a little different when you choose a vintage black lace dress. Vintage designs bring glamour to your look, and include styles like the flapper-era dresses of the 1920s, which work well for a 'Great Gatsby'-inspired look, or the full-skirted styles of the 40s with pretty lace insets on the sleeves and necklines. Some vintage lace dresses mix and match colours, such as a nude coloured dress with black lace accents around the waist and sleeves. Tea dresses from the 20s offer classic lace designs with narrow waists and full, tea-length skirts. Vintage party dresses combine sheer chiffon with lace for a pretty, formal look.