Black or white jewellery boxes make thoughtful and beautiful gifts. While each colour provides different aesthetics and benefits, one of the most important considerations is the taste of the recipient, as well as the message you want your gift to send. You can choose a jewellery box in either black or white, already fully decorated, have an engraving added to make it more personal, or for a truly unique and meaningful gift, you can decorate and customise it yourself. Comparing black and white jewellery boxes as gifts enables you to weigh the pros and cons, and choose the box that best suits the needs and style of the recipient.

Black Jewellery Boxes for Gifts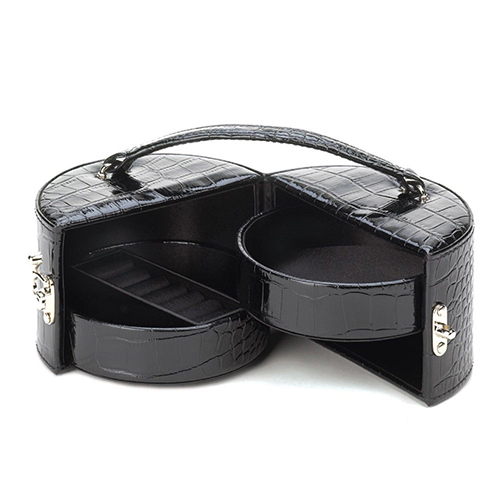 A black jewellery box makes a dramatic and striking gift. For those who like bold statement pieces, black jewellery boxes make an excellent choice. The assortment of styles is extensive, and ranges from simple, contemporary boxes with clean, sleek lines to complex and intricate boxes, in the gothic style. Black jewellery boxes are available in leather, which is a popular construction material because of its pleasing, timeless look and durability. For the gothic girl or guy, or those who have a fascination with vampires of Anne Rice or the Twilight Saga, a black coffin jewellery box makes an exquisite gift. Black jewellery boxes do not show small marks and debris and hide a multitude of sins. For an interesting and contrasting look, opt for a black jewellery box with a bright interior, providing a startling contrast between the interior and exterior. With stencils and fabric paint or acrylic paint, such as metallic gold or silver paint, you can customise the exterior of a black jewellery box, to provide a more individual gift.

White Jewellery Boxes for Gifts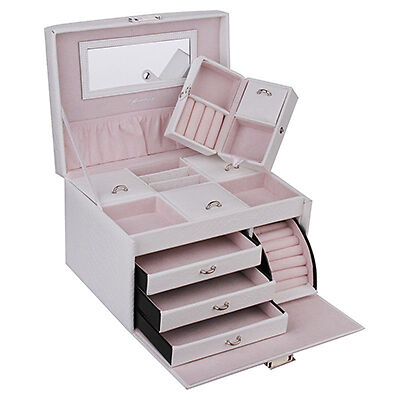 From paints to rhinestones, white jewellery boxes are easy to personalise and accessorise with a huge range of embellishments. White jewellery boxes are light and bright, and available in both modern and classic designs. Choose from painted wood or metal. White is easy to distress for an antique or rustic appearance, but does show every little mark and spot of dust. Because of the pale colour, white jewellery boxes work well in any room, but particularly feminine rooms with pastel and neutral colours.
Black vs. White Jewellery Boxes for Gifts
Black jewellery boxes work well as gifts for those who like a little dramatic flair, while white jewellery boxes make a more subtle statement. Black models work well to add contrast to bright, colourful rooms, but can easily look out of place in pale rooms. White jewellery boxes tend to get lost in very busy, dark, or bright rooms, but work very well in neutral or pastel-coloured rooms. White boxes are easier to customise with a wider range of materials, while customising or personalising black jewellery boxes involves more consideration, although the results are generally more striking.