Description
An inviting edible, smooth coconut with hint of delicate fruit on a sweet base of vanilla and sugar. With pure ylang ylang & clary sage essential oils. Complete with cute little wax love hearts in the top of the candle which are colour co ordinated and compliment the candle.
Scent With Love x Review
This is one of the nicest candles we have ever stocked! It truly smells so delicious, if you are a fan of creamy coconut fragranced candles, you will love this candle.
Do you remember the Coconut Mushroom sweets from your childhood? This smells exactly as it says on the tin! These candles have approximately 45 hours burn times which is great for such a little candle! Once lit they have an enormous fragrance throw which fills any room.
Are you tempted? Click the link below to go straight to my listing for this candle:
http://cgi.ebay.co.uk/ws/eBayISAPI.dll?ViewItem&item=331258343008&ssPageName=STRK:MESE:IT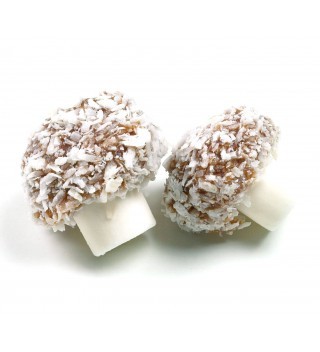 The Fragrance:
As soon as you take the lid off you can smell the coconut straight away, then the vanilla kind of comes through, that is without even lighting the candle!
Once the candle is lit, it is a creamy vanilla/coconut fragrance with a hint of sugar which means it truly does smell of the Coconut Mushroom sweets.