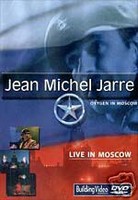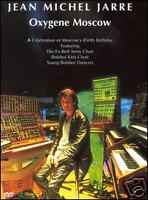 In recent months there has been a steady increase in the number of bootleg Jean Michel Jarre concert DVD's being offered for sale on eBay. Sets of upto 26 discs are regulary advertised; some are simple dvd-r copies while others have been given a more professional finish complete with shrink wrapped printed cases. Prices vary from a few quid to nearly £100. Pictured above is the official Moscow concert DVD with its bootleg counterpart, would you know which is which?
Unsuprisingly, the picture quality on some of the discs leaves a lot to be desired. The footage used will often be direct copies of official videos or dvds. For unreleased concerts TV, or worse still camcorder, footage will be used. None of this will be mentioned in the listing.
At the time of writing there are only three official concert DVD's - Oxygene in Moscow, Jarre in China (early editions were called Jarre a Peking or Jarre a Beijing) and Solidarnosc Live. There are also three official music DVDs called AERO, TEO & TEA and Oxygene Live in your living room. Each comes with a cd. All DVD's for concerts prior to Oxygene in Moscow are bootlegs. Please don't be fooled by claims like "extremely rare" or "hard to find" they're not!
Unfortunately, while early concert bootlegs are easy to spot, bootleg copies of the official dvds are a lot harder to pick out. Before buying it's best to do a little bit of home work. Try to find a picture of the official release and get the matrix number if you can. When looking at an advert compare it with the information you have found. Another thing to look for are spelling mistakes on the sleeve; it's amazing the number of bootleggers that can't spell Jean Michel Jarre! lol. If you have any concerns at all don't buy.
Something else that I've spotted recently is the selling of DVD sleeves. Again these can easily be found for free by doing a simple Google or contacting the forums listed below.
So what do you do if you're a fan and want to see the concerts without being ripped off? Simple, visit one of the Jarre fan forums and ask. All of the concerts being touted by the bootleggers are available for download. eBay rules don't permit me to link to outside websites but a quick search on google for JARRE UK will take you to one of the best sites from which you can link to many others. In particular look out for the BLAH BLAH CAFE. Here you will find fans from all over the world who will help you find what you're looking for. Finally, look-up THE JARRE CONNECTION website, they will also be able to help.