Boxing Punch Bag Uppercut Bag Heavy Punch Bag
Personalized logo's can be made at extra cost £7 each 20% off if you're buying 10 or more.

Professional UK Made Heavy Punch Bag Designed to Take heavy Beating.
These Punch Bags are made from a strong Stretchy/Durable PVC material.
Heavy duty zip-fastened top closure ensures maximum fill potential
Filled 35-45 kg.
inner Cut Pieces of Cloth Filled

BULK QUANTITY ALSO AVAILABLE ON WHOLE SALE PRICES.

Can you hang a bag outside?
Sure - but it will obviously be subjected to the weather. If you live in a humid climate you can expect it to get wet and rot eventually. Same thing if it is subjected to direct sunlight - the leather or canvas will eventually dry out and deteriorate. You can avoid this by treating the leather occasionally or prolong the inevitable by covering it with some type of cover. Ideally, if you want to use it outside - hang it up when you are using it and then put it under cover when you are not.

Can you leave it hanging all the time?

You can, but over time the fill will settle in the bag and your bag will be harder at the bottom than it is at the top. You should occasionally take it down and roll it to even out its contents. If you are taking a prolonged break from training, it's a good idea to take it down and lay it flat.

THESE BAGS CAN BE MADE ON ORDER SO IF YOU HAVE YOUR OWN BRAND/LOGO THAT YOU WOULD LIKE TO BE PUT ON THE BAGS PLEASE CONTACT US ON 07479966553.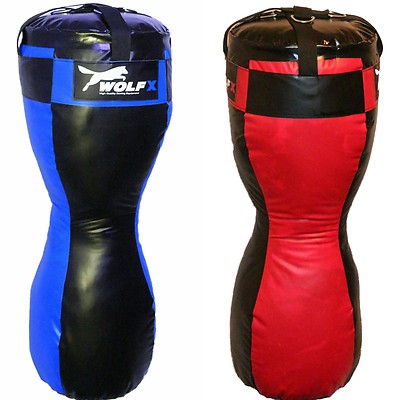 TAYLOR MADE BOXING Uppercut Punch Bag
Heavy Duty Punch Bag.
Comes Filled 35-45kg.
Made in United Kingdom
BULK QUANTITY ALSO AVAILABLE ON WHOLE SALE PRICES