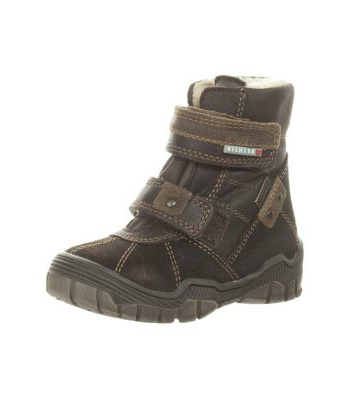 Children, especially boys, love to play outdoors. They enjoy sports, hiking, and camping in all types of weather. It is important that boys select the appropriate footwear when participating in these activities. Boots are a good choice because they protect the feet and ankles from injury. They are very durable and can withstand rigorous outdoor and sporting activities. It is not uncommon for boys to go through a shoe size when experiencing a growth spurt. It is very important, then, to select the correct size and type of boot for boys. Whether buying boys' boots at a department store, shoe shop, or online, the type of boot, boot size, and boot quality are very important factors to consider in making a purchasing decision. Style should really be secondary.
The shopper has lightweight boots and mid-weight boots to choose from. They should consider the quality of the boot uppers and sole. It is important for the shopper to know how to determine their child's shoe size, especially if they are going to shop for boys boots online. eBay has an extensive selection of boys boots at prices better than the high street shoe shops.
Types of Boys Boots
Boots are either classified as lightweight or mid-weight. Lightweight boots, such as walking boots or rain boots, are usually waterproof. They are less supportive of the foot, and are used for less strenuous activities. They are also more comfortable than mid-weight boots. Mid-weight boots, such as camping, hiking, and snow boots, are more supportive of the foot, more durable, and water resistant. They feel heavier on the foot than lightweight boots. They are used for rougher terrain and extreme weather conditions.
When buying boots for locations that experience icy, snowy weather, a distinction must be made between winter boots and snow boots. Snow boots are best suited for icy, snowy weather. They provide better insulation, are waterproof, and have more traction. Winter boots, on the other hand, are more suited for milder climates that do not experience as much snow and ice. Their main function is to keep the feet warm. They are usually waterproof, but do not provide as much traction as snow boots. Some boots come with a removable, washable liner. These boots can then be used as rain boots during wet weather and in warmer seasons.
Boys Boots Materials
The quality of the boot is essential for safety and durability. Higher-quality boots may be more expensive, but they are usually more durable and last longer. Off-brands of boots may be less expensive, but they can also be less durable, leading to foot problems later. Leather, synthetic fabric, or canvas boots are good choices for boys because they tend to wear longer. They also keep the feet dryer.
Leather is still the main material used in making boot uppers. Leather boots will need to be maintained with a water proofer periodically. It is also a good idea to buy leather boots slightly tighter because they tend to stretch overtime. Synthetic and canvas boots are usually more comfortable and supple than full-grain leather boots. They do not stretch as much as leather boots. The buyer should examine boot uppers for appropriate double-stitching. Quality uppers should not be glued. Waterproof boots made of Gore-Tex are another good option. Gore-Tex is a versatile fabric used in different types of outdoor clothing and accessories. It is comfortable in snowy, rainy, and windy weather. It also controls excess perspiration easily. Boots made of Gore-Tex can be cleaned with a soft cloth or brush.
Sole and Traction
The sole of the boot is an important feature. The sole is found underneath the boot. It is the part that comes in contact with the ground. The sole should be made of textured rubber. This gives it proper traction, providing safety during wet or icy conditions. If a boy lives in a wintery climate that experiences ample snowfall and long periods of wet weather, then proper traction is essential when comparing types of boots. Cleats also help provide safety and stability. Cleats are small plastic or rubber protrusions or studs on the sole of the boot that provides additional traction. They are also good for hiking and walking in uneven terrain or mountainous regions.
A boot with a flat even sole is good for boys who live in the city and may not experience wintery conditions such as ice and snow. They are used more for day-to-day activities. It is important that the sole provides proper arch support for the foot. A thick sole cushions the foot. This helps prevent certain types of foot injuries, and overuse of the foot arch that can lead to inflammation of the sole of the foot. It is equally important that the sole is also flexible and can easily bend with foot movement.
Sizing Boys Boots
Boys outgrow their boots from season to season, therefore it is important to measure the boy's foot for the proper size. The foot can be measured at home using a simple method. Feet swell in the evening so it is the best time to measure them.
Determining the Size
First, have the boy put on the type of socks he will wear with the boots. This ensures a more accurate measurement. Next, take a plain sheet of paper and place it on the floor. The boy should place his foot on the paper. Using a pencil, mark the back of the heel and then mark the end of the longest toe. The boy should then step off the paper. Starting at the heel mark, take a ruler and measure to the toe mark. Write down the number measured. Add 12.7 mm to the number. There should be at least 12.7 mm between the end of the boy's toe and the end of the boot for comfort. The following shoe size chart is helpful in converting a home foot size measurement to a shoe size measurement. It includes ages 24 months to 10 years.
| UK Size | Measurement (in cm) |
| --- | --- |
| 2 | 10.2 |
| 3 | 10.8 |
| 4 | 11.7 |
| 5 | 12.7 |
| 5.5 | 13.1 |
| 6 | 14.0 |
| 7 | 14.6 |
| 7.5 | 15.3 |
| 8 | 15.9 |
| 9 | 16.6 |
| 10 | 17.1 |
Children's feet grow quickly so it is important that parents remeasure their child's feet before shopping for new boots. This ensures a more accurate measurement rather than relying on the child's current shoe size. When purchasing boots online, the buyer may find it helpful to consult a shoe size conversion chart that lists the standard UK, US, and European shoes sizes for children.
Fitting the Boot
It is usually best to buy boots in a size larger than the foot measurement to ensure that the boots will not fit too tightly when wearing socks. The heel should also fit snugly against the back of the boot. The top of the boot should come above the ankle, providing proper ankle support, and fit tightly at the top. A Velcro closure or drawstring closure is preferred over laces as laces can come undone, allowing moisture to seep into the boot. If the boots do come with laces, make sure that they are laced up correctly and tied tightly. Pull-on boots are a good choice. Boys should have no trouble taking the boots on and off by themselves. Boots that are slightly too large can be remedied with additional socks, but boots that are too small can cause foot pain and blisters. Boys' boots should be comfortable. Boys will not wear boots that feel uncomfortable due to incorrect size or poor quality.
Considering Style and Boys Boots
Once comfort and functionality are in hand, the style of the boot is the next consideration. It is important to get the boy's input on the style and brand of boot that he prefers. This makes the shopping experience more enjoyable and pleasurable for the boy. His boots will not only feel good, but they will look good too. eBay offers a variety of stylish boys boots in varying colors and designs. Whether skiing or hiking, western style or dress style, eBay offers a wide selection of boots to fit any boy's needs.
Buying Boys Boots on eBay
eBay offers the buyer the online convenience of choosing quality boys boots in a large variety of styles, brands, and sizes that can't be found at regular shoe stores. eBay also offer affordable boys boots to fit any budget. To begin your online shopping experience with eBay, simply go to the home page and type in 'boys boots' into the search bar. If you know the boy's foot size, then select boys boots with the size beside it in the drop-down box. This will take you to a page with the correct size of boot selection. The buyer can also sort the boot listings to show only listings by top sellers. A top seller listing is earned when the seller receives high ratings from buyers for quality customer service. After arriving at the page with the correct boot size selected, the buyer can then sort the results page to only show those listings for boy's boots posted by eBay Top-Rated Sellers. Before purchasing the boots, also check the seller's information to see if they accept returns. You will need to know this information if the size turns out to be incorrect.
Conclusion
The important factors to consider when purchasing a pair of boys boots are types of boys boots such as lightweight or mid-weight, the quality of the boot uppers and sole, and boot size. The type of boot selected depends on the boot's function. Types of boys boots include walking and rain boots, hiking and camping boots, and snow and winter boots. The sole of the boot should provide proper traction for the type of boot selected. Incorrect boot size will adversely affect comfort and functionality. Therefore, it is the most important step in purchasing boys boots. If the boy does not enjoy wearing the boots due to size or comfort issues, he will not wear them. It is also important to select boys boots that are durable. After all of that is out of the way, the style and brand of boot should be considered to keep up with the latest kids' fashion. eBay offers a wide variety of quality, lightweight and mid-weight boys boots in popular brands at affordable prices.