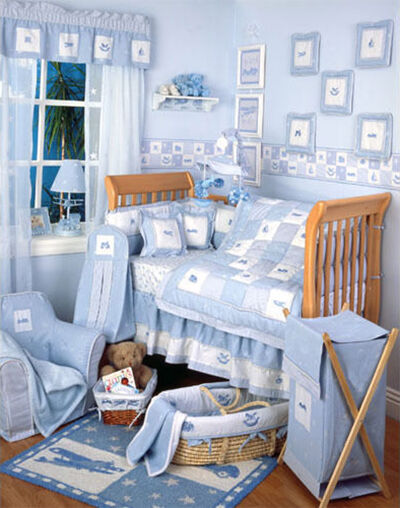 A boy's nursery bedding set is any bedding set intended to be used with a crib. A set often includes four to eight pieces although some can include more, with special considerations such as a liner for the bottom of the crib. Some boys' sets have specific patterns or colours that denote that they are for boys. For example, cartoons or simply blue sheets are commonly used to denote 'boys'.
Nursery bedding should be chosen because it is soft, comfortable, easy to clean, and fits the crib well. Many babies toss and turn, and easily make a mess so it is important not to invest too much, but also to choose something that can keep the baby boy as comfortable as possible. Buyers looking for boys' nursery bedding sets need to decide how many pieces they would like in the set, what size of crib the bed is intended for, what their budget is, as well as what pattern or style they are looking for.
What is in a Nursery Bedding Set?
A boys' nursery bedding set should include a fitted sheet, a pillowcase, a blanket or quilt, and usually a top sheet as well. This is a standard four piece nursery bedding set meant for the top of the crib. However, the exact contents of the set usually vary based on where the set is purchased. For example, some bedding sets include nothing more than a fitted sheet, padding, and a dust ruffle or skirt. Most experts recommend that quilts, pillows, and duvets should be avoided until the baby is at least a year old.
Fitted Sheet
The fitted sheet is the bottom sheet that goes over the mattress. Usually featuring elasticised corners, the sheet should fit completely over the mattress to cover it. Some nursery fitted sheets come with plastic liners to protect the mattress in case of accidents, and some allow protective covering to be inserted over or under the sheet. Fitted sheets should fit the measurements of the crib mattress in order to prevent slippage, especially with baby boys who are very active.
Top Sheet
The sheet, often called a top sheet, is an unfitted sheet that goes between the blanket or quilt and the bottom sheet. This sheet is usually enough cover for very warm days, but when paired with a blanket on cold days provides extra warmth and comfort. Top sheets are not necessary elements of nursery bedding but some parents find that it is easier to wash the top sheet than it is to wash the blanket or quilt.
Quilt
Quilts are very popular for nursery bedding sets because they are thick, warm, and comfortable. Usually designed with at least three layers of fabric including two outer layers and an inner layer of padding, quilts are very good for keeping babies warm. Quilts are also unique and beautiful as many of them are hand made with different colours and patterns of fabric, or even patched together old fabrics. Quilts often have their own personality, which makes them a great addition to any baby boy's nursery bedding.
Blanket
Some boys' nursery bedding sets come with blankets instead of quilts. Blankets are simple one-layer covers that include a range of materials, from fleece to polyester. Blankets are more suited to summer than quilts, but are also lightweight enough to pack and bring in a car. Blankets are more lightweight and are therefore more affordable than quilts.
Bumpers, Crib Skirts, and Valances
Some boys' nursery bedding sets include bumpers, crib skirts, or valances. A bumper is a padded lining that either goes against the wall or over the sides of the crib to prevent the boy from bumping into the hard surface. Crib skirts line the bottom of the crib to add a decorative touch as well as to keep dust out. Valances are similar to crib skirts except they are normally intended to be fitted to the top of a four poster crib or bed.
Different Types of Fabric for Boys' Nursery Bedding Sets
The younger the boy, the warmer the bedding he will need. Most nursery bedding is made of cotton although the thickness, quality, and softness of the fabric can vary. Cotton is excellent for babies because it wicks away moisture, is aerated, and generally very soft. Different types of cotton include flannel, which is very thick and warm; percale, which is blended cotton and can include polyester; Jersey cotton, which is similar to a T-shirt; and velour, which is very plush but allows air to easily slip through the fabric. There are several other styles but these are the most popular for boys' bedding. Most stores also label bedding sets as simply 'cotton' without specifying the weave. The higher the thread count of the fabric, the softer it is.
Sizing the Sheets
Standard nursery mattresses are 90 by 140 centimetres, but depending on whether the nursery bed is a cot bed or a very small crib, they can range in size. Measuring the crib and the mattress is important for purchasing the correct size of sheets, especially if bedding is being purchased from an online store such as eBay. Buyers should compare the measurements of the mattress to the measurements of the sheet and remember that the quilt or blanket should be considerably bigger than the sheet. Some sheet standards also vary depending on the size and shape of the crib. For example, an oval crib might require special sheets and bassinets can be as much as half the size of a standard crib.
Other Considerations
No matter where the nursery bedding set is being purchased, it is important to consider the options and variations available. Most parents can get away with purchasing a single quilt, but might want at least two sheets in case of accidents. Babies of all ages make a mess from time to time, plus it is always nice to have an extra sheet so that the baby can take a nap while the normal sheet is in the wash.
Purchasing Themed Sets
Many parents choose to create a 'theme' in a nursery room. Whether the theme is something like Teddy bears or the ever popular movie Cars from Disney Pixar, sheet and bedding sets can be found to match. Buyers can search in local nursery or children's stores, or look online in places including eBay to find the desired theme. Usually popular themes are not be hard to find, especially if the buyer is looking online.
Budgeting a Nursery Bedding Set
The budget is a very important factor when considering a boys' nursery bedding set. If the set is being purchased for a very small cradle, it is important to not spend too much as the entire set might have to be replaced quickly. On the other hand, if the cradle is fairly large and suitable for a toddler, the bedding set could be suitable for years, meaning that it is a better investment to purchase a higher quality set.
Other considerations include that if another baby is expected then the same sheet set can be reused, handed down to someone else in the family, or saved for a few years in the future. Deciding on these factors can help buyers to properly set a budget their nursery bedding set.
Buying Boys' Nursery Bedding Sets on eBay
There are hundreds of styles of nursery bedding sets available on eBay including themed, plain, and patterned sets. Options include everything from quilts to blankets, with valances, crib skirts, and more available as options. If you are purchasing your boys' nursery bedding set on eBay, you can consider a variety of options and then simply search for them to easily find what you are looking for. You can also choose to look for a specific set or to search for a nursery bedding set and then browse until you find something you like.
Remember to read the description carefully before making a purchase, especially if the set is used. Descriptions should include the measurements, number of items in the set, as well as any issues that the set might have. If you need the bedding set quickly you might also want to consider checking for local sellers who might be able to ship your set more quickly.
Conclusion
Boys' nursery bedding sets are available on eBay and in many shops catering to bedding, children, or maternity. Most parents can choose between a variety of styles including different fabrics, different patterns, colours, and themes, as well as different elements of the set. Popular inclusions in bedding sets include a fitted sheet, blanket or quilt, crib skirt, and possibly a pillowcase as well. Parents with very young babies should avoid using the pillowcase or a pillow until the baby is older.
Buyers should check the measurements of the bed and compare them to the measurements of the crib. Most cribs are standard and one sized but some are smaller or larger depending on the age group they were intended for. Cotton is usually preferred for baby bedding so it is a good idea to purchase it over other materials. Final checkpoints before making a purchase include ensuring the fit, checking the types of bedding inside of the set, and choosing a pattern or style.