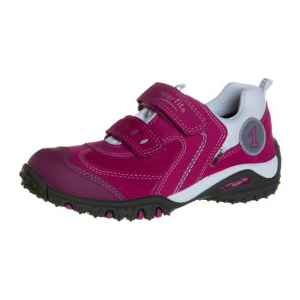 There are many types of boys' sports trainers. Even though each sport seems to need a different shoe, a good set of cross-trainers suits many different sports. These shoes are found at brick and mortar stores, as well as online retailers, such as eBay. Sports trainers; running in particular, are now used for so much more than just running, they're a staple part of both adult and kids' fashion.
Most schools and sports teams recommend a specific type of boy's sports trainers for the sport in which he is participating. If they do not recommend a style, it is even more important to know about the different types of trainers available and how to choose one that is right for a boy. All trainers differ by sport, types of support, and the weight of the shoe. It is very important to make an informed decision when buying trainers for any child because poor trainers can have lasting consequences on the body. The type that a consumer buys depends on which sport he or she is buying for, the age and size of the boy, and type of foot support the boy requires.
Boys' Sports Trainers for Different Sports
There are different types and weights of sports trainers meant for different sports. Each of these trainers has a different weight, style, and sole. The different aspects of sports trainers help a child when he is playing by balancing the child's stride and movement.
Cross-trainers
Cross-trainers are an all-around version of sports trainers. They are usually lightweight for limited amounts of track running, well balanced, and have a light sole. Like their name implies, cross-trainers are for a variety of court and running sports. They do not have cleats and have good support for toes, arches, and heels. Companies make cross-trainers from canvas, leather, or sometimes cloth. They have rubber soles with different types of tread.
Running Shoes
Running shoes come in different varieties. Companies usually make running shoes from canvas or another material that is flexible and dries quickly. This type of shoe also has a rubber sole for flexibility. All forms of running shoes are meant for experienced runners whose feet can handle less cushioning.
Racing shoes are meant for a track runner and are often called track shoes. These are an extremely light version of the running shoe that is meant for children who are accustomed to running. They provide a small amount of cushioning and are extremely flexible so a child can run naturally without the shoe changing his gait. In contrast, the performance shoe has more cushioning and is not as light but maintains the same flexibility of a racing shoe. There is also the off-road or trail shoe. Companies design trail shoes for running off a track in a variety of conditions. They are a heavier shoe with thicker soles and toe bumpers.
Court Trainers
The court shoe is usually heavier than a running shoe but still lightweight. Companies make court shoes from any material like canvas, cloth, or leather. A court shoe has soles that are light in colour. The light coloured sole is necessary because it does not mark up a basketball or tennis court. This shoe design is made especially for different court sports, such as basketball, racquetball, and tennis. These shoes have better support than running shoes. They also have padding that suits the sport. An example of this is that tennis shoes have more padding and a heavier sole on the sides for fast, comfortable, side-to-side movements.
Field Sport Trainers
Many of the field sport shoes have cleats. These are small rubber or metal spikes or bumps on the bottom of a shoe. The design of these shoes supports quick starts and stops on grass or turf. Moulded cleats are cleats that are a permanent part of the shoe. Removable cleats are cleats that a person can screw into the shoe. Sports like baseball, football, and American football require cleats. Unlike running or court shoes, these trainers cannot be worn for anything other than the sport for which they are designed. Many schools and sports centres do not allow a boy to wear these shoes off the field simply because cleats damage flooring.
Cleats are available in either rounded or spiked shapes. It is important to speak with a coach or athletic organiser before purchasing these shoes. They can be expensive and extremely specialised. If considering cleats for a boy who plays different field sports, there are cleats that can be worn for more than one sport, or interchangeable cleats that can be used for a variety of sports.
Sizing for Boys' Sports Trainers
There are a few ways to find out the accurate size for a boy's athletic shoes. Getting an accurate size is extremely important because of the problems that ill-fitting athletic shoes can cause. The least of which are chafing and blisters. The worst of which are ankle, knee, and hip problems. Fortunately, getting an accurate size is relatively easy.
One of the easier ways to get an accurate size is to have the boy stand with each foot on a sheet of paper in the socks that he wears with the shoes. After either carefully tracing the foot, or making a line at the longest toe and the heel, one can measure the distance between the two. The next step is to take a tailor's tape measure and wrap it around the widest and highest part of the boy's foot. This shows the width of the foot. The designation of width is indicated with the letters E through H. A size E is for a narrow foot and H is for a wide foot. A shoe sizing chart is then compared to the measurements. The sizes for boys aged six through 10 range from size 11.5 up to size 6, that covers 18.4 cm to 24.8 cm. After these sizes are outgrown, one would have to change to adult sizes. It is important to remember that a child should never wear any shoe, especially athletic shoes, that are too small or that are more than one size too big. It is better to have a shoe that is slightly too big than too small if the child is in between sizes. A buyer can compensate for a shoe that is a size too big by using a thicker sock. The following is a comparison chart of typical shoe sizes for children aged six through 10.
| Euro | UK | CM |
| --- | --- | --- |
| 30 | 11.5 | 18.4 |
| 31 | 12 | 19.1 |
| 31 | 12.5 | 19.4 |
| 32 | 13 | 19.7 |
| 33 | 14 | 20.3 |
| 33 | 1 | 20.6 |
| 34 | 1.5 | 21 |
| 34 | 2 | 21.6 |
| 35 | 2.5 | 21.9 |
| 36 | 3 | 22.2 |
| 36 | 3.5 | 22.9 |
| 37 | 4 | 23.2 |
| 37 | 4.5 | 23.5 |
| 38 | 5 | 24.1 |
| 38 | 5.5 | 24.4 |
| 39 | 6 | 24.8 |
Arch Support for Boys' Trainers
Arch support is extremely important for any shoe but is of particular importance for sports trainers. There are three common types of arches: normal or medium arch, flat or low arch, and high arches. Companies design most sports trainers for the normal or medium arch. To measure the arch, wet the boy's feet and have him stand on a piece of paper. If part of the foot, and all of the arch, is missing on the piece of paper then the boy has high arches. If the outside of the foot, ball of the foot, and heel of the foot are complete then the arch is medium or normal. If all of the foot, including the arch, is visible then the boy has flat or low arches. A consumer can compensate for high or low arches by using arch supports or inserts. Arch support is very important. Poor arch support can cause ankle, knee, hip, and back problems later on in life.
Buying Boys' Sports Trainers on eBay
eBay has a large selection of boy's athletic trainers available for purchase. They have an abundance of sizes, types, and styles of sports trainers available in both name brands and off brands. To find a specific product you can narrow the search down by typing in a keyword. An example of this would be ''Adidas'' or ''Nike''. They also sell different arch supports. To find boys' athletic trainers simply go to eBay and input the search terms. Then, click on the search button. You can also narrow the results by using more specific search terms, such as "boys' basketball trainers", "boys' size 11.5 trainers", or "boys' athletic shoes".
When purchasing from eBay, you can look at reviews or seller ratings before buying from a certain seller. The ratings help people decide whether or not to purchase from a particular seller. You do not want to purchase from a seller that has bad reviews or ratings. There are also sellers that have the designation of top-rated sellers. This means they have consistently good reviews and comply with all of eBay's policies.
Conclusion
Finding good boy's sports trainers is not difficult when a person knows for what they are looking, whether it be for school shoes or a particular sport. The first step should be to speak with a coach or athletic supervisor where the boy is playing to find out if they have a specific shoe that they recommend. Many sports centres and schools have rules as to which trainers a boy should use. Even if they do not have specific trainers that they require, size and fit are extremely important. Any shoe that does not fit properly can cause both temporary problems, like chafing and blisters, and permanent problems, such as joint and foot disorders. Even though a buyer can compensate for one size too large, a shoe that is too small should never be worn.
Regardless of the type of trainers for which a buyer is looking, he or she can usually find a wide selection of them on eBay. eBay also has a selection of insoles, cleats, and spikes that fit different brands and styles of athletic trainers.