http://stores.shop.ebay.co.uk/Jewels-Lingerie-Heaven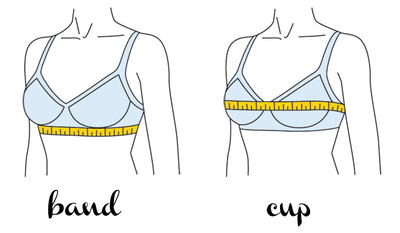 How to find your correct Bra size
Correct Bust Measurement
Did you know that 8 out of 10 women are wearing the wrong bra size?
That is why it's important for us to provide you with tips to get an accurate measurement!
Measurement is a simple two-step process which consists of measuring the under bust to determine the band size, and the bust at fullest to determine the cup size.
Use the two tips and charts below to find your correct size from the comfort of your own home.
Band Size - Under bust
Place the tape measure around your ribcage, directly underneath your bust. Make sure you are completely relaxed while doing this in order to achieve an accurate reading.
Hold the tape measure securely around your ribcage. Make sure the tape measure is parallel to the floor so that it's straight on your body.
Now, you can take this measurement to the Bra Measurement Chart to determine your band size.
CUP SIZE - OVER BUST
Place the tape measure around the fullest part of your bust, at nipple level. Make sure you are completely relaxed while doing this in order to achieve an accurate reading.
Hold the tape measure securely around your bust, 1 finger from the bust. Make sure the tape measure is parallel to the floor so that it's straight on your body.
Now, you can take this measurement to the Bra Measurement Chart. Locate your band size and follow the column down to find your cup measurement. Your cup size is located in the far left column.
Bra Measurement Chart

Band Size
30
32
34
36
38
40
Under Bust (inches)
24, 25, 26
26, 27, 28
28, 29, 30
30, 31, 32
32, 33, 34
34, 35, 36
Cup Size
Over Bust (inches)
A
29½ - 30¼
32¼ - 33
34¼ - 35
36¼ - 37
38¼ - 39
40¼ - 41
B
30¼ - 31
33 - 33¾
35 - 35¾
37 - 37¾
39 - 39¾
41 - 41¾
C
31 - 31¾
33¾ - 34¾
35¾ - 36¾
37¾ - 38¾
39¾ - 40¾
41¾ - 42¾
D
31¾ - 32¾
34¾ - 35½
36¾ - 37½
38¾ - 39½
40¾ - 42
42¾ - 44
DD
32¾ - 33½
35½ - 36¼
37½ - 38¼
39½ - 40¼
41½ - 42¼
43½ - 44¼
E
33½ - 34¼
36¼ - 37
38¼ - 39
40¼ - 41
42¼ - 43
44¼ - 45