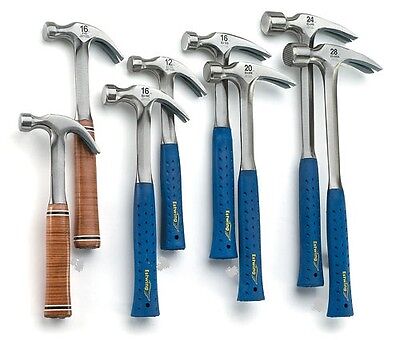 Ernest Estwing founded the Estwing Manufacturing Company in 1923 having emigrated from his native Sweden to settle in the northern Illinois city of Rockford. Since that time the Estwing family and their employees have taken great pride in designing and manufacturing a professional range of striking tools consisting of
hammers
,
axes
,
pry bars
and other speciality striking tools. More than 85 years after it started, the company has millions of satisfied customers around the world, and its products are known for their durability, comfort and value.
Solid Steel Striking Tools
Estwing's striking tools are constructed from a single, solid piece of high-grade steel, to provide the ultimate in balance and finish. A choice of handle grips is available, with either a patented shock reduction
vinyl grip
or the more traditional laminated
leather
. Most Estwing hammers also come in a choice of weights to suit your individual preference and application.
The vast product range includes both curved claw and straight claw nail hammers for carpentry as well as long handled versions for framing and shuttering. Available in different weights and handle grips, Estwing also offer their nail hammers with smooth face for finishing work or a milled faced for framing. It is not just carpenters that Estwing cater for; they also produce
bricklayer's hammers
, engineer's hammers,
drywall hammers
and
hatchets
, roofer's picks and
club hammers
. To complement their range of hammers, Estwing also manufacture
nail pullers
and
pry bars
, axes, hatchets and wood splitting tools as well as a range of geological tools. For the more occasional hammer user, Estwing have introduced their Sure Stike range of striking tools, offering a lower cost alternative for handymen, builders and DIYers.
With such a wide range of products, you may be mistaken for thinking that the company focuses its attention on developing new products. However, the reality is that Estwing continually strives to improve on the design of their existing products to ensure that they remain the striking tools of choice worldwide. An example of the company's innovation is the shock resistant grip first introduced in 2001, which has been shown to reduce impact shock by 50% in independent laboratory testing. This grip is now used on all of Estwing's vinyl grip hammers and provides users with a comfortable and durable ergonomic handle. A revolution in hammers was made in 2003 with the development of Estwing's Weight Forward hammers. These have a fibreglass handle and place 70% of the weight at the head of the hammer, delivering maximum power for more efficient nailing. The weight forward hammer also uses the shock resistant vinyl grip to ensure a 50% reduction in shock during use.
Offering comfort and durability you can depend on, Estwing provides striking tools with unsurpassed quality, balance and finish.