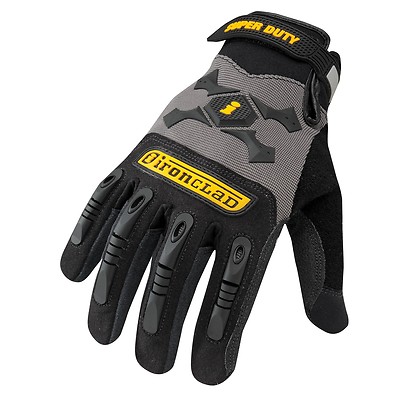 Ironclad was established in 1998 by Ed Jaeger and has since become the USA's number one brand for work gloves and performance wear. Realising that there was a need for technical, trade-specific gloves with a choice of abrasion levels, Ironclad developed a range of gloves that combine performance with outstanding hand protection and dexterity.
Following the huge success of their
glove range
, the company turned their expertise to the workwear industry in 2005. Ironclad's workwear fuses the technology found in sports apparel with the construction grade strength demanded by the working professional.
Advanced Materials
As the creators of the performance work glove sector, Ironclad selects only the best materials available for each of their
gloves
. This has ensured that each glove is protective and durable, whilst offering the flexibility and dexterity needed to allow unrestrictive working. A range of other features are available depending on the glove, including a padded inner palm, non-slip grip pads, DuPont™ Teflon® coating for oil resistance, and the patented Hotshield® material that is heat resistant up to 315°C.
The Professional's Choice
With over forty distinct models of gloves, and a range of workwear solutions, Ironclad has become a firm favourite for professionals in many different categories including construction, farming, military and law enforcement, package handling and transportation, forestry and ranching, to name but a few. The company is also regarded highly by homeowners across the globe who use Ironclad gloves for DIY, home maintenance, gardening and landscaping use.
Leisure & Entertainment
Ironclad's products have wide ranging appeal, and their gloves and work apparel are increasingly popular choices in many sports and leisure activities, including motor sports, mountain biking and American football. The increase in popularity is in part due to their use on a range of television programmes such as "Extreme Makeover - Home Edition", "Overhaulin'" and "Payback".
Workwear Technology
The Ironclad development team are committed to creating market leading products, and they make use of the best materials available. To date, the company has registered over 30 trademarks and patents to ensure that when you buy Ironclad you know you are getting the original and best.
Priding themselves on the design, quality and performance of their products, Ironclad's workwear range includes t-shirts, 1st Layer™ tops, sweatshirts & fleeces, jackets, coats and trousers. All are made from technically advanced materials that are highly durable and breathable. Many are also temperature regulating with the ability to wick away moisture as well as being odour and stain resistant.