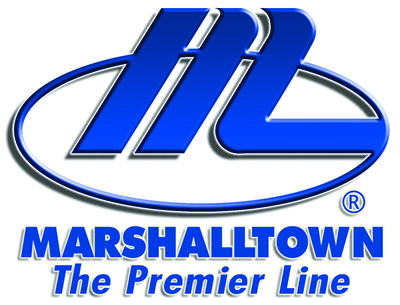 For over more than 100 years, the Marshalltown Company has become established as one of the largest manufacturers of construction tools for working with brick, stone, concrete, drywall plaster and tiles. Used by professionals and homeowners throughout the world, under the Marshalltown, QLT and Nu-Pride brands, these tools are trusted and respected as the standard of quality in their field.
The Standard of Quality for Over 100 Years
The founders of the Marshalltown Company, brothers Jesse Cyrus Williams and Enoch Lester Williams, were forced to start work at an early age following the death of their father. In 1885 both of them went to work as apprentices with Dave Lennox, the American inventor and entrepreneur, at the Lennox Machine Company based in Marshalltown, Iowa. The Williams' brothers and Dave Lennox were set to become lifelong friends and, by the age of 20 years old, Jesse was running the plant at Lennox and had been promoted to plant superintendent. In 1890 Jesse started his own business with the opening of the Williams Brothers' Machine Shop.
The First Marshalltown Plastering Trowels
The first Marshalltown plastering trowels were made by Dave Lennox and used by masons building the Marshal County Courthouse between 1884 and 1886, and this is where the relationship started with masons to create the highest quality trowels. However, due to Dave's more inventive spirit and ambitions, he passed the trowel making side of the business over to the Williams brothers, even providing them with a forge, anvil and grinding wheel to get them started; thus the Marshalltown Company as we know today was born. With Jesse's entrepreneurial flair, the company flourished, and demand for Marshalltown products continued to grow.
Marshalltown Brick Trowels Introduced
During 1902, the Williams brothers moved their now booming business to their present site in Marshalltown, Iowa, USA, where it remains today, along with an additional manufacturing and distribution centre in Fayetteville, Arkansas. Their plastering trowels were presented in their 1904 catalogue with the intent to convey to plasterers and masons the superior quality of the tools and, soon after the production of Marshalltown brick trowels began, the company was renamed Marshalltown Trowel.
Worldwide Quality Brands from Marshalltown
Despite initially specialising in the production of trowels, Marshalltown has now become one of the world's largest manufacturers of drywall, plastering and masonry tools. The company's product lines now include the Q.L.T. brand, developed for the everyday handyman or DIY user, the professional quality but good value Nu-Pride brand, and the original premium tools that are now part of the Premier Line. Due to their continued global expansion, the Marshalltown Company have twice received the presidential E-star Award in recognition of companies that show outstanding export sales, showing how popular Marshalltown products have become throughout the world.
Innovative "Broken-In" Finishing Trowels
Marshalltown now supplies a huge range of high quality plastering and cement trowels, many of which are patent protected. This includes the Permashape finishing trowel, which has a blade guaranteed to never change its shape. The Permashape broken-in blade also helps to eliminate trowel marks and has bevelled working edges that prevent aggregate popping. Marshalltown has also patented their Durasoft handles that are designed to be the best, soft grip handles in the masonry industry, although more traditional wooden and plastic handled versions are also available. The choice of handle and blade material, including stainless steel versions, ensures there is a trowel to suit everyone's pocket.
Full Line of Bricklaying Tools
Marshalltown's full line of professional masonry tools includes everything - a bricklayer's apprentice kit, brick and block carriers, trowels, chisels, levels and much more. Marshalltown
brick trowels
are available in London, Wide London and Philadelphia patterns, and the London pattern is also available in a Permashape style. Other trowels in the range suitable for bricklaying are
pointing trowels
,
gauging trowels
,
margin trowels
,
tuck pointers
and
hawks
. Together with joint rakers and brick jointers, Marshalltown offer all the professional quality tools required for your masonry needs, with a choice of sizes and handle materials to suit individual tradesmen.
Walls & Floors
The tiling and flooring products from Marshalltown are just as extensive, with trowels for decorating, tiling, finishing and flooring. Notched trowels with numerous notch sizes and shapes for spreading different types of adhesives are a large part of the flooring and tiling range of tools. Margin trowels are also available in the notched versions with pointing and bucket trowels completing the offering. Most Marshalltown trowels are available with Durasoft® handles and stainless steel blades if required. There are also tile cutters and blades, tile nippers, saws, mixers and levels. The list goes on and on to ensure the needs of tile and flooring experts are catered for in every way.
Drywall & Drylining Tools
The company's innovative drywall tools have revolutionised the drywall industry, ensuring that Marshalltown remain at the forefront by delivering quality, comfort, reliability and durability. Their products provide the very best in choice, size and quality, enabling the dry liner to do his job faster and more efficiently, whilst ensuring a professional finish. More specialist drylining products from Marshalltown include their Skywalker Stilts, allowing plastering and board fixing to ceilings to be carried out without the need for trestles and boards or ladders. These are available in two versions, with different ranges of height adjustment. Other essential specialist drylining tools offered from Marshalltown are various inside and outside corner trowels,
hand and pole sanders
,
circle cutters
, mixers, saws,
board lifters
and
aluminium hawks
.
Small & Decorative Tools
Last but by no means least, Marshalltown's vast product range includes tools designed for decorative concrete and smaller finishing jobs. These include
midget trowels
, concrete edges and groovers, ornamental tools, tuck pointers and even small trowels for archaeology. These are invaluable for tilers, plasterers, painters & decorators, builders or contractors, and provide all the tools needed to take a project from start to finish.
Marshalltown Tiling Tools
Marshalltown is a company that produces the ideal tiling tools. With an emphasis on providing professional standard tools to every trade, you know you're getting the best of the best. Tiling is a task that requires a range of high quality tools to get the best performance, and Marshalltown has everything you need, from trowels to grout saws. A range of replacement blades is also available for some of the tools on offer.
Notched Trowels
Marshalltown's
Notched Trowels
are particularly suited to tiling in that they allow the user to ensure the base surface is completely covered before tiling actually begins. Special square notches in the blade spread the adhesive or mastic out effectively and efficiently. It is comfortable and easy to use - thanks to the cushiony Durasoft grip, affordable and masterful, giving the user complete control over the level of depth and amount of adhesive used.
Tile Grouters
The Marshalltown
Tile Grouter
comprises of a gum rubber face that is connected to a dense rubber pad, maximising the quality of tile grouting performance. Spreading is easy thanks to the Tile Grouter's edges, which have been bevelled. You can grout in awkward areas and on any base or coving-based workplace. Available in a range of sizes and easy to wield, the Marshalltown Tile Grouter is the only option for your tile grouting needs.
Grout Saws
You can use Marshalltown's
Grout Saws
to easily remove loose and damaged grout, featuring a 2" blade that is held in place with a die cast aluminium mounting. The strength of this tungsten carbide coated blade allows it to remove even stubborn grout, hassle-free. Replacement blades are available to ensure that the Grout Saw is always up to the highest of standards.
Tile Spacer Popper
The primary function of the Marshalltown
Tile Spacer Popper
is to remove tile spacers from tiles that have just been laid. This then prepares them for grouting, and, because the Tile Spacer Popper is designed not to inflict damage, also means that the tile spacers can be used again on future projects. With its special shape, the blade means that the tile spacers can be removed quickly and easily.
Marshalltown's Tiling Tools feature an integrated finger guard to protect the fingers and maximise grip and comfort, as well as the performance of the tool. Tiling is a special trade that Marshalltown caters to through a number of its tools. Before you start any tiling job, ensure that you have Marshalltown's 100 year experience behind you.
Marshalltown produces a wide range of trowels that provides you with a diverse selection of application options. As with all Marshalltown products, these trowels are all intended for use by professionals, whatever their trade, and are all carefully designed to be extremely durable and able to cope with heavy duty tasks. All of this is achieved without compromising on comfort or user-friendliness.
Adhesive Trowels
The
Marshalltown Notched Trowel
is a prolific adhesive trowel, with its uniquely square notched hard tempered steel blade designed specifically to spread adhesive or mastic efficiently. This can then set up the surface so that you can lay floor coverings, and the special square notches can harness the depth and level of adhesive used. Marshalltown's Adhesive Trowels feature a Durasoft handle that makes using them convenient and comfortable.
Brick Trowels
Both London and Philadelphia style
brick trowels
are produced by Marshalltown. The London style blade pattern features a rounded heel and allows the user to place mortar towards the front of the blade - a wider version is also available. Philadelphia style blades are more elongated. Marshalltown's brick trowels are all very strong and light, with a Durasoft handle for comfort. The new QLT Bucket Trowel is also available, which is a corrosion-resistant trowel designed for removing mortar from buckets.
Corner & Edging Trowels
Marshalltown offers a range of trowels to aid in administering and perfecting your corner and edging work. Inside and Outside
Corner Trowels
in their various forms consists of aluminium mounted blades that are set at 103° and designed to flex, creating perfect 90° corners. The Margin Trowel and Cement Edger can also provide excellent finishing touches to your work. The Cement Edger even has a curved Durasoft handle for enhanced ease of use.
Finishing Trowels
Finishing Trowels are designed to smooth a surface after it has begun to set by using a series of sweeping arcs. The finishing trowel, therefore, needs to be shaped and angled to allow flexibility and heavy-duty treatment. Marshalltown Finishing Trowels provide exactly this with their various stainless steel designs. The handle is ergonomically placed to give the user the best grip possible.
Gauging Trowels
The Marshalltown
Gauging Trowels
feature a rounded nose that is ideal for mixing solutions and mortar and then applying the mixture to small areas. It is also perfect for covering up damaged areas. The trowel has an especially strong blade for these rigorous tasks, and it is even heat-treated during manufacturing to ensure this. Marshalltown's Gauging Trowels are hardy pieces of DIY equipment that will last even after extended daily use.
Pointing Trowels
Pointing Trowels are designed to seal joints and point. Standard trowels are made from durable materials and heat-treated for additional strength. Tuck Pointing Trowels are specifically designed to re-point brickwork and amend broken mortar between bricks. The special shape of the Tuck
Pointing Trowel
means that working in tight spaces is easy, ideal for the aforementioned sort of work. All Pointing Trowels also feature a Durasoft grip as well, maximising comfort for the user.
Marshalltown's trowels are a testament to over 100 years in their industry. Strong, lightweight, easy-to-use and backed up with the promise of excellent customer service, Marshalltown are the best choice for all your masonry and plastering needs.