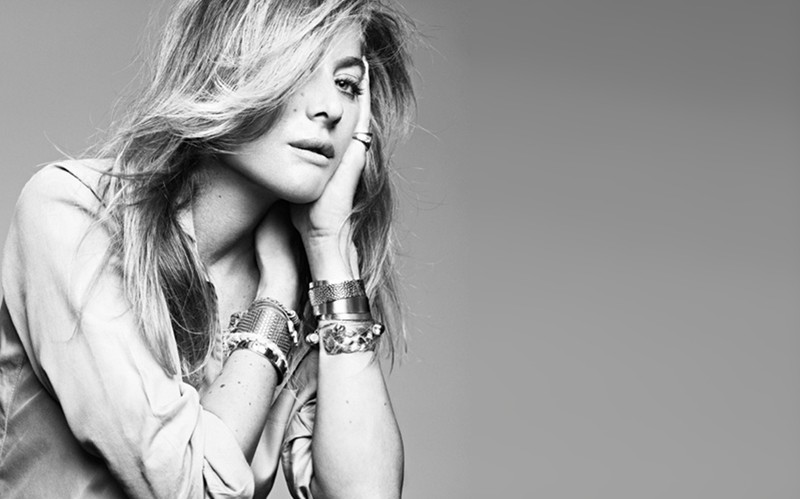 For French jeweler Aurélie Bidermann, good design is found in the details. Aided by internationally known gilders, engravers and Parisian artisans, Bidermann's nature-inspired jewelry showcases hand-selected, untreated gemstones and hammered, polished gold chain links that are joined together by hand. Intricate artistic touches add a layer of finesse to her beautifully evocative jewelry.

Our online shop offers you an exclusive chance to buy Aurélie Bidermann items for a very low price, so don't miss a chance!
Aurelie Bidermann Gold-Plated Emerald Green Feather Clip Earrings
These are ultimate fashion loving girl's dream. Have you seen a Gossip Girl episode where Serena was wearing emerald green and gold plated earrings? It looked amazing! This kind of combination will attract a lot of attention. Gold-plated brass, emerald-green feathers, faceted and embossed design, clip fastening.
Aurelie Bidermann Machu Picchu 18karat Gold Plated Clip Earrings
Are you looking for earrings that would look elegant and edgy at the same time? Then you definitely need these... Machu Picchu 18-karat gold-plated clip earrings. Comes in Yellow purse.
Aurelie Bidermann Gold Plated Ulysses Cuff Bracelet
Add luxuriance and richness to your look by simple wearing this authentic braided bracelet.
Aurelie Bidermann Jasper Buddha Silver Chain Necklace
Searching for a balance and piece in your life? We think that this might let you achieve it more easier. Buddha is made from Jasper stone. Its strong, grounding energies are remarkable for attaining emotional stability, and bouncing back after dealing with a conflict or crisis. It increases vitality and rejuvenation, and promotes self-confidence and creative inspiration.
Aurelie Bidermann Pink Elephant Charm Liberty Bracelet
Elephants means strength, honor, stability and patience, among other attributes. To the Hindu way of thought, the elephant is found in the form of Ganesha who is the god of luck, fortune, protection and is a blessing upon all new projects. If you are feeling a lack of luck try wearing this.:) This awesome item can be worn not only like a necklace but also as a bracelet.