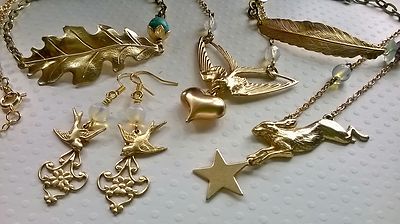 Add a caption
Costume Jewelry made using Brass
Click to edit caption
Brass is an alloy made by combining copper and zinc.
When highly polished, Brass is gold in color.
Quality Brass is Lead and Nickel free.
Many high end, big name jewellery designers currently use Brass in their costume jewellery pieces.
Brass used in jewellery had a revival in the late 19th Century and early 20th Century and was used in a lot of the costume jewellery made by the designer Miriam Haskell. Hollywood stars of the time such as Joan Crawford wore her pieces and these pieces are now highly collectable.
Brass will naturally tarnish with wear to a deep golden brown. A lot of people love the tarnished vintage look to Brass, but if you want to keep brass jewellery shiny and golden new, give your piece an occasional rub with Brasso or alternative Brass cleaner and buff polish with a soft clean cloth.
As with any type of costume jewellery, always take it off before going to bed, bathing, exercising, swimming.
Keep your Brass jewellery safely stored away from strong light. A little plastic bag or jewellery box is ideal as, as well as keeping your item safe from damage, it also helps to slow down the natural oxidization process.