Bridal/Wedding Veils - What Length?
By
Occasions By TJ
This review is to help any Bride to Be or persons involved with a wedding.
Occasions By TJ specialises in all aspects of weddings from planning and designing to creating bespoke wedding accessories from veils to garters and ring cushions - all on a budget!
This guide if about bridal/wedding veils and the various lengths that are available and how they are best suited to a wedding gown.
The most important part of choosing a wedding veil, is that the Bride to Be is comfortable and confident in wearing it, and it does not necessarily have to confirm to tradition.
However, it is sometimes nice to know what these traditions are especially if you are planning to have such a wedding.
Background: The tradition of wearing a veil stems from the days of matchmakers! The groom was only allowed to see his new bride once the vows had been said and confirmed. This is when the groom was allowed to lift the blusher of the veil and see his wife for the first time.
The blusher of the veil symbolised purity but this meaning has changed as the years have passed. For the modern times, the blusher can now be lifted by the person who is giving the bride away or by the groom after the vows have been said at this stage (usually 'you may kiss the bride') the veil (blusher) is lifted away from the bride's face - modern symbolism of the groom undressing the bride.

Veil Lengths: There are many veil lengths, all suited to a particular style of dress/accessories. But as mentioned at the beginning of this guide - the Bride must feel confident and comfortable in wearing it. There are approximately 6 different lengths of veil - which are listed below but again these lengths can be altered according to the height or desires of the bride. However, if you have any queries or questions about veils, please contact TJ who would be delighted to help.
Shoulder Length: this length would typically skim the Bride's shoulders and is oftern worn with informal/modern gowns. Sometimes this type of veil is referred to as a 'Madonna Veil' or 'Fly Away' veil. The approximate length of this veil is 24 inches but can be any where between 18 to 27 inches.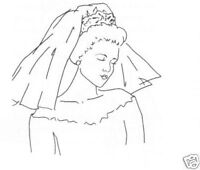 Elbow Length: As suggested in the name, this veil will finish near the bride's elbows when her arms are at her sides. Usually suited for informal/modern type wedding gowns. This veil can be made to reach to the bride's waist (Bride's choice). The approximate length for this type of veil is 30 inches but can be from 28 inches to 36 inches.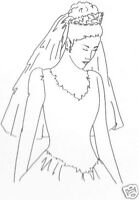 Fingertip Veil: When the Bride's arms are out stretched by her side, this veil would skim her fingertips. This type of veil is traditionally worn with formal or semi formal gowns. The standard length for this veil is 48 inches but again can vary from 36 to 50 inches.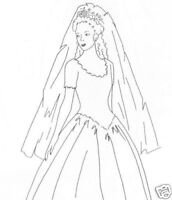 Ballet Veil: This veil is also known as the 'Waltz Veil' 'Ballerina' or 'Walking Veil'. It usually finished at either the calf or the ankles of the Bride. The length varied from 54 to 60 inches and highly dependent on the Bride's height. This type of veil usually accompanied semi formal to formal bridal gowns.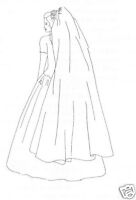 Chapel Length: This veil is usually worn with formal wedding gowns and finshed at floor level without a train. The approximate length of these veils are 90 inches but again was dependent on the Bride's height.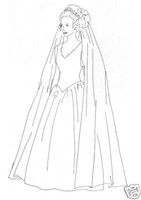 Cathedral Length: This veil suited formal gowns. It usually was designed to match the train to the wedding gown, as it flowed over the top. The approximate length was 126 inches. This type of veil length was often seen at weddings of regal or high gentry society.
Hopefully this guide has helped you with understanding veil lengths and when they were traditioanlly worn. Remember veils must be suited to the bride, and the Bride's dress and accessories and is very much to do with personal preference.
If you would like advice and help with veils, including hand made veils to personal preference please contact TJ through the ebay messaging service or visit her shop.
Occasions By TJ offers a wide range of Bridal Accessories (which can be found in her shop), Planning, or items that can be hand made according personal preferences and budget (You can have the trimmings without breaking the bank!). If any of this appeals please contact TJ on the above and she would be delighted to help and advise you.
Many thanks for taking the time to read this guide
Wishing you all the best for the future
TJ