British Standard Pipe Thread is a family of standard screw thread types that has been adopted internationally for interconnecting and sealing pipe ends by mating an external (male) with an internal (female) thread.
A list of 16 thread sizes are defined by the standards, ranging from 1⁄16 Inch to 6 Inch. The size was originally based on the inner diameter measured in inches of a steel tube for which the thread was intended. This often causes confusion, as people think the size refers to the outside diameter of the male thread. Two types of threads are used:
Parallel (straight) threads, British Standard Pipe Parallel thread (BSPP)
Taper threads, British Standard Pipe Taper thread (BSPT)
Just to confuse things, often the T in BSPT refers to Thread and doesn't indicate either Taper or Parallel.
The threadform follows the British Standard Whitworth standard
The table below shows dimensions for male threads.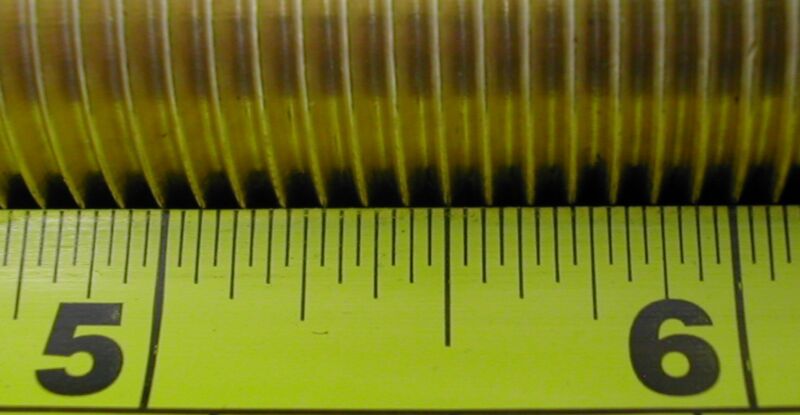 Add a caption
This is a 1/2 Inch thread, you can count 14 threads in one inch.
Typical uses and sizes are :

1/4 Inch - Compressed air connections
3/8 Inch - Oil line connections
1/2 Inch - Basin and sink taps, radiator inlets, old outside tap outlets
5/8 Inch - Old outside tap outlets (very rare)
3/4 Inch - Bath taps, washing machine inlet hose connections, modern outside tap outlets
1 Inch - Domestic heating boilers and hot water cylinders
1-1/4 Inch - Wash hand basin wastes (bathroom sink)
1-1/2 Inch - Kitchen sink wastes (kitchen sink), bath wastes, WC syphon outlets
2 Inch - Modern toilet flushvalve outlets