Full title: Inter-Allied Victory Medal
Also known as: Victory Medal, Wilfred, Jeff, War for Civilisation Medal, Allied War Medal etc.
Construction: Bronze disc 36 millimetres in diameter.

Ribbon: 37 mm (note wider than other WW1 medals) "rainbow" pattern. This pattern includes the colours of all the allied nations, whilst not representing any one nation exclusively. Ribbon is suspended (joined to medal) by a bronze ring.
Clasps: Bronze oak leaf spray if recipient was mentioned in despatches.
Naming: Impressed block capitals, 5 known styles (excluding Dominion issues). British Army & Royal Air Force naming is in the following format; Regimental Number. Rank. Initial or initials. Surname. Regiment or Corps. Royal Navy naming takes the following format; Number. Initial or initials. Surname. Rank. R.N.
Issued: The original issue fell between 1920 and 1926, 1927 onward should be considered late issue.
Awarded to: All ranks of men and women serving in (or under contract with) the British & Imperial (ie: Indian, Canadian, Australian, New Zealand etc) Forces, including those employed in hospitals, who served on the establishment of a unit within a theatre (on land or at sea) of war (ie: France, Salonika etc) between 05.08.1914 and 11.11.1918. Or between 05.08.1914 and 02.07.1920 in the case of the Russian Theatre, the award was also issued to those involved in post war mine sweeping. For the RAF, the award could be issued to those based in the UK, if they had been actively engaged with enemy (for example Zeppelin defence). Just over 6.5 million Victory Medals where issued. Please note, this is the briefest of explanations, for further information readers are advised to consult - Williamson, H. 2011. The Great War Medal Collectors Companion. Collectors Guide Publishing.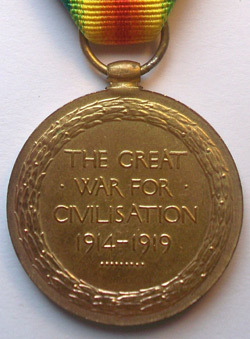 Obverse: Standing winged Victory holding palm branch in her right hand, with her left arm stretched as if reaching or greeting. The whole facing, with head and left arm angled toward the right side. The designers initials ("WMcM" William McMillan - who also designed the reverse of the British War Medal) can be seen at the left foot of Victory. The obverse design varies upon issuing nation, for example the Japanese pattern features a divine warrior ("Takemikazuchni-no-Kami") in place of Victory.
Reverse: Laurel wreath circlet surrounding text. Text reads "The Great War For Civilisation 1914-1919 ........." on 5 lines, the South African pattern has an additional Dutch translation for a total of 8 lines of text. On both patterns the text is capitalised.
Comments: An under appreciated medal, often consider as inferior by collectors to the British War Medal. This is probably because the medal is bronze not silver, which often determines British War Medal pricing. The advantage to collectors being they are often cheaper and can provide an inexpensive gateway to the hobby.