Full title: The British War Medal 1914-1920
Also known as: British War Medal, War Medal, Squeak, Mutt etc.
Construction: Silver disc 36 millimetres in diameter. Also awarded in bronze to members of qualifying Native Labour Battalions such as the Chinese Labour Corps.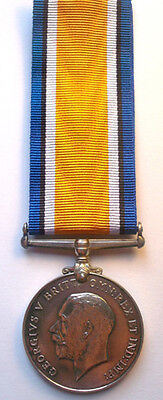 Ribbon: 32 mm broad central orange stripe, bordered by white, black and blue stripes. Unlike the Victory Medal ribbon, the pattern is purely aesthetic. The ribbon is suspended by a plain silver bar suspender (non-swivel) riveted onto the medal.
Clasps: None, although battle clasps where debated and even approved in the case of the Admiralty. However, the expense and sheer volume required impeded production and issue.
Naming: Impressed block capitals, 4 known styles (excluding Dominion issues). British Army & Royal Air Force naming is in the following format; Regimental Number. Rank. Initial or initials. Surname. Regiment or Corps. Royal Navy naming takes the following format; Number. Initial or initials. Surname. Rank. R.N.
Issued: The original issue fell between 1920 and 1926, 1927 onward should be considered late issue. Unlike the Victory Medal or 1914/1914-15 Star, the British War Medal could be issued by itself, as explained below.
Awarded to: All who qualified for the 1914 Star, 1914-15 Star, Victory Medal or Territorial Force Medal, also qualified for a British War Medal. As with the Victory Medal; All ranks of men and women serving in (or under contract with) the British & Imperial (ie: Indian, Canadian, Australian, New Zealand etc) Forces, including those employed in hospitals, who served on the establishment of a unit in a theatre of war (ie: France, Salonika etc) between 05.08.1914 and 11.11.1918. Or between 05.08.1914 and 02.07.1920 in the case of the Russian Theatre. The Royal Navy required 28 days service between 05.08.1914 and 11.11.1918 or the award was issued upon death (between the same dates). For the RAF, the award could be issued to those based in the UK, if they had been actively engaged with enemy (for example Zeppelin defence). Merchant Navy seaman qualified upon completing 6 months at sea between 05.08.1914 and 11.11.1918. The award was also issued to those involved in post war mine sweeping.
In addition (specific to the Army), those who left their place of residence and served overseas (not necessarily a theatre of war) were eligible. Simply, a soldier that left his home in Canada to serve in a garrison in the UK (or India etc) was eligible (regardless of whether he saw "action"). Whereas, a soldier who left his home in York to serve in Catterick Garrison was not eligible. However, men who served in coastal defence units and who engaged the enemy (for example Hartlepool coastal battery) were eligible. Just over 6 million British War Medals (in silver) were issued.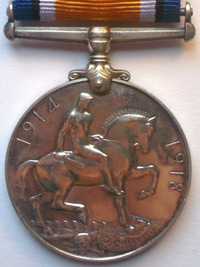 Please note, this is the briefest of explanations, for further information readers are advised to consult - Williamson, H. 2011. The Great War Medal Collectors Companion. Collectors Guide Publishing.
Obverse: Profile head of King George V facing left, surrounded by legend "GEORGIVS V BRITT: OMN: ET IND: IMP:" in block capitals. Designers initials ("BM" Bertram MacKennal) can be seen on the "shoulder" of the king.
Reverse: Saint George carrying short sword in right hand and reins in his left hand sits on a saddleless horse. The horse tramples a shield bearing the "Prussian Eagle" and a skull and crossbones. In the background, waves can be seen and the sun shines in the sky. Either side of this scene are the dates "1914" and "1918". The designers initials ("WMcM" William McMillan - who also designed the obverse of the Victory Medal) can be seen to the right, just above the shield.
Comments: A highly collectable medal, somewhat at the mercy of the price of silver (a great many were melted down in the 1970's). British War Medals to Indian recipients are especially scarce due to the great value of the silver, many were sold and melted soon after their issue.