Whats's the difference?
Well, in release date order we have the E (aka MC), followed by E-11, and then PE.
E lenses are generally chrome ring front. Some are marked MC, denoting multicoating. By the mid 80s multicoating was to be found in virtually every lens, so the marking was dropped.
E-11 lenses are usually 62mm thread. Both types have metal barrels & operate in full aperture stops. You can still set half stops but there is no 'click stop' on the aperture ring to do so.
E-11 lenses are generally slightly faster (f stop -wise) and often smaller than, their E- counterpart. Minimum focussing distance is sometimes reduced, albeit marginally!
PE Lenses have plastic barrels :( & may be set to half stops.
There is no specific documentary evidence that PE lenses perform any better (results-wise) than the E lenses. Let me know if you have any info that contradicts this.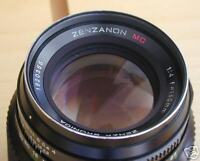 (Above) 150mm F4 MC. Note 62mm Filter Thread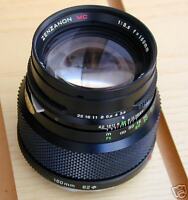 Later 150mm F3.5 also marked MC. Half a stop faster but still 62mm.