Add a caption
A link to an eBay auction which provides the most common fittings and tubing.
Imagine..
Building your own furniture doesn't have to be complicated or terrifying as it sounds. You can make it fun, imaginative, and easy - if you know how! This article is aimed at those looking to build their own 'Industrial' 'Reclaimed' or 'Vintage' looking furniture.
Simple but effective!
This rustic looking shelving system was created using KeyClampStore's very own pipe fittings, tubing and a few reclaimed scaffolding boards. For those who don't wish to go searching for old scaffolding boards, IKEA's shelving units also work well.
Clothing storage.
Impress your customers or house guests with an industrial/reclaimed style coat rack and storage unit. Again, this simplistic piece was created using items purchased from KeyClampStore and a shelving board.
Get your coat!
This coat rack will provide you with the all storage, style, and durability you need. Suitable for Restaurants, Salons, Pubs, Home, and more! Can be built to any size.

Endless ideas..
From clothes rails to coffee tables, barriers and even lighting, we thank all the creative people out there that use our products to make amazing things. We will soon be making it even easier to order these, with the use of industrial kits. Delivered cut to size, with diagrams, that can be put together with an allen key and a bit of spare time!

One for the road?
The Gin & Olive, Southsea, show us how to implement industrial/reclaimed units into a commercial environment with great results! Drinks shelving and bar structures, all easily and effectively produced with KeyClampStore.

Check out their main website for the full tour!
Hooked already?
Impress your customers or house guests with an industrial style coat and hat rack. Again, something simple, cheap to make, and very effective.

3, 4, 5, or as many hooks as you want!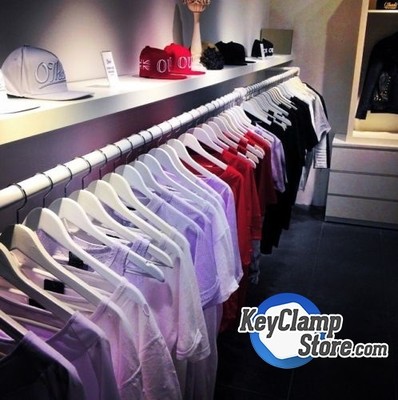 Hang on..
Another KeyClampStore shop-fit! This time for a modern, hip-hop, high street store. The fittings and tubing have been powder-coated white to produce a fresh, clinical appearance which looks great against the bright, bold colours of the clothing.
Anything goes!
Contact the guys at KeyClampStore, check out some of the ideas on their website or click on the photos to view an eBay auction which allows you to pick out piece-by-piece what you need.