Research suggests that working from makes people more productive, but ditching the daily commute means you'll need to think about setting up your own home
office
. The kitchen table might do for occasional use, but a proper desk and chair will pay dividends for anything more. Here's what you need to know when buying both.
Nowhere to put your laptop?
If space is in short supply, laptop users might get away with a laptop tray or stand. Despite their name, laptops don't work well on your lap. Your hands are usually too close to the keyboard and your eyes are too close the screen, and the resulting posture can be uncomfortable after a couple of hours.
With a laptop stand, however, you can position the laptop further away from your body without it falling off your knees and some models will raise the keyboard and screen to a more comfortable angle. You may need to sit back in a comfortable chair rather than upright in an office chair to use a laptop this way, however, so the arrangement won't suit everyone.
---
A good desk is best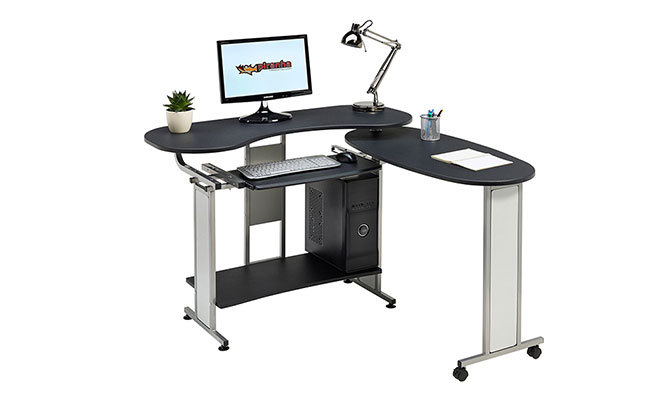 Of course the best solution for a home office is a proper office desk, and all shapes and sizes are available on eBay.
A simple self-assembly 'computer desk' can be found new for around £30, or around £50 with a set of draws for storing papers and other office equipment. These work well with both desktop and laptop computers, but be sure to check the depth of the desk if you're using an old-style CRT monitor rather than a newer flat-screen display.
Desks designed to sit in a corner also make excellent use of space that might otherwise be wasted and some desks are also adjustable for height, so pay close attention to item descriptions if you have particular requirements.
---
Take a stand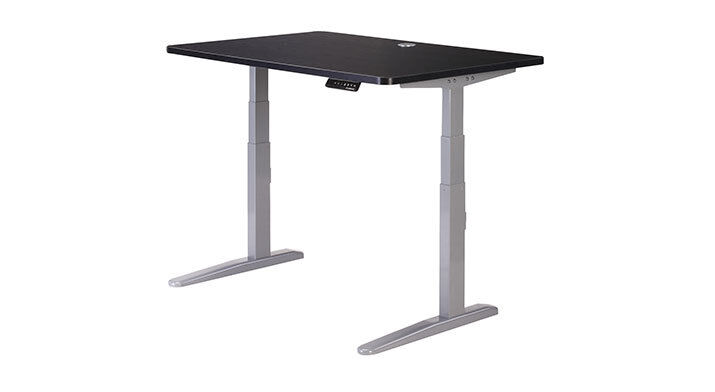 One of the latest trends, however, is for desks that can be used standing up, which means you don't need a chair and can move around freely while you work.
If you fancy a standing desk, consider one with a wide height adjustment so you can use with a chair if you ever need to. Some of the more expensive models also have motors for raising and lowering the desktop, but you can save money by opting for a hand-cranked or counter-balanced mechanism.
Finally, while eBay is obviously great for buying second-hand items at bargain prices, don't just limit yourself to private sellers. Office surplus companies also shift stock via auctions and while availability varies, high-end office desks can be found at knockdown prices.
---
Something to sit on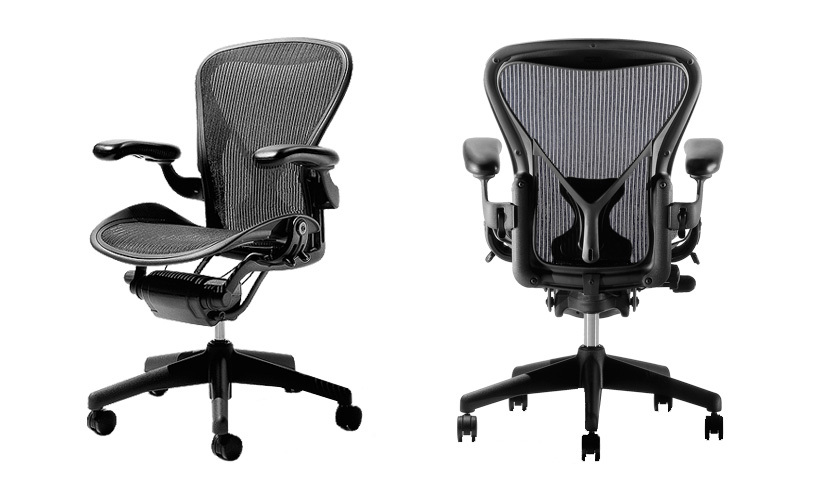 If it's all you have to hand, a dining chair can be repurposed as an office chair, but put something padded between it and your bum. You'll be much more comfortable sitting on something designed for the task, though - you may on it for around eight hours a day, remember.
Most office chairs have a height adjustable swivel base, but one with adjustable tilt will give extra flexibility for finding a comfortable seating position. A tall back that fully supports your spine is usually preferable to a narrow one that doesn't and adjustable arms for supporting your elbows often work best for typing - although individual tastes obviously vary for both features.
Padded leather office chairs can be sweaty, but more expensive models stretch a tough, breathable mesh across the seat and back for maximum breathability. Models from Herman Miller are widely considered to be the best in this regard and, again, office surplus sellers often have some great deals.
---
Sit up straight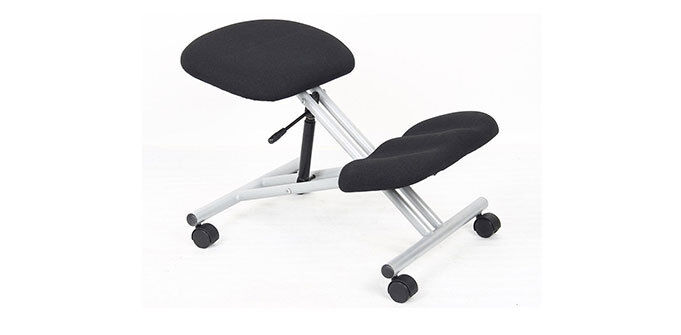 A traditional chair isn't the only option, of course and a wide range of ergonomic chairs is also available. Most are designed to prevent you slouching at your desk by forcing you to keep your spine straight and a kneeling chair is the simplest option.
Balance ball chairs take a different approach. These use large (and very robust) inflatable ball that's very comfortable to sit on, but that makes it hard to balance and so you need to change your position slightly all the time.
Alternatively, the Swopper achieves the same thing with a less radical 'bar stool' design that places a cushioned seat on a large, flexible spring, but expect to pay much more for one of these stylish chairs than a balance ball.
Five of the Best… Office Desks & Chairs
---
Lavolta CoolFlow Laptop Stand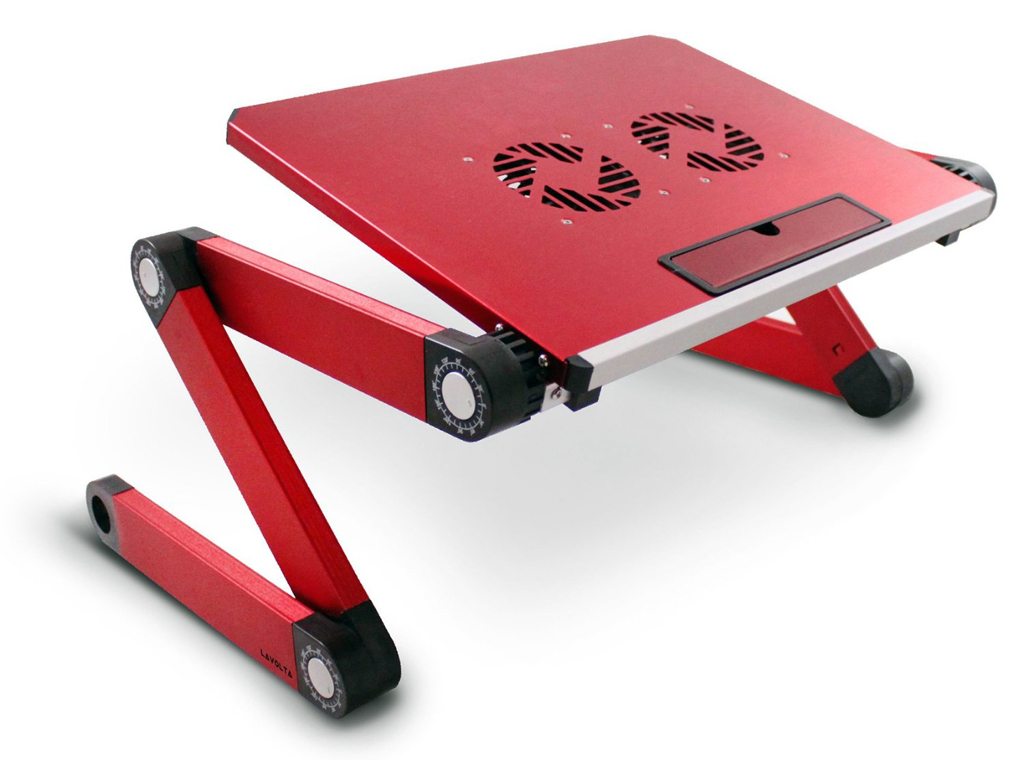 This laptop stand is among the most flexible we've seen, with adjustable legs that allow a laptop to be used in a wide range of positions. The built-in cooling fan is overkill for most laptops, but you don't need to use it.
---
Adjustable laptop stand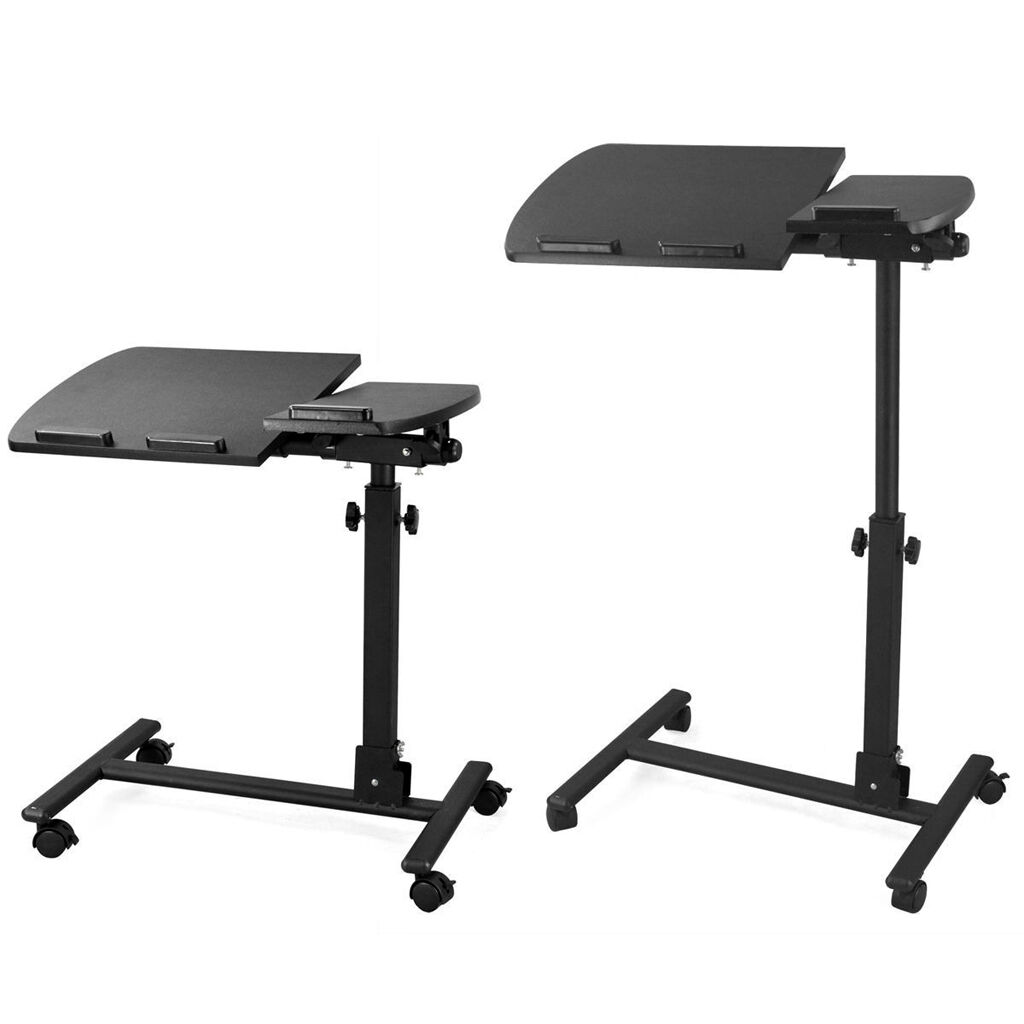 There are too many types of desk to recommend just one, but laptop users are well served variants of this height-adjustable design with castors — some models are even high enough for standing use. Check for sturdy legs and a solid work surface before buying.
---
Herman Miller Aeron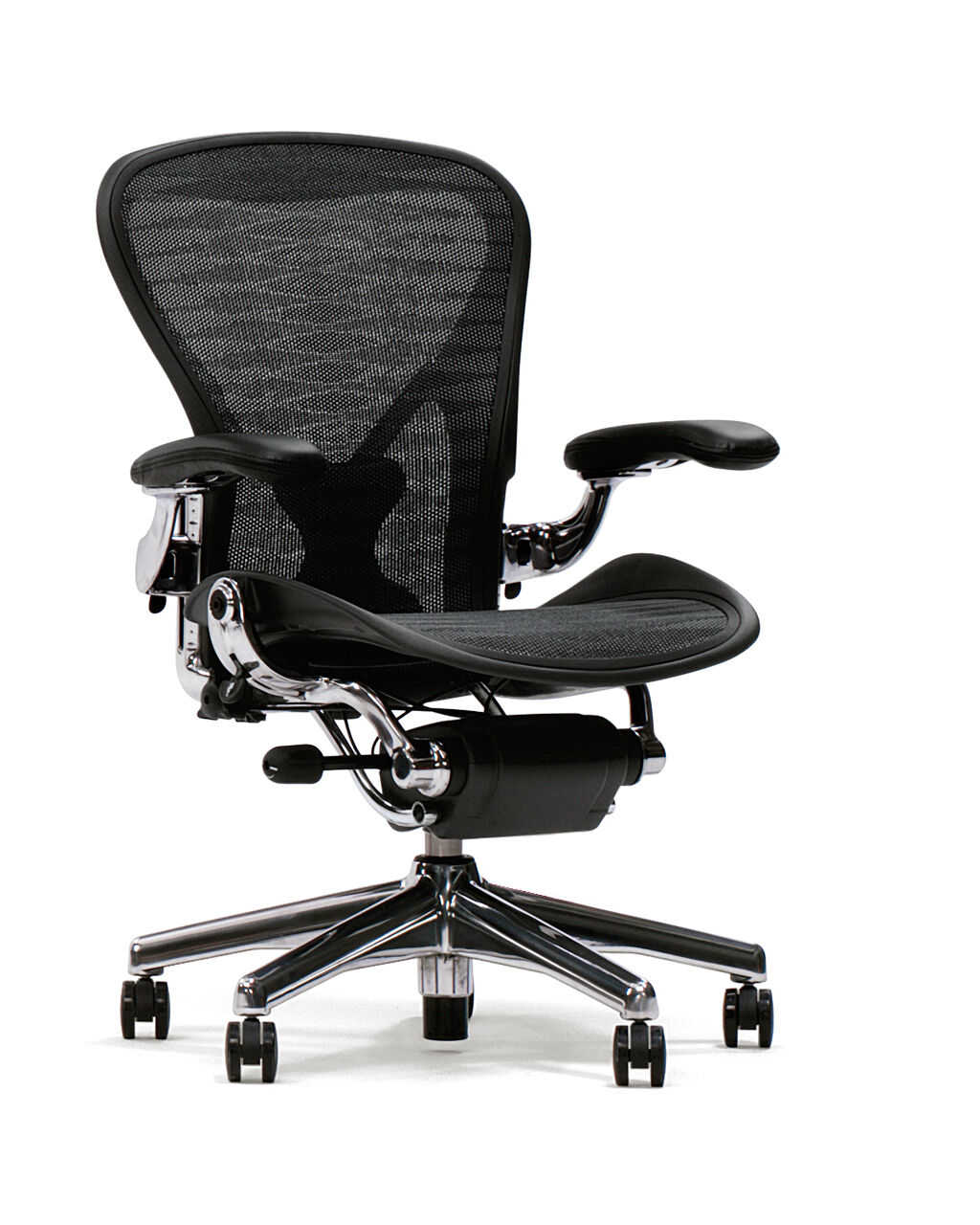 Herman Miller make a wide range of office equipment and the Aeron is widely considered to be one of the best chairs available. Fully adjustable and rather stylish, it's a very comfortable place to perch for long days at your desk — but there are more affordable options, too.
---
Aeris Swopper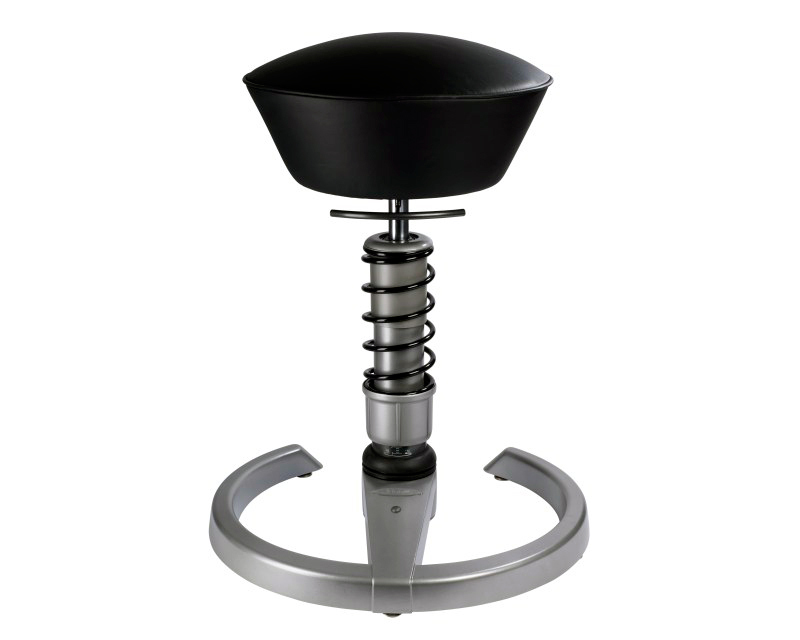 This is one of the least peculiar looking ergonomic office chairs and so one of the easiest to get on with, but the Aeris Swopper is expensive. It's not a chair for slouching in — but that's the whole point.
---
Gaiam Balance Ball Chair System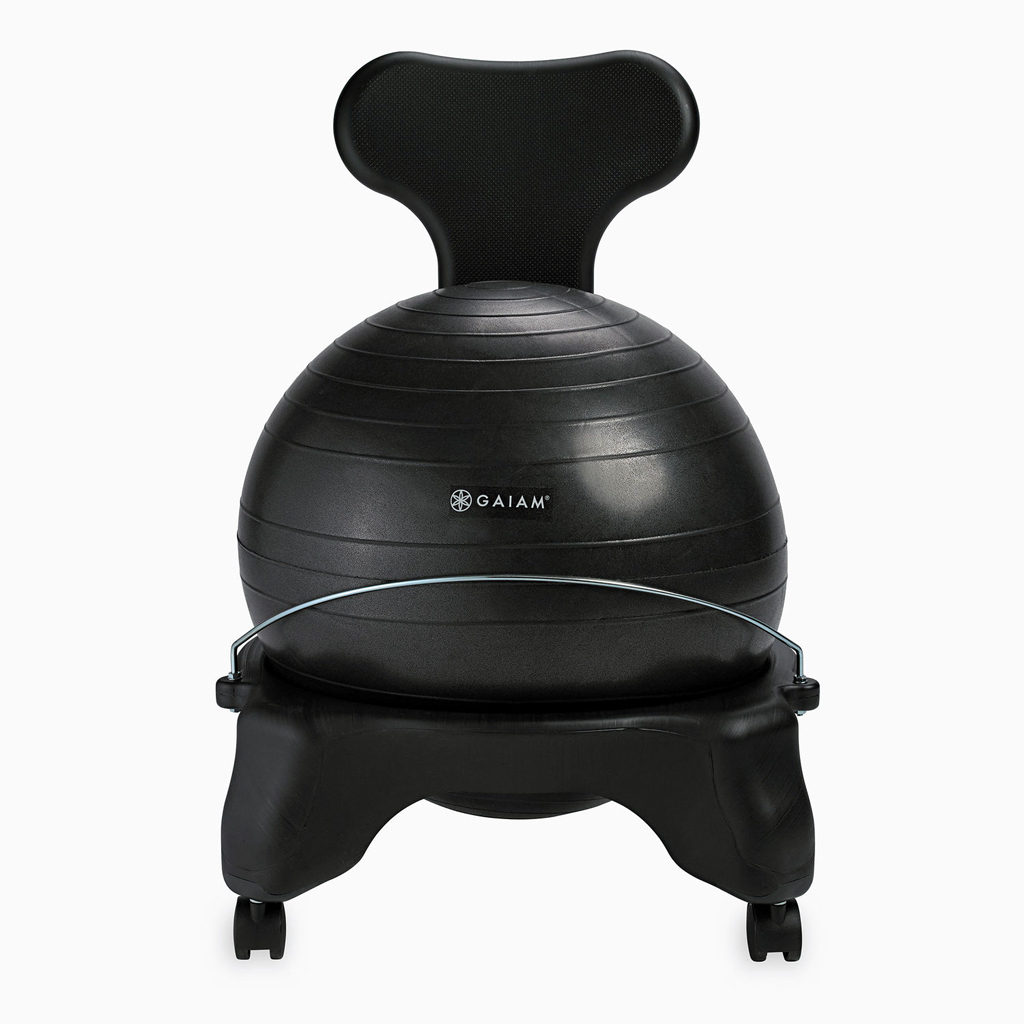 Designed to keep you slightly off balance and moving when you sit down, the Gaiam Balance Ball chair is an unusual looking — but comfortable — chair. It's bulky compared to standard chairs, though, so check it fits you desk before buying.
---