This is a guide to building a Moria Goblin wargames army using mainly Games Workshop Lord of the Rings figures. To keep things simple for myself I adapt the same rules - Fire and Fury - for use across whatever historical period or fantasy theme I am wargaming. So if you are looking for tips on GW's LOTR rules this is not the guide for you. However if you are interested in seeing some photos and maybe picking up the odd new idea this guide may hopefully be of some interest. (Last updated 25/05/09)
Only 10 photos per guide can be uploaded so if you want to see more of my painted stuff visit my gallery site which is drumandflag.com
Update Note 1: I rebased and generally spruced up my Moria Goblin army in May 2009. Correspondingly this article has also been substantially revised from how it looked originally when first uploaded around 2006/7.
Update Note 2: It will be interesting to see if GW issue more Goblins and what they will be like when the Hobbit film(s) is/are released I think in 2010/11. Hopefully we'll also get more Elves, Dwarves, Men of Esgaroth, Smaug, an Erebor terrain piece, bats, wolves, eagles, spiders, Bill, Tom and Bert etc.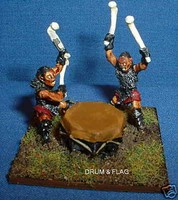 "Drums in the Deep......"
Rules - As I alluded to above I wargame using my own adapted version of the excellent Fire & Fury ACW (American Civil War) rules. Weird as this decision may appear I do this for two main reasons: firstly simplicity, allowing me to use the same basic mechanics across fantasy, ACW and Napoleonics to get an enjoyable game and secondly I am more interested in fighting 'Big Battalion' style battles such as the Pelennor Fields or Five Armies rather than skirmish actions. (May 2009 note - The advent of this year's War of the Rings rule set from Games Workshop addresses this second issue but having started down my own road may as well stick to it now).
Bases - The rules dictate the base change. So instead of the round GW (Games Workshop) bases most of my figures are on 40mm or 50mm square plastic card bases. This allows units of 3 or 4 infantry figures per base and 2 cavalry or 1 monster. The metal and plastic figures generally stick firmly to these bases with Superglue although for larger models such as the trolls a touch of pinning can be handy.
Painting - I use Vallejo Game Color acrylic paints and Javis sable brushes. Vallejo are excellent value, compatible with other makes and highly pigmented coming in 17ml eye dropper design bottles usually retailing at £1.40 or less. I won't go into huge detail on painting here as I have written a seperate guide on the subject however I will cover some specifics for Moria Goblins:.
Having based the figures I undercoated them Black (Vallejo Game Color #51). This was followed by two dry brushes of Gunmetal (#54) and Chainmail (#53). I then painted all flesh areas Dead Flesh (#35) and when dry applied a dilluted solution of Skin Wash (#93). The eyes were then picked out again in Dead Flesh (#35). The clothing was painted with Scar Red (#12) and highlighted with Gory Red (#11). The wooden weapons were painted Charred Brown (#45) and highlighted with Beasty Brown (#43). Spear points, arrow heads and swords were painted Gunmetal (#54) and the 'sharp' edges picked out with Chainmail (#53) followed by Silver (#52). Bases were painted Beasty Brown (#43), then sand was added stuck in place with PVA which was washed with black ink when dry. This was then finished off with static / hairy grass which was applied over a coat of watered down PVA glue. Once dry all units were sprayed Gloss and then Matt varnish.
Hand Weapons Units - These guys are the core of the army. I have four units of 12 stands each with spearmen in the front ranks and swordsmen behind.Figures are mainly plastic with one or two metal pieces dotted about.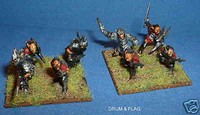 Archers - My Goblin force has 2 units of these each 12 stands strong. They can fire direct or indirectly over other units. Ideal position on the battlefield is where they can hit the enemy but can't easily be engaged themselves - such as on a hill with spearmen to their front.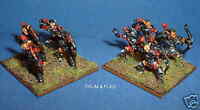 Warg Riders - The two units of 5 bases I have of these are simple conversions of Warhammer wolves ridden by Moria Goblin swordsmen. I added harnesses, bridles and saddles using GW's Greenstuff. The wargs are painted Black (#51) and dry brushed with Cold Grey (#50) and Stonewall Grey (#49). These troops add some mobility to the army and are usually stationed on each flank. I did these a long time ago before the GW plastic wargs were released.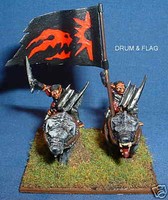 Cave Trolls - My trolls add a bit of 'beef' to the Goblin army and can be used either as a heavy reserve or like elephants to go smashing into the opposition right from the start! I painted them Black (#51) to start with. The front skin areas then had Bonewhite (#34) applied with Dwarf Flesh (#41) mixed in for shading and Skull White (#1) added for highlights. The scaly areas were dry brushed Cold Grey (#50) and then Stonewall Grey (#49). The chains and weapons were done with Tinny Tin (#60) and Brassy Brass (#58). The eyes have been painted with a touch of Electric Blue (#23). The bases for these guys are 40mm square plastic card painted Cold Grey (#50) and textured with fine granite ballast and static / hairy grass.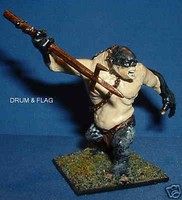 "They have a cave troll!"
Command - The first picture is of my Army Commander with banner bearer. The two other pics are of corps commander stands. The leader of one of these is a Prince August / Mithril figure not GW. All the banners were simply made from brass rod, paper clips, paper and cotton plus plastic "trophy" heads.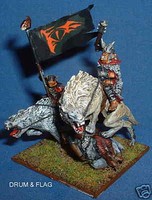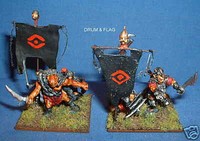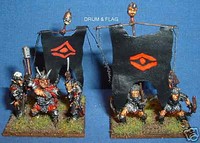 Skirmishers - I had some metal goblin archers left over and made these into skirmishers to be deployed as the eyes and ears of the army to probe and harrass the enemy. They are base on Two Pence coins.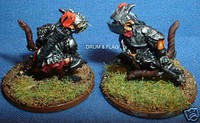 "Here be Dragons" - A while back Hachette I think it was released a partwork called Myths and Monsters of something similar. One of the early magazines came with an excellent resin dragon model. For around GBP 5 this was a bargain so I bought four and turned them into Tolkien inspired dragons (Smaug, Glaurung, Ancalagon & Scatha) with a bit of paint and Milliput. Here's one that could be Smaug if the Goblins need some serious back up on the battlefield.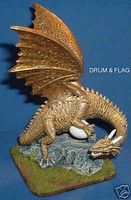 Other - I also have giants, more trolls, more dragons, bats, warg packs etc... but can't fit pics of these here. See my gallery site (drumandflag.com) for more info.
Books
I'll leave you with a list of Tolkien books that inspired me, may be handy and supplement the fantastic Peter Jackson trilogy. (nb - If you have not yet seen the extended DVD's you are missing a treat and lot of superb extra footage). Happy to answer any questions and if you want to contact me via eBay messages my user id is flagbearer101.
Tolkien - LOTR / Hobbit / Silmarillion / Unfinished Tales / History of LOTR
Hildebrandt - The Tolkien Years
Brodie - LOTR Location Guide Book
Fonstad - The Atlas of Middle Earth
Day - The World of Tolkien
Harper Collins - Realms of Tolkien
Harper Collins - Tolkien's World
Day - Tolkien Illustrated Encyclopedia
Smith - LOTR Weapons & Warfare
Russell - The Art of LOTR
Fisher - LOTR Visual Companion
Hammond & Scull - Tolkien Artist & Illustrator
Carpenter - JRR Tolkien
Howe - Myth & Magic
Tyler - The Complete Tolkien Companion.