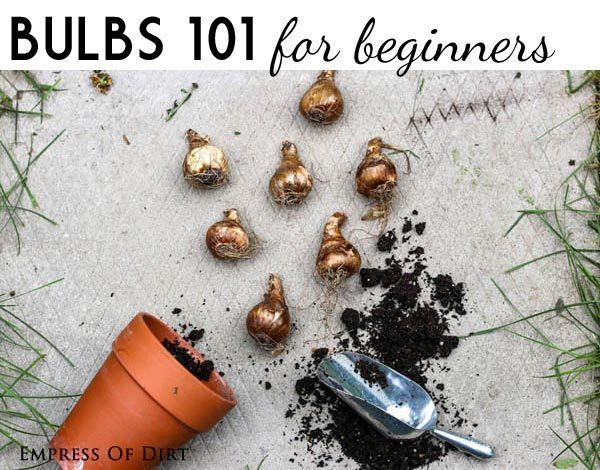 Getting Started
You know those beautiful pots of tulips you see each spring, looking extra gorgeous after a cold, hard winter? Autumn is the time to plant those bulbs. It takes just an hour or so to load up a few pots and wow, is it ever worth it when we're desperate for some garden beauty months from now.
Spring-flowering bulbs (tulip, daffodil, hyacinth, crocus, Dutch iris, scilla) are planted in the autumn because they require a cool, dormant period (35-45°F or 2-8°C) for several months in order for the plants to produce flowers when the weather warms up. Without that cool period, you'll get leaves but no flowers.
Years ago, when I was new to gardening, I remember getting ready to plant spring bulbs for the first time. I laid my supplies out on the table, read the instructions on the package, and thought, Um, how do I know which part is the top of the bulb?
It's a good question and one that I answer here along with some other basic things you'll want to know before you get started.
Next, you can get
your bulbs ordered
and plant some containers (
how-tos are here
) that will be bursting with colour in the spring.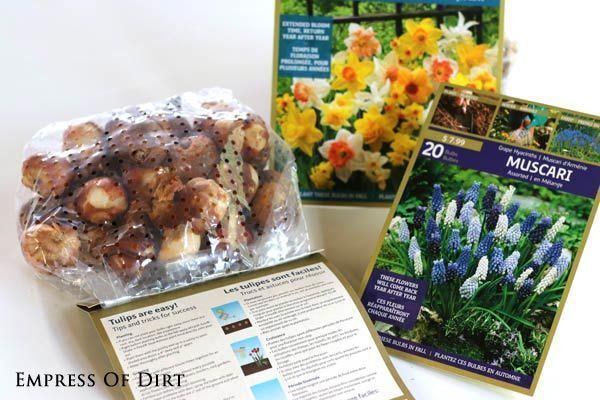 1. Save the Package
Bulb sellers want you to succeed. They want you to have beautiful, brilliant spring flowers that make you rave about their bulbs and want to plant more every year. And that's why they provide specific, helpful growing information on the package. It's there to help you, even if they may not tell you which way is up!

Check your bulb packages to know when, where, and how to plant the bulbs. If you don't understand any of it (I know I didn't when I was getting started), just ask. We gardeners love nothing more than to encourage new gardeners.

And save your packages. Months from now when your bulbs are flowering, you'll want to know which ones worked best, plus you may need the planting instructions for next time.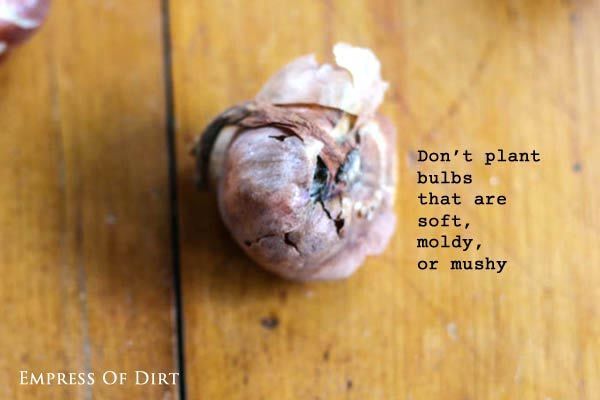 2. Inspect the Bulbs
Bulbs vary in appearance (especially between various plant families), but there's a few common things to watch for.

You don't want bulbs that are soft, moldy, or mushy. The bulbs should be firm and dry.

Don't worry if the outer, paper-like layers are falling off. You can still plant the bulbs.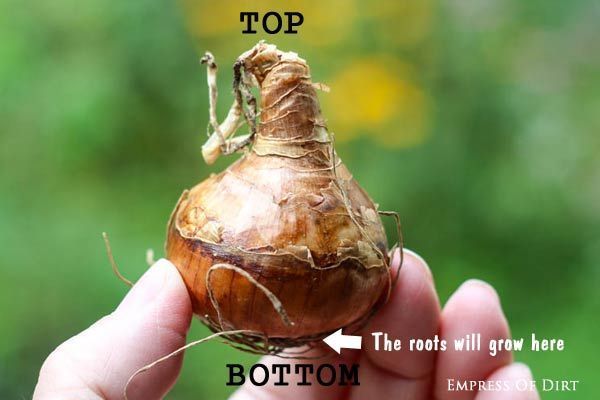 3. Know Which Way is Up
Okay, I've made you wait long enough. Most bulbs are planted with the bottom or base down (but some are not so, again, check the instructions on the package).

The bottom of a bulb is generally flat and may have some dry roots.

The top is usually pointy. This is where the leaves and blooms will grow.

If you get a bulb where you cannot tell what's what, plant it on its side. It will be fine.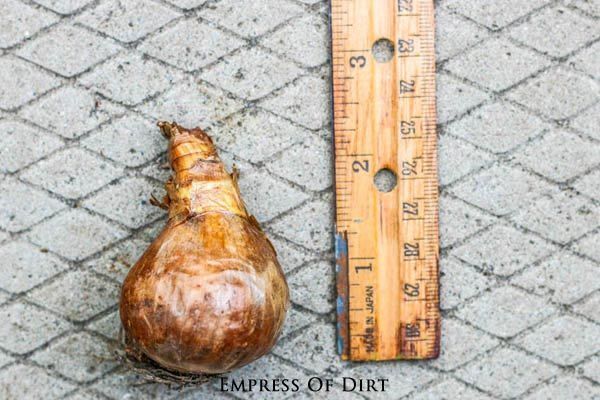 4. Size Tells You Planting Depth
A safe, general guideline is: plant the bulb at twice the depth as the bulb is tall.

Say, what?

Here's an example. If a bulb is two inches tall, place the bottom 4" deep in the soil.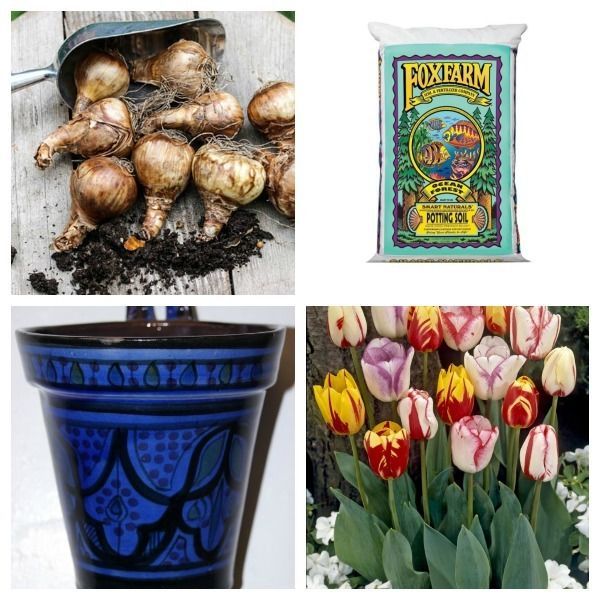 5. Know Your Options
Bulbs can be planted in the ground but many can also be planted in containers.
This makes it very convenient for protecting the bulbs from pests (slugs and rodents), and makes it possible to enjoy the flowering cycle indoors or outdoors.
There are
hundreds of choices for bulbs to grow
. Pick the ones you like best and make sure they are suitable for your area (ask at a local garden shop or club).
And that's it for Bulbs 101.
See this post for
how to plant bulbs in containers
:
Love it? Share it!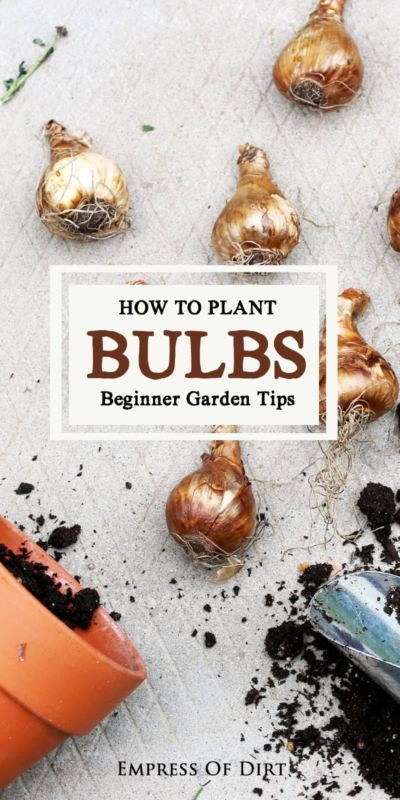 More Creative Gardening Ideas