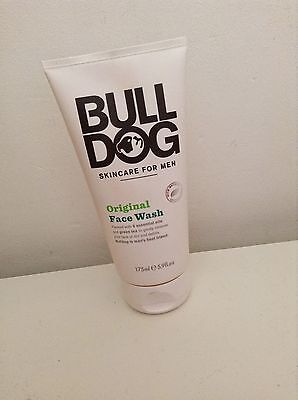 Bull dog face wash



Just to start of this post I was sent these to products to review and it does not effect my opinion in any way shape or form all opinions are my own and are honest.

Recently, during the winter season, I noticed my skin was drier than usual, flaking at times concerning me with a potential shedding disorder. It was mostly around my cheeks, so as you can imagine, I felt like like a snake shedding and every eye that laid upon me was nothing but disgusted. Although this is a slight exaggeration of actual events it is to show that a little skin dryness can ruin confidence even if its all in the mind.

I decided to search up some manly moisturizers that would be strong enough to combat my dryness and in due time I found the right one. After a few days of usage my dry skin was gone leaving behind smooth and intact skin.

It applies and dries fast leaving no oily feeling as other creams can do (granted I've only used Nivea growing up as a child). The smell may be strong at first but will eventually dissipate as your hungry skin chomps on them needed moisturizing goodies.
Bull dog products are skincare for men which I do see but not as much as woman's skincare it's important for men to keep their skin healthy and good I don't like men's skincare that has a STRONG scent it's just full if fragrence however these bull dog ones have a suttle scent which I like

The packaging is great it's brown and white very simple and classy it has a cute bulldog in the O of the bottle the product is called bull dog and has a bulldog which I like I don't think I would pertictualarly like a bottle that has characters and funky writing I think that would be childish but these products are beautiful and simple

The texture is so velvety smooth and creamy it applies on like a dream I would recommend this for sensitive skin oily dry and combination basically all types. it is in my daily routine night and day

I love that it uses natural ingredients I think it is so good for your skin much much better than using tons and tons of chemicals which can damage your skin it's a very good price about £5 which is amazing most men skincare is £20 - £30 which Is ridiculous but I guess it get the job done



This product is no joke when it comes to your moisturizing needs. A very satisfied customer indeed!

So stop searching and buy this product now! Or keep looking, to each their own.