Buses In Britain 1960s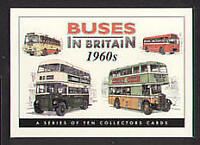 This is one of many illustrated classic bus guides I've created for the community. I hope you enjoy it. If you wish to find out more about the classic British Bus art featured in this guide please click here.
This guide features a number of classic British buses from the 1960s.
AEC Regent V ( East Kent )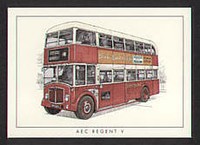 Based in Canterbury, East Kent covered a wide area of Kent, bounded by the sea on three sides and fellow BET company, Maidstone and District, to the west. The AEC Regent 5 LD3RA double-decker entered the East Kent fleet in 1958. The MkV Regent had the largest number of options and variations of any Regent produced. There were three different engines available together with monocontrol and synchromesh gearboxes, air pressure and triple vacuum servo-assisted braking.
AEC Routemaster ( BEA )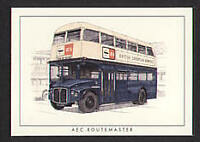 The advent of AEC's Routemaster vehicle was probably the greatest step forward in bus design not only in London Transport's history but for the bus world in general. In 1966 B.E.A. ( British European Airways ) took delivery of 65 RMF type Routemasters fitted with 27ft 6in bodies for operation on the Airport service from Gloucester Road to Heathrow. These had provision for the luggage to be carried in a two-wheeler trailer towed by the bus.
BMMO D9 ( Midland Red )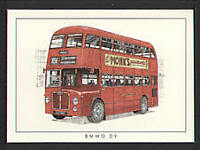 Midland Red were interested in developing a 30ft long high capacity double-decker as far back as 1951, but it was not until 1956 that such vehicles were approved. The 30ft D9 prototype appeared in 1958, a remarkable advanced integral 72-seat machine fitted with the new BMMO KL 10.5-litre engine coupled to an electrically controlled self-changing gearbox. Production vehicles were introduced in 1960, and over the next six years a total of 345 examples had entered service.
Bristol Lodekka ( Hants & Dorset )
The first Bristol/ECW Lodekka was produced in 1949 as a revolutionary highbridge type model within lowbridge dimensions, achieved by the used of a very low-slung chassis and a drop-centre rear axle. It was to become the Tilling Group's main double-decker for more than a decade. Full production of the model started in 1954 with the LD6B, LD5G and LD6G variants, followed in 1960 by the LodekkaFS and FL series.
Bristol VRT ( Midland General )
In 1968 the rear-engined Bristol VRT ( Vertical Rear Transverse ) replaced the Lodekka as the Tilling group's standard double-decker and this continued after the formation of the National Bus Company in 1969. The Midland General added the Bristol VRT to their fleet in 1969. These buses had a Eastern Coach Works body and displayed the blue/cream livery of Midland General. The VRT remained in production until 1981 selling to the Tilling and Scottish Groups, to the National Bus Company, and to a wide range of municipal, PTE and private companies
Daimler Freeline ( Great Yarmouth Corporation )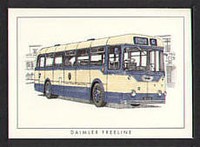 The Freeline was an underfloor-engined single-deck chassis which Daimler announced in 1951. Two models were available - the D650HS and the G6HS with Daimler's 10.6-litre and Gardner's 8.4-litre engines respectively. In 1951 hydraulic servo type brakes were used on the Freeline but these were replaced by air brakes in 1954. Most Daimler Freelines were exported, chiefly to South Africa and New Zealand and by 1964 when the model was discontinued, less than one-hundred had been purchased for used in Britain.
Guy Arab Mk IV ( Graham Paisely )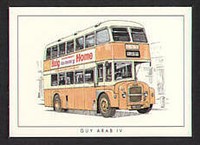 For a short period Guy offered a different front-end, based on buses built for service in Johannesburg, South Africa. The Graham's of Paisley Arab MkIV double-decker was fitted with a rare Strachans 69-seat body, which first entered service with the company in 1964. Graham's were enthusiastic Guy users at the time and built up a substantial fleet of new and secondhand examples. The company operated to the south and west of Paisley, a famous concentration of independent operators where several fleets provided local services.
Leyland Titan PD3A/1 ( Yorkshire Traction )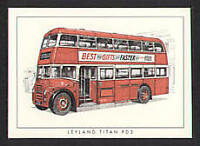 The highly acclaimed PD2 series underlined the need for a longer model and in 1956 Leyland offered the PD3 with a 30ft overall length on a 18ft 6in wheelbase. Powered by Leyland's own 9.8-litre six-cylinder engine, the PD3 model had a number of variations, offering air or vacuum brakes, synchromesh or pneumo-cyclic gearboxes and concealed or exposed radiators. The Yorkshire Traction PD3A/1 model seated 73 people in a Northern Counties body. Forward entrance 30ft models bridged the gap between the more traditional rear-entrance double-decker and rear-engined models such as the Leyland Atlantean or Daimler Fleetline.
Leyland Atlantean ( Ribble Motor Services )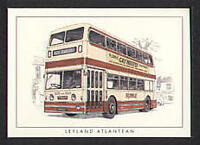 The opening of Britain's motor network in 1959 was to bring new opportunities to coach operators and manufacturers. The Gay Hostesses brought new standards of comfort to Standerwick and Ribble express services from North-west of England to London. They were Leyland Atlanteans with lavishly-equipped Weymann bodies. The basic boxy shape of the Atlantean was cleverly disguised by the use of polished mouldings and Standerwick's livery.
Thank you for reading my guide and I hope you found it interesting!