Brownies are one of those simple recipes that seem to have endless adaptations, while all still remaining very similar. You can add sweets, caramel, fudge, chocolate chips...to name a few...to reinvent the classic dessert. I definitely have more than one favourite recipe for sure. But these buttermilk brownies are definitely a classic recipe that never seem to need any 'doctoring up'.
They are simple, nostalgic and delicious...everything a brownie should be.
If you like thick, stick-to-your-teeth fudgey brownies, this recipe might not be for you. This recipe produces a soft, cake-like brownie with a tender crumb and icing that you spread on when the brownies are warm. The icing slightly melts into the brownies and sets up like a thin layer of sweet fudge.
Another great thing about this recipe is that it makes a huge tray, which is perfect for parties.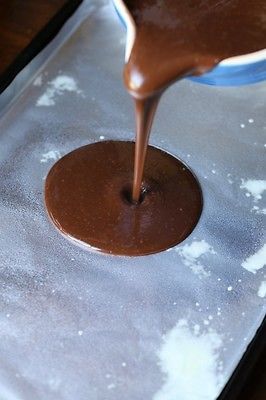 The batter for the brownies is really easy to make. You just need a baking tray with sides, specifically a 10x17
swiss roll baking tray
. I like to line my tray with
aluminium foil
which makes clean up super easy and helps with sticking!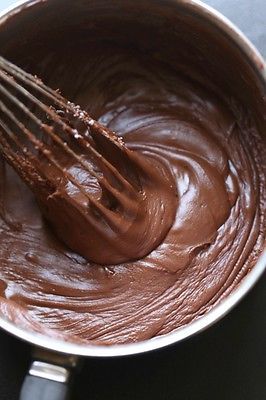 When the brownies are just about done start making your icing. You will want to spread this on when the brownies are still warm in the tray. Doing it this way makes the icing melt into the brownies slightly, giving the top a fudgey finish. You can absolutely ice them when they are completely cooled too. The icing won't melt into the brownies if done this way, but the icing layer will be slightly thicker, which is also great!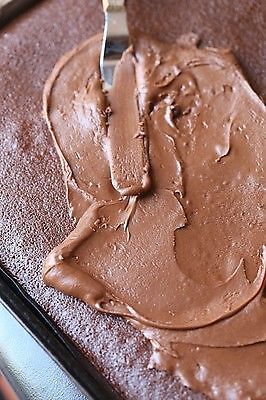 Use an
offset spatula
to spread the icing all over the brownies. You can make the icing as thin or thick as you would like by using more or less icing sugar.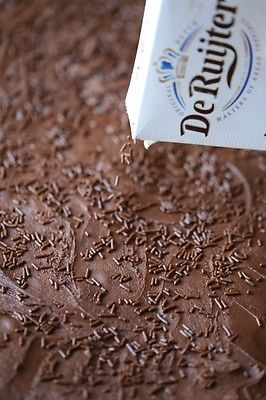 And my favourite part about these brownies is it gives me a reason to use my favourite chocolate sprinkles! Some chocolate sprinkles can be a little waxy or artificial tasting, but De Ruyter Chocolate Sprinkles are made with real chocolate and taste fantastic!
Recipe
230 g butter
60 g
unsweetened cocoa powder
200 g granulated sugar
220 g light brown sugar
235 ml water
260 g all-purpose flour
1 teaspoon baking powder
1⁄2 teaspoon salt
2 slightly beaten eggs
115 ml buttermilk
2 teaspoons vanilla
Icing
57 g butter
3 tablespoons unsweetened cocoa powder
3 tablespoons buttermilk
320 g icing sugar
1 teaspoon vanilla
Chocolate sprinkles to garnish
Instructions:
Brownies:
Preheat oven to 190 degrees. Line a 10x17 swiss roll baking tray with aluminium foil and coat lightly with nonstick spray. Set aside.
In large mixing bowl,
whisk
together flour, baking powder and salt. Set aside.
In a saucepan combine butter, cocoa, both sugars and water. Bring to boil and then immediately remove from the heat.
In small bowl combine buttermilk, eggs and vanilla; whisk lightly with a fork. Slowly add this to the warm chocolate mixture, stirring constantly.
Pour this into the dry ingredients and mix until smooth.
Pour batter into the prepared baking tray and bake for 20 minutes or until the centre is set.
When there is about 5 minutes left for the brownies to bake make your icing.
In a saucepan, add butter, cocoa powder and buttermilk. Cook on medium heat until just boiling and remove from heat.
Whisk in the icing sugar and vanilla.
Immediately pour/spread the icing over warm brownies.
Sprinkle with sprinkles immediately.
Serve warm or room temperature.
Yield: 36 brownies
Store airtight at room temperature for up to 3 days.