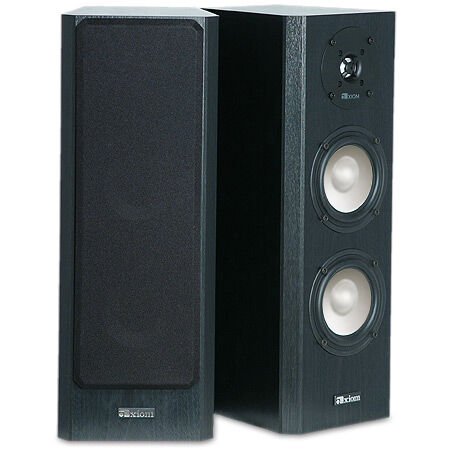 Having an iPod is a lot of fun for hearing music on the go, but it's also a cool way to hear music at home. All you have to do is plug your iPod into either a docking station or its own speakers that can be wall mounted or sit on a bookshelf. Your music will be amplified and your iPod can be turned into your own home stereo. Speakers for your iPod are a great investment if you do not have a separate stereo system, or you live in a small space where there's not a lot of room for a stereo, because iPod speakers and docks are typically smaller than the average stereo system and should not take up a lot of space in the home.
There are lots of different types of speakers for your iPod or MP3 player, and it's really a matter of personal preference as well as the budget you have in mind when you shop for speakers for your digital music player. It's important to check out all the different options you have when it comes to the varieties of iPod and MP3 speakers for your home to decide which speakers are right for your needs.
What to Consider Before Buying iPod Speakers for Your Wall or Shelf
It's really a matter of space and personal preference when it comes to buying speakers for your digital music player. If you do not have a good shelf to place speakers on, and you have the budget, a wall-mounted system can be a great choice since it should not take up any shelf space and it looks great, too. The speakers can be more powerful as well.
However, for a smaller space, look into portable speakers or a docking station for your iPod. These are handy, portable, and often have great sound quality for a more affordable price. They look attractive sitting on a bookshelf, but since they are not mounted on the wall, they can be moved to another room as desired. Another thing to consider is what type of MP3 device you have; make sure it's compatible with the speakers you are purchasing, and see if there are any additional items you need to make the system work such as USB cords or plugs.
Pros and Cons of Speakers for Your iPod or Digital Music Player
When you are considering which style of speakers to purchase, it's a great idea to look at the pros and cons of each. This helps to make the decision much more simple, and overall more enjoyable.
| | | |
| --- | --- | --- |
| Name | Pros | Cons |
| | Charges while docked, Enhances sound, compatible with many generations | Not easily transported |
| | Travels easily,internal rechargeable batteries | If no battery charger is available, they will not work |
| Wall Mount Speakers | Great for home stereo systems | Difficult to set up or install |
After you've reviewed the pros and cons of each, it's important to take a look into each type and see which is better for your needs. More importantly, reviewing the different types in more detail can help to bring you to a buying decision faster.
Types of iPod/MP3 Speakers For Your Wall or Shelf
When it comes to buying speakers to plug your iPod or other MP3 player into, there are several common varieties that you may run across when you are shopping. Depending on where you want to put the speakers and how much you want to spend, you are able to find a wide selection to browse before deciding which speakers are the perfect speakers for you.
Do not let a set of small speakers fool you; with the new technology these days, even a set of tiny, portable speakers can blast a powerful sound as long as they are high quality and made well. Great sound can come from speakers of any size, and there are a variety of types of speakers to choose from that may amplify sound differently, so shop with that in mind.
Docking Stations
Probably the most commonly used type of iPod speakers to set on a shelf and enjoy are docking stations. A iPod docking station is simply a small stereo system that has great speakers that your iPod can simply be set into. Some of them charge your iPod while playing music, so that's a definite added bonus. Docking stations come in a lot of sizes, styles, and even colours to satisfy every type of buyer. They usually have a handle, too, which makes them extremely portable and they can be carried from shelf to shelf for convenience and added versatility.
They also come in many price ranges and brands. Some offer larger, more sophisticated speakers if you have a shelf that can accommodate them, and some are smaller for an area where there may not be much room for large speakers. Some docking stations are round, tube shaped, rectangular, or portable so they can be carried from room to room conveniently. Some of these small docking stations have quite powerful speakers, so sometimes size is not an indication of the quality of the sound system.
Separate Speakers for Your Shelf
Another option for amplifying your iPod or MP3 player is to plug separate speakers into the device and set them on the shelf. Speakers come in a multitude of sizes, from capsule shaped round iPod speakers, to more standard rectangular speakers. One speaker may do the trick if you live in a small space, but for a larger range of sound, a set of two speakers can be purchased.
Of course, iPod speakers are going to be smaller than standard stereo speakers, but this serves to make them more portable and easier to place on a bookshelf. All you do to use the speakers is connect them to your MP3 device and place it on the shelf. Some options for a smaller shelf include single, fun speakers like capsule speakers or even cute panda iPod speakers. These separate speakers may not have the ability to recharge your device while it's in use, as a docking station might.
Wall Mount Speakers/Stereo Systems
If you have the room and you want a little more power for your iPod speakers, select some wall speakers for your player. The best option for wall speakers is going to be an all in one system that is more like a traditional stereo system. These systems are slim and attractive, with large speakers. They can be mounted on any wall, and typically offer a spot to play CD's as well as a place to dock and play an MP3 player.
What's also cool about a wall mount system for your iPod is that it may come with a remote control. This offers even more convenience when it comes to playing your music. These vary in price according to the different features they have, but most of them are quite compact and sleek and may come in colours such as black, silver, or even purple.
There is one key difference between some of the wall mounted speaker systems and others; some allow you to dock the device directly into the player, while some devices will have you connecting the device with the use of a USB cord and port, so whichever type of wall mounted speakers you choose is really a matter of what is most convenient for you when it comes to connecting your digital music player to the speakers.
How to Buy Wall or Bookshelf Speakers for Your Digital Music Player on eBay
When you are looking for speakers for your iPod or other digital music device on eBay, you can search iPod speakers, which will mostly pull up portable iPod speakers and docking stations. Scroll through these if that's what you are interested in purchasing, but if you'd rather see options for wall-mounted speakers for your iPod, search stereo systems to see which ones are MP3 compatible. This helps you get an idea of what the costs are like for speakers, as well as what brands and features are available that you may enjoy or get more out of when you're listening to music at home from your digital music player.
Buy speakers for your iPod from merchants that are Top-Rated Sellers, and check their feedback to ensure they have had many satisfied consumers. Engage with the seller and look at images of the speakers, ask questions if necessary, and find out if the seller is local to you, which means you could do a personalised pick up and meet the seller in person to get the speakers, which could mean negating shipping costs, as well as creating an unforgettable, personal shopping experience.
Conclusion
Enjoying your digital music player or iPod with headphones is one thing, but you can make your player so much more versatile when you add speakers to it. Do not just enjoy your music when you have your headphones on; enjoy it at home, outside, in your home gym, or while you're cleaning your house. Take your music all over the house with the right set of speakers for your iPod. Whether you have a small bookshelf and just need one powerful, small speaker, or you want to mount larger speakers and a bigger, more sophisticated stereo system on your wall, there's a perfect way to hear your music amplified.
Shopping on eBay for iPod speakers can be convenient, affordable, and fun. You may find a unique and interesting set of speakers for a great price that you may not have been able to get somewhere else. Take your music to another level when you take off your headphones and plug your iPod into speakers instead. You can enjoy your favourite songs in a whole new way with the purchase of some great wall or shelf speakers for your iPod or other digital music player.