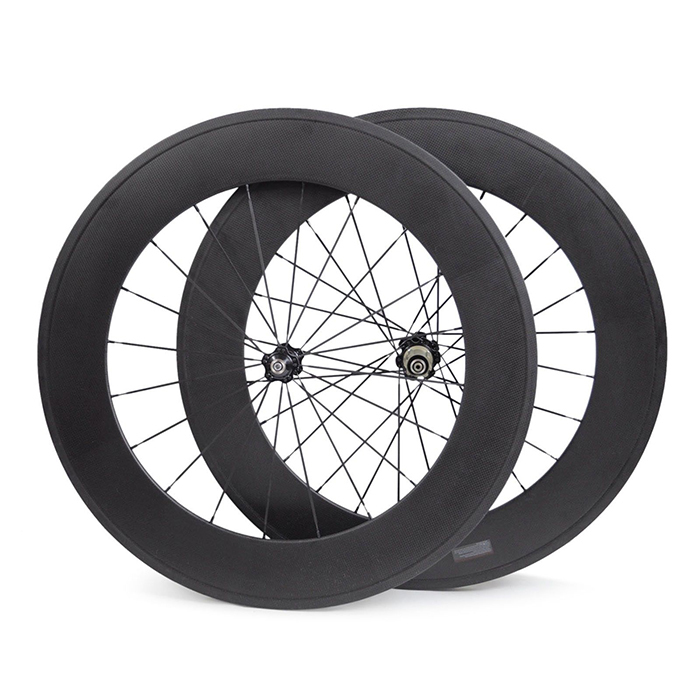 Carbon wheels are far lighter than normal wheels,, are moulded to be more aerodynamic, and they can be even stronger than steel. If a buyer is considering upgrading the rider's wheels to a carbon fibre set,, this can be an expensive purchase but there are some great bargains out there, especially on eBay. Carbon bicycle wheels are coveted pieces of equipment, so it is worth understanding where their value lies and get it right the first time that a buyer purchases them. This guide will look at the different design elements, their professional use, how to determine which wheel set is right option for the buyer's needs, how to find the best deal on eBay and after care.
Carbon Wheel Designs
Bike wheels are thought to be the most important component of a ride because they determine how easy it is to pedal and how the ride feels, alongside the bike's reliability and functionality. Thanks to their popularity there is a wide selection of carbon wheel constructions available for the various disciplines of cycling. Tubular wheels for example are a stronger shape, which means that they can be thinner and lighter but as a result are more expensive. Generally, carbon fibre wheels will offer the most value to A-class cyclists racing on flat surfaces.
Top manufacturers create their wheels to such a high grade that they are tested in the same way as aircraft and are put in wind tunnels to check how aerodynamic they are. The manufacturing procedure takes around seven hours and involves several different points of adjustment, inspection and protection that are undertaken by a number of different technicians. Different material composites are used by different brands and the products are finished with slick graphics to give the bike a racier look. It is this particular mindset of creating exclusively top of the range products to maximise racing performance that justifies their higher price tag and that attracts the buyers.
Professional Use
Professional riders use carbon fibre frames mainly because if the rider can cut off the tiniest fraction of weight from the bike, then they will have less weight to carry. Any excess weight is thought to hinder the speed and other metals such as aluminium are less stiff at lower weights. Carbon has a great stiffness to weight ratio, so can be used in smaller quantities. Because the carbon composite has a greater tensile strength than other metals, power loss is reduced significantly. It also dampens the wheel's vibration on the road, which improves comfort when riding.
Some riders in addition to using carbon wheels will only have a back break and half a pedal. This type of wheel is less suitable for downhill and cross country rides,, as there can be an issue with break pad friction, which has been known to cause wheels to overheat and burst. Some big name manufacturers such as Easton spent years developing either special wheelsets or pads to tackle this issue. They did it with a carbon laminate and a heat dispersion coating. But it's worth noting that not everyone has followed suit and carbon wheels generally do not respond well to hard collisions.
Choosing Your Carbon Wheel Set
When looking at carbon fibre wheel sets it can be handy to compare the different aspects that are involved in making them worth the rider's while. They are available in the form of clinchers or tubulars, both of which have their own merits. As carbon is an expensive option, it is also a good idea to consider the relative merits of using aluminium instead. There is a very good argument for both sides.
Clincher Wheels Versus Tubular Wheels
There are relative merits of using clincher and tubular wheels. Tubular wheels are the choice of professionals because although they cost a considerable amount more they visibly out perform clinchers when it comes to racing. However, clincher wheel sets are available in a wider range of prices and some studies suggest that they can provide better rolling resistance.
If you do not have a lot of expert with tubular wheels it is best to go with the clincher option as tubular can be more fiddly, and aren't as easy to repair or replace as clincher.
Buying Your Wheels from eBay
Because carbon wheels often cost in excess of £200 it is worthwhile examining the purchase before authorising the payment. Brand new carbon wheels should come with a valid manufacturer's warranty that protects the eBay buyer against manufacturing faults. Sometimes these warranties are only available from authorised retailers. If the buyer hasn't heard the brand name before, or are unsure of the seller, they can run a quick search to see what their product reviews are like. The eBay buyer should also consult the manufacturer's website for information regarding warranty validity.
Even if the carbon wheels that the eBay buyer wants to buy are not in perfect condition or a warranty is no available, there is no reason that a professional cannot repair them in some way. A good eBay seller will offer the option of returning the wheels if the buyer is not satisfied with the quality of the product. If there is information missing from the listing, or extra information is required to make a decision then simply ask the seller the requisite questions. Often the seller will be a biking enthusiast and will be able to share a surprisingly large amount of information so that the buyer can be sure of getting an item that matches their expectations.
Your eBay Checklist
If the rider is buying an item second hand from eBay, they should take the following points into consideration to avoid paying over-the-odds:
Older bike wheels will be engineered using older technology and are likely to have had more use. If the wheels are over five years old then it is worth having them serviced by a technician. Take this into account when comparing prices.
How many miles have they travelled?
The further a pair of wheels has travelled the more wear they are likely to have on them. Some brands of carbon wheels also have a weight limit for their riders so the buyer should ask the seller under what conditions it has been used in.
What type of riding were they used for?
Training and racing will cause varying levels of damage to a pair of carbon wheels. They are not necessarily fragile, but as mentioned serious damage can be caused to the integrity of a carbon wheel if it has been involved in a weighty collision.
What do they look like up close?
Check close-up images for any signs of damage, including cracks and scrapes. These will reduce the item's value and is a tell tale sign that they have not been properly taken care of.
· How true are they and how good is the tension in the spokes?
A co-operative seller should give the buyer upfront information on the condition and tension of the product's spokes and alignment. Photographic evidence should ascertain this.
Does it match all of my personal requirements?
Carbon wheels are a big investment, so the buyer should think carefully and consider in what circumstances they wish to use them before purchasing them.
Looking After Your Carbon Wheels
If used correctly, carbon wheels should last a lifetime. Investing in a good quality bike stand will prevent any unnecessary blemishes, as although it is a high quality material, carbon fibre is easily marked. The eBay buyer should also make sure that the wheels are well looked-after by cleaning them regularly and inspecting them for damage. Use products like biodegradable and alcohol-free Muc-Off kits that are composed of mild alkaline-based detergents, don't include salt and won't take off the important lubricators. Regular cleaning will keep the wheels in good condition, maintain their new appearance, and prevent any damage from pollutants.
Conclusion
Carbon fibre wheels are a great example of the progress that the modern world has made in engineering. They have a great look and are available in a range of prices on eBay. The range of top quality and popular brands available on eBay carbon wheels include:
Aero
American Classic
Bontrager
Campagnolo
Continental
Easton
FSA
Giant
Gipiemme
Mavic
Carbon wheels are stronger and weigh less than steel. These wheels can increase speed and agility as well enhancing stop time and acceleration. Carbon bicycle wheels are a great eBay purchase for any rider regardless of whether they are professional or amateur. If the buyer is looking to purchase a bicycle wheel with absolute aerodynamic advantage with minimum weight then a full carbon fibre wheel is the best choice. eBay has a full range of carbon wheels as well as other accessories for professional or amateur cyclists and their bicycles, so it is worthwhile checking to see if there are any other items that you require for your bike.