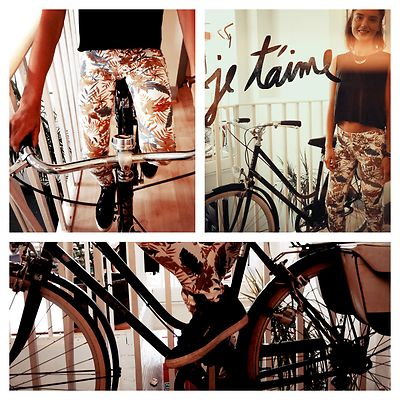 Where To Start?
Hello! So you're thinking about buying a Pre-Luved bike? Well, you've come to the right place. We stock only the crème de la crème of Vintage, Classic, Retro, Dutch and Cruiser style bicycles. If you've already had a squiz through what's on offer and have found the bike of your dreams, ensure you read up on all its details before purchase.
LH Standards
We have made our own guide to evaluating 2nd hand bicycles. By reading through our 'LH Standards Guide' below so you'll be able to discern whether the bike is appropriate for you or not.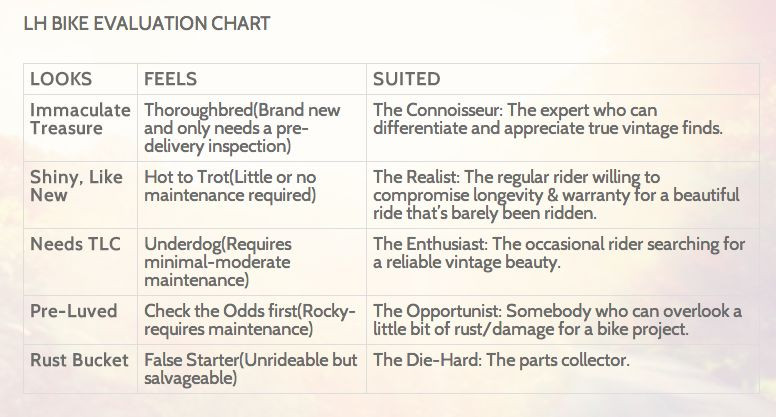 TIPS - WHAT TO LOOK FOR?
STEP 1
2nd hand bikes come in a variety of conditions. From paintwork to chrome-work, tubing to brazing, and racks to mudguards... If you want to get a good 2nd hand find, then note the tips below which are common points of interest:

1) Rust/Pitting (rusted spots which have eaten through the frames paint-job)
2) Cracks (small series of what look like wrinkles on the side of the tires)
3) Dents (its ok on accessories, but not on a frame as it affects the integrity of the ride)
4) Crankset (hold he pedal in your hand and shake the crank arms back and forth, checking that it's not loose)

STEP 2
1) Gears (can they be changed easily, and do they all engage?)
2) Wheels ( when you ride is the wheel 'true' and aligned to the frame, or is it wobbling a bit left to right when you ride?)
3) Rattles (are there parts on your bike that are rattling? Check the source)
4) Fitting (can you adjust the handlebars and seat? Sometime with old bikes these can seize shut and difficult to adjust so don't assume you will be able to)