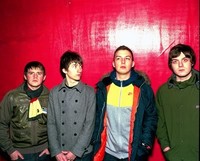 WARNING- DO NOT BUY ARCTIC MONKEYS TICKETS ON eBAY. YOU WILL NOT GET IN WITHOUT ID AND THE CARD USED TO BOOK
Here at Nice Life we're meant to keep our musical tastes relatively secret. In PR and promo work it has to be that way because the last thing you want is to lose out on work because you've slated one band or get poorly paid because you've built up another who think they're doing you a favour.
So, yeah, it's best to keep personal tastes on the low...
But with the Arctic Monkeys that's just not possible- they are our favourite band by a mile!
Today, the pre-sale for their Winter 2011 tour went on sale and we managed to get ourselves 4 tickets. We noticed that the terms and conditions said entry to the gigs was dependent on the purchaser entering the gig with ID and the card used to book- this is a controversial policy but we can't complain because everyone knows what they're getting in for.
So, we had a look on eBay and straight away people are selling tickets. So, there's the warning for you people- check the terms and you'll see that unless you have ID and the card then you're not getting in.
We don't necessarily agree with the policy (after all, we do pass on tickets ourselves and think people should be allowed to) but we hate to see people being ripped off!
Please pass this message on to all of your friends on here and have a nice life!
www.thenicelifecompany.com