Revised guide - July 2008
This Ebay guide is for the Royal Doulton Bunnykins DB series, first produced in 1972. The range is currently up to DB458 (Old King Cole) although not all of the numbers have been allocated. There is a great range in price with the commonest bunnies selling for around £10, and the rarest for several hundred pounds.

So how do you get your bunny for the best price and what should you look out for?
Well, there are some tips and hints. Firstly, the obvious, look for auctions that end at odd times. Look for auctions with misspellings in the title, or are perhaps badly described. It is not uncommon for auctions to be simply titled 'Royal Doulton Bunnykins Figure'. Be aware though, these auctions can get good prices, as bargain hunters usually spot them.

Be aware of how much the bunnies usually sell for and search internationally for the higher priced bunnies. Sometimes they sell for lower in the US and Australia, but be aware of shipping costs and Customs charges (17.5% plus handling fee).

Some bunnies sell best in a group, for example the Australian Games bunnies make about £150 as a group, and on their own they make about £20 to £30. Some are the reverse, the Red Oompah band can be picked up for as little as £150, and sell on their own at about £35 to £45.

So where can you find more information on what price they sell for and details of Bunnykins produced. Well, there are some good starting points, for example, the Charlton Guide, Royal Doulton Collectables is an excellent reference guide with details and photos of all of the Bunnykins including 'book value'. With the exception of the rarer Bunnykins, the book value is usually much higher than you should expect to pay on Ebay, for example, for example, DB25 (Cymbals) book value is £65, compared to an average Ebay price of £31 (no reserve auction price).
My website (see my ME page) also has a list of the complete Bunnykins range from DB1-DB458 (note to Ebay, I do not sell Bunnykins from this site!).
What should you look out for?
For the cheaper Bunnykins any major damage renders them almost valueless. For the rare Bunnykins, it will reduce the value but not to the point of no value. If buying make sure the listing states no damage (or similar), if in doubt ask the seller to clarify.
Is it a second? Seconds are those items the factory does not feel meet their own quality standards. Royal Doulton sells them but it is possible to identify as there will be a scratch or drill mark through the Royal Doulton mark on the base. Occasionally the piece may also not carry the Royal Doulton mark.
Example of second marked with drill:
Example of second marked with scratch (not a bunnykins backstamp)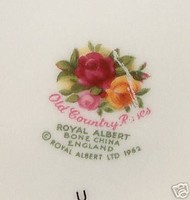 Boxed? If a listing does not state that the item has a box it probably hasn't. Quite often you will find the box is not original. If it is important to you that the box is original make sure you confirm this with the seller.
Certificate of Authenticity? Most of the recent Bunnykins have these but they were not issued with the earlier models (DB1-100 approx did not have certificates). Again, if it is not stated on the listing, check with the seller if this is important to you.
Made In China - a lot of the newer bunnykins are made in China. Often they are not marked as such on the base and will say 'Designed in England'. All bunnykins made in England have 'Made in England' on the base. Check the listing for a photo of the base or ask the seller if in doubt.
Seller terms and conditions. All good Ebay sellers should be able to guarantee delivery of the item and offer a no quibble refund. Avoid the sellers that do not offer this.
Finally, I have seen a few listings claiming that most of the bunnykins on Ebay are fakes. This is rubbish, the only fake bunnykins items I have seen are the bunnykins thimbles set (not Royal Doulton), and Dracula and Nelson Bunnykins produced by Little Acorns Pottery (fake but rare and valuable!).
Happy Collecting!