Here is my guide to buying stamps. Stamps are perfect for speeding up processes, use a stamp to advertise your email or website, there are hundreds of uses for stamps please see the suggested uses in the sizing section.
All my stamp listings offer an easy to use voucher system, this way you can get customised stamps ordered online very quickly.

PLEASE READ MY GUIDE AND THE VOUCHER SYSTEM BELOW FOR A FULL EXPLANATION OF HOW IT WORKS
How to order stamps
Identify the type and size of the stamp you require. Note character height will depend on the number of lines of text.
Complete your voucher with your text or graphic
Return the pre addressed voucher. your customised stamp will be returned within 48hours of reciept of your order.
Your voucher can also be redeemed online.
Online you can also see how your stamp will look the link is in my listing
A picture of a pre-inked stamp.
Here is my link to buy your stamps and supplies:
My Stamps and Supplies

Choosing your Stamp Type
Rubber Stamps:
The original stamping technology, rubber stamps are economical and need to be used with a stamp pad.
Pre-Inked Stamps:
The stamp impression is manufactured from a special material which holds the ink and allows the ink to be stamped onto th paper.
Self-Inking Stamps:
Self inking stamps work by a rotating mechanism that leaves the stamp impression sitting on its pad until the mechanism is depressed, when an impression is left on the paper.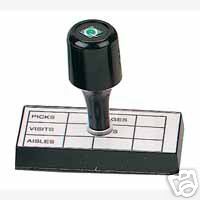 A picture of a rubber stamp
Here is my link to buy your stamps and supplies:
My Stamps and Supplies
Sizing your stamp
SIZE 1
DIMENSIONS: 42 X 20/45 X 15/35 X 12mm
USES: SMALL ADDRESS STAMPS
LINES: UP TO 3 LINES OF TEXT*
MAX: 25 CHARACTERS PER LINE
SUITS: HOME, SCHOOL, OFFICE
SIZE 2
DIMENSIONS: 52 X 20/55 X 20mm
USES: MEDIUM ADDRESS STAMPS
LINES: UP TO 4 LINES OF TEXT*
MAX: 25 CHARACTERS PER LINE
SUITS: COUPONS, CHEQUES ETC
SIZE 3
DIMENSIONS: 75 X 35/76 X 37mm
USES: GENERAL PURPOSE
LINES: UP TO 6 LINES OF TEXT*
MAX: 40 CHARACTERS PER LINE
SUITS: NOTEPAPER, INVOICES, DELIVERY NOTES
SIZE 4
DIMENSIONS: 87 X 15/69 X 10mm
USES: IDEAL SINGLE LINE STAMPS
LINES: UP TO 2 LINES OF TEXT*
MAX: 45 CHARACTERS PER LINE
SUITS: VAT NUMBER, EMAIL ADDRESS, WEBSITE, CHEQUE PAYEE
SIZE 5
DIMENSIONS: 90 X 55mm
USES: GENERAL PURPOSE LARGE
LINES: UP TO 8 LINES OF TEXT*
MAX: 50 CHARACTERS PER LINE
SUITS: LARGE RETURN ADDRESS STAMP FOR PARCELS,
INVOICING, MARKING PARCELS
*DEPENDING ON FONT SIZE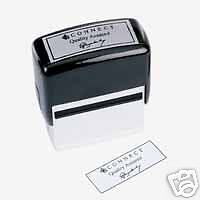 A picture of a self-inking stamp
Here is my link to buy your stamps and supplies:
My Stamps and Supplies

I'm Stuck, put your hand up!!
Hopefully you find my guide useful and easy to understand, if you do have any queries please feel free to drop me an email. Please show your support by buying my stamps