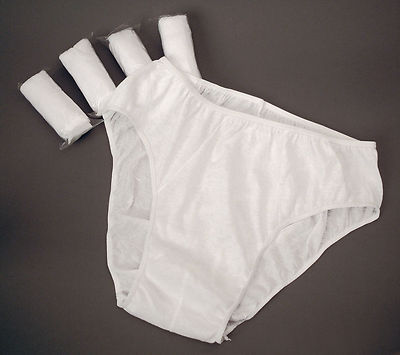 Timing
Often Disposable Underwear is used on Holidays, Hospital trips and as Maternity underwear so make sure you allow enough time when looking and ordering.
Price v Comfort
Disposable Underwear is either available made from cotton or synthetic fabric. If your priority is comfort you should purchase cotton underwear. If your priority is price then you should purchase Disposable Underwear made from synthetic fabric which is often made from polypropylene.
Pairs and Packs of Disposable Underwear
Disposable Underwear is usually sold in multi-packs so you need to know how many pairs there are in a multi-pack so that you can estimate how many packs of underwear you require. There is no standard number of pairs of underwear in a pack.
Disposable Underwear does not need to be thrown away after a single use
Despite its name Disposable Underwear does not need to be thrown away after a single use. It can be reused and can be washed several times either by hand or machine washed on a low heat. As the fabric is soft and lightweight it is not as tough as thicker and heavier daily underwear and so will not last very long with washing.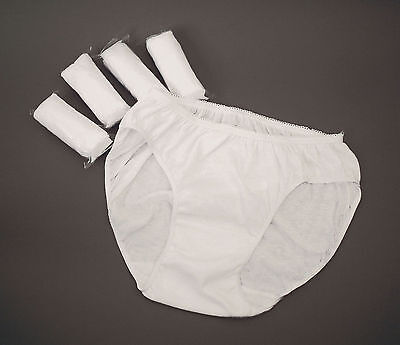 Is Disposable Underwear necessary?
Disposable Underwear is ideal when it is either not possible to wash one's underwear, inconvenient or impossible. Disposable Underwear can be used in a multitude of situations:
- backpacking / trekking when it is not possible to wash underwear or there isn't the time for it to dry and maximising space is important.
- long sailing trips where there is no washing machine makes it popular with sailors.
- hotel laundry can be very expensive and might not be suitable for delicate underwear.
- business trips when it is necessary to travel light.
- hospital underwear when it is not possible to wash underwear or when it is in short supply.
- it is great in emergencies if you forget to take your daily underwear with you to the gym or you have an accident.
- airlines regularly lose luggage so it is useful to keep a pair in your hand luggage when flying.
- some women prefer Disposable Underwear as it is disposable and very practical during menstruation. Others like to use it when they are pregnant as they change shape and require different sizes of underwear or for the first month after delivery when there is still a lot of blood loss.