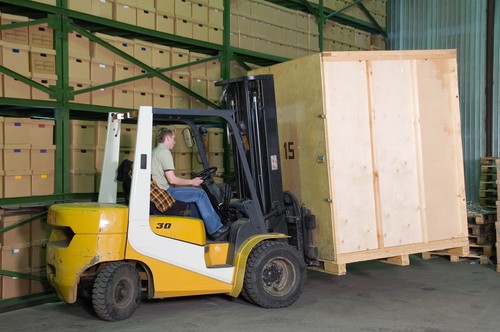 Purchasing a forklift is a big decision for monetary and function reasons so anyone making the decision should research their options, set a reasonable budget, and then go shopping. While the basics of buying a forklift include making sure that it is in good condition if used, that it meets requirements, and that it is within budget, there are a couple of other considerations as well. Examples include weight limit, width, tyres, and even the training of the driver.
The do's and don'ts for purchasing a forklift online or offline include checking weight limit, width, and tyres, as well as safety features and power options. Most buyers can choose between purchasing a forklift from an industrial vehicle and mover company, or by going online. Both options are good options, especially if the online seller is located locally or is able to deliver the forklift to the buyer.
Do Check the Weight Limit of the Forklift
Forklifts come with a range of weight or load limits that apply to the weight of the load on the forklift. It is important to follow these guidelines as a forklift that attempts to lift a load that is too heavy might not move, or in worst case scenario can break or even flip forward, injuring the driver. Buyers can decide on the load limit they need by looking at the average weight of the products they have to lift and move. A forklift with a load limit of 1,800 kilograms should not lift more than this weight, and is optimal for anyone who on average must use the forklift for items weighing 1,000 to 1,700 kilograms. Usually, the forklift performs better if not lifting its maximum load.
Don't Purchase Assuming Any Person Can Operate a Forklift
The Health and Safety Commission (HES) published an Approved Code of Practice (ACOP) requiring minimum basic training for the person driving the forklift. Training must be done per the model of forklift and be done per person who is operating the forklift. According to the HES, 24 per cent of vehicle-related accidents in the workplace include forklifts, and mostly due to poor supervision and training. Ensuring that the operators are fully trained and capable of handling a forklift without harming themselves or others is an important step before making the purchase. Alternately, the forklift may be purchased and then the driver can take an approved course using the forklift.
Do Consider the Width of the Forklift
Forklifts come in different widths and it is very important to choose a forklift that fits inside of the aisles in a warehouse or storage area. Some forklifts are also designed to be light and thin enough to fit inside of a semi-truck trailer, while others are designed for wide open spaces where they can take advantage of wider bases for more balance. Forklifts come in sizes from standard to extra narrow, and have a variety of different loading methods to reach the pallets or load based on the space available. For example, the so-called reach trucks are typically very narrow and can reach up and over to get pallets from large shelving.
Do Consider the Type of Forklift
There are multiple types of forklifts and most of them are created for slightly different purposes. From different engines to different load lifts, the different styles of forklifts greatly vary from one model to another. Buyers should consider the model class before purchase, and then check to see the capabilities of each model.
| Forklift Class | Description | Engine |
| --- | --- | --- |
| Class I-4 | Counterbalanced sit-down | Electric motor rider |
| Class I-5 | Counterbalanced sit-down cushion with solid tyre | Electric motor rider |
| Class I-6 | Counterbalanced sit-down with pneumatic tyre | Electric motor rider |
| Class III-2 | Low-lift pallet | Electric motor walkie |
| Class III-5 | High-lift reach type | Electric motor walkie |
| Class III-7 | High-lift counterbalanced | Electric motor walkie |
| Class IV-3 | Counterbalanced sit-down cushion with solid tyre | Internal combustion engine rider |
| Class V - 4 | Counterbalanced sit-down with pneumatic tyre | Internal combustion engine rider |
| Class VII-1 | All types | Rough terrain |
Each of these forklifts is useful for a different purpose, but most of them should be chosen according to power levels. Importantly, higher engine classes are more powerful, and for the most part, any engine with a lift weight of more than 7.5 tonnes should be internal combustion. Most buyers should also choose a forklift based on where they would like to use it. Rough terrain Class VII forklifts are useful for outdoors while electric motor riders are more useful for indoor situations.
Do Consider the Tyres of the Forklift
The tyres are also very important to any forklift purchase. Tyres affect the weight load and balance of the forklift and should be looked into before making a purchase. Cushion tyres or solid tyres are made of solid rubber and are best for working indoors. Pneumatic tyres are made of a solid rubber cushion with an air pillow and are more suitable for working outdoors. Solid pneumatic tyres are a combination of the two and are excellent for working indoors and outdoors.
Do Consider the Power Source of the Forklift
Forklifts include electric, gasoline, and sometimes diesel engines, and each have their own pros and cons. Electric forklifts benefit from low emissions, low fuel cost, quiet operation, and long runtime, but suffer from problems including more limited use and less engine power. Gasoline and diesel engines are both classified as internal combustion forklifts and, while offering more expensive fuel and higher emissions, are more powerful and better for outdoor use. Electric engines should never be used outdoors in the rain, but can be used outdoors in good weather conditions. Other factors such as length of run time, might also affect the decision; for example, electric engines require that the battery be full.
Do Check Forklift's Attachments and Features
Most forklifts come with different features and attachments, and for the most part these are very important. From safety features that might be mandatory or regulated from one area to the next, to comfort features such as harnesses and adjustable seats, there are a lot of different features to choose from. Attachments can also affect the purchase as some buyers might need specific attachments. A few of the most popular include tongs for lifting drums, tools for lifting bales, and flat panels for items that are not on pallets.
Major forklift features, such as side-loading or extra reach lifts, should also be considered, especially by anyone requiring the forklift to operate in very narrow hallways or space between shelves. Usually, three metres or less of room requires special extra narrow forklifts. Finally, options such as guided and computerised systems, are also an option but do usually cost a great deal more than a purely mechanical option.
Don't Purchase a Forklift Without Asking Questions
No matter where or how the forklift is being purchased, it is important to ask questions before paying for it. From a new purchase to buying a used forklift, asking questions can help the buyer to become acquainted with the forklift before purchase. Options include the actual lift load, expected life of the motor, any warranty that might come with the forklift, where to get training for the particular model, any specific licensing that might be necessary in a specific area, or, in the case of a used forklift, how old it is and how many kilometres it might have on it. Checking the condition of the tyres, and what tyres might be used to replace them could also be good questions for anyone purchasing a used forklift.
Don't Purchase a Forklift Without Checking Location
Last but not least, it is always important to check the exact location of the forklift when purchasing one online. Whether purchasing from an online heavy trucks auto salesman or from an auction website, it is absolutely necessary to check the exact location as well as delivery or pick-up options. It can be expensive to rent a truck large enough to haul a forklift. Unless the company purchasing the forklift already owns such a truck, it is usually a better idea to look for a local seller that can either deliver or allow the buyer to make a short drive to pick it up.
Buying Forklifts on eBay
eBay is an excellent place to purchase both new and used forklifts and can also be used to find tools, attachments, and even spare parts. If you are looking for your forklift on eBay, you should decide on a power option, load lift, type of tyre, and width of vehicle, and then search for a forklift using eBay search. You can review your options and consider comparing one to another until you find a forklift that offers the options and specifications that you need at a price you can afford.
Importantly, you should always read the full description, ask the seller any questions you might have, and make sure that all of the paperwork you need for the forklift comes with the vehicle. Arranging delivery or pick-up options before purchase is also important but, for the most part, you should prepare to pick up the forklift on your own. Finally, you can purchase the forklift according to eBay's checkout options.
Conclusion
There are many do's and don'ts when it comes to purchasing a forklift, but for the most part the main important goal is to research each model and decide on a truck that suits the needs of the business. Checking the engine type, load lift, engine power, capabilities, possible attachments, type of tyres, and even safety features can all help to ensure that the forklift is suitable for what it is being purchased for. For example, an electric rider forklift with solid tyres is mostly only suitable for indoor use, while an internal combustion forklift with pneumatic tyres is suitable for both indoor and outdoor use.
It is also very important to ensure that the person driving the forklift has training and certification for operating the exact model being purchased. Checking mandatory safety features such as backup lights and beeps, and alarms is also important. Finally, choosing where to purchase, what condition the forklift should be in, and settling on a budget are all important options to consider before making a purchase.