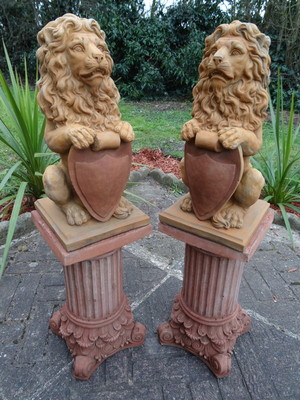 Making The Right Choice
With such a great variety of garden stone ornaments online it can be daunting to decide what you need? It depends upon the type & size of garden space you have. For A larger sized garden smaller ornaments may not be suitable for you. A Large centrepiece for your garden would be a good choice.

If your limited on space or only have a balcony or porch entrance area then smaller sized ornaments would be the right choice. Another consideration is what theme you would like to create. Be it a Mediterranean classical theme or a simple country primitive feel or how about a modern twist. Furthermore do you prefer animal or people character ornaments or simply water features. Weight is another consideration as garden ornaments can be from light to extremely heavy. You don't want to buy ornaments that you are unable to lift yourself, always check the weight guides in the listing so you buy items that you know you are able to comfortably lift up by yourself.


Don't Forget Your Wall!
If you don't have any garden space then that's not an issue. Why not add a cool stone wall hanging sign plaque feature to your home exterior or interior wall. There are many beautiful plaques to choose from. From Gargoyles,dogs,animal rams & cherubs also weather ones like wind & sun.