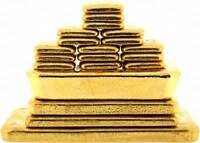 Why would you want to consider buying physical gold bullion?
Well, in these uncertain financial times, when a new comapny goes bankrupt each week, and even banks are no longer safe options for keeping your money, GOLD offers a great alternative.
Buying physical bullion bars, although becoming slightly harder of late, has never been easier thanks to Ebay. Private individuals, dealers and shops all freely advertise their bars for you to drool over!
Buying bullion sounds like you will have giant gold bars like you see in the movies, but these are London Good Delivery Bars and if you wanted one, it would set you back aroung £245,000!!
Gold bars are available by quite a few major producers. the most popular types are Credit Suisse, Pamp Suisse, Argor Heraeus, Emirates Gold, Kinebars, Johnson Matthey, Engelhard and Perth Mint.
My personal favourite of all bars is the Argor Heraues range of minted gold bullion bars.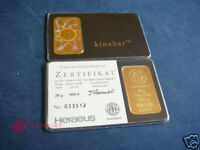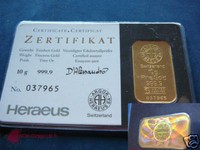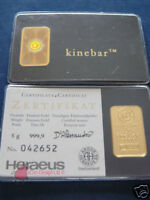 These Minted gold bullion bars are .999 pure 24k gold and come in these handy sealed plastic "credit card" type holders with built in certificates to authenticate their size, finess and purity.
Pamp Suisse also produce bars which are incased in certificates. In fact, i would be wary of buying any gold which was not provided with a cert.
Credit Suisse is the other most famous producer of gold bullion bars.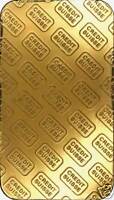 Most manufactures will offer a wide range of sizes for you to purchase.
How much do they cost?
The price of bullion, Gold and other forms, depends on the market price at that time. At the moment Gold is around £617 per Troy ounce. All precious metals are measures in Troy ounces. These are approx 10% heavier than standard ounces. There are 31.1g in a Troy ounce.
As with all investments, Gold can have fantastic rewards. I believe Gold is currently in a long-term Bull market, meaning it will continue to rise in value for some time to come. To give you some idea, one Troy ounce of Gold in 2002 would cost you around £150!!