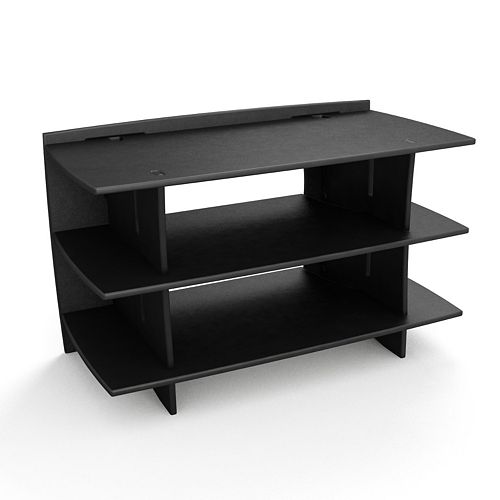 The audio equipment stand is a rack that a manufacturer makes for mounting, transporting, or storing audio equipment. Many of the companies that make audio equipment also produce stands. Off-brand audio equipment racks are also available for most types of audio equipment. Both the name brand and off-brand equipment stands are for sale in various department stores and online at eBay. Each component usually has an individual space on the stand. The space allows the equipment to breathe and keeps each component organised. Many of these racks are designed for a wide variety of both audio and audio visual equipment. Before purchasing an audio equipment rack there are a few things that must be considered. These things must be done to ensure a proper fit and a stable stereo system. To buy the right audio equipment rack, measurements need to be taken and a specific type of stand needs to be selected.
Measuring for Audio Equipment Stands
Each component needs to have its measurements taken to ensure that the stand purchased fits all of the necessary equipment. First, one needs to decide which basic type of stand that suits them the best. There are two basic types of stands. The first is the single rack, which is one piece and does not come apart after it is set up. The second stand is the compound rack, in which each piece of the rack is purchased either together or separately, sometimes with the components themselves. There are pros and cons to both types of racks and each rack is measured differently.
Advantages and Disadvantages

Single

Compound

Pros

More stable

More flexible design

Easier to handle and move

More flexibility in size

More configurations

Can be purchased separately

Cons

Less flexibility in size

Less customizable

May have extra spaces

Less stable

Sometimes more expensive

Requires assembly
After weighing the pros and cons of each type of stand, measure the length, width, and height of each component. Then, measure the length, width, and height of each part of the stand. After recording all of the measurements, add a few centimetres to the length, width, and height of the component. This assures that the component can fit onto the stand. Add a couple of centimetres to the audio equipment stand to be sure of a good fit as well. It is important that the component does not hang over the edges because it may be unstable or airflow may be blocked. Although most stands are not moved much after the initial setup, stability is extremely important due to the nature and expense of the equipment that a stand houses.
Selecting a Type of Stand
There are pros and cons to selecting a single piece or compound audio equipment rack, and there are not simply two choices that exist. Many different sources sell different types of stands and racks. Fit is, above all, most important, so this is where the search should begin, then consider the appearance of an audio equipment rack.
If it is a single rack, then the choice left to make is colour and cabinet size. The colour should match either existing audio equipment racks or the room in which the stereo sits. Racks come in many colours but most of them are metal, wood, black, or white. This does not mean that there are no other options available, but these are the main types of colours for single racks. Choosing a single rack is easier than choosing a compound one. Some single racks have smaller top compartments and larger bottom ones and some racks have all the same size compartments. A rack with the same sized compartments give it a very linear look, whereas the other has a triangular look to it.
Compound racks often come in the same colours as single racks. The individual component piece can be mixed and matched to create new and funky patterns. It is easier to match the overall decor of a living space with the variety of racks available. Both types of racks come in different shapes, such as square component pieces, round component pieces, and oval component pieces.
Shallow and Deep Racks
There are both shallow and deep audio equipment racks available on the market. A compound rack can be a combination of shallow and deep racks. A shallow rack is meant for smaller components. The shallow rack is only about 36 cm long, which means it holds a component that is less than 34 cm long.
A deep rack is between 40 and 45 cm long, normally. This means if the component is between 38 and 43 cm it can fit into a deep rack. There are rack components that are shorter and longer than these but they are considered non-standard or specialised racks. A shallow rack is the most common of the three, and is standard for most single-piece racks. Compound racks are found in more sizes than the shallow racks due to their flexible nature.
Tips on Selecting the Right Type of Stand
There are a few things that can help when selecting the correct type of rack. Keep in mind these do not fit all situations.
Airflow
When purchasing an audio equipment rack, always keep airflow in mind. Since the equipment is electronic, it puts out heat as it runs. Most audio equipment has a fan to cool the component. If those fans are blocked by the stand, the equipment may overheat and become damaged. When purchasing an audio rack, make sure that there is proper ventilation around the component.
Some audio racks have fans that can be mounted to them. These are often sold separately and improve the airflow to the component or those around it. These fans help compensate for racks with poor ventilation, but should not replace a rack with proper ventilation.
Power
The majority of the audio equipment on the market requires a power source. Some racks have clips or holes at the back of the rack to help tie down cords, which can become a mess. There are also racks with mounted plugs so one can simply plug the component into the rack. A mounting power strip can also be purchased. This is a power strip that mounts to the back of the rack to expand the amount of plugs that are available. These power strips usually have a surge suppressor to keep the audio equipment plugged in from being damaged in the event of a lightning storm or power surge. There are also racks that come with both a surge suppressor and a back-up power supply similar to those used for computer equipment.
Balance
A balanced rack is one that is not easily knocked over and prevents components from being knocked out of the rack. Single racks sometimes have smaller slots on the top and larger ones on the bottom. When one builds a compound rack, he or she should always put the bigger component slots on the bottom and the smaller, lighter ones on the top because a rack may become unstable with uneven weight distribution.
Each of these things should be considered when purchasing an audio equipment rack. Making sure that the rack is balanced, has proper power, and good airflow can keep the equipment safe and damage-free.
Buying Audio Equipment Racks on eBay
A good place to purchase any type of equipment rack is the online auction house, eBay. A wide selection of both compound and single racks are available. All you have to do is go to eBay and enter the type of audio equipment rack you want into the search bar, and hit search. A list is populated of the different audio racks available for bidding or purchase. From there, you can select a listing in which you are interested by clicking on it.
Most listings include a description of the product and its dimensions. It may also include shipping and return information for the item. If you have more questions, or if there is something that is not included in the description, you can ask the seller a question before bidding or purchasing the item.
Another bit of information on the listing is the seller's rating and feedback, which shows any comments left by previous customers.
Conclusion
Audio equipment stands are a great way to store individual audio components. A good stand keeps the equipment cool, minimizes dust, supplies it with power, and is well-balanced. There are also a variety of ways that the cords can be controlled, including rack-mounted power cords and power strips. Many of these stands are either single stands or have component parts that can be purchased separately. Measuring both the stand and the components is necessary to make sure everything fits properly, regardless of the type of stand being purchased.
Audio equipment racks can be purchased from a variety of audio shops and online outlets, such as eBay. Although many people match the rack with their decor, it is not necessary. Most of the racks available today come in silver, black, brown, and wood but there are others available. A well-planned purchase should provide you with a stable audio system for years to come.