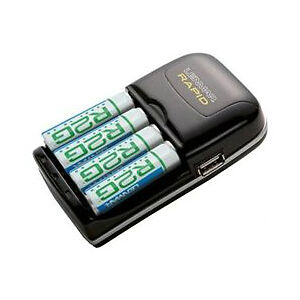 The use of personal portable electronics is growing continuously, with many people having several gadgets they use on a daily basis. Many of these devices are powered by batteries, which can be either rechargeable or non-rechargeable. Non-rechargeable alkaline batteries are disposable once they are drained and they have become an environmental concern. On the other hand, rechargeable batteries can be used time and again simply because they can be easily recharged, as their name suggests, by using suitable battery chargers which are plugged into regular power sockets at home.
Compared to disposable batteries, rechargeable ones are highly economic and easy to handle, because one does not need to carry multiple batteries when travelling. These batteries can be recharged with the help of various types of chargers, which can draw power from the electrical lines. This means that recharging batteries is also cheaper than buying new batteries. The efficiency of the charging depends on a range of factors and buyers should be well informed about the characteristics of battery chargers in order to buy the right one for their needs.
Tips for Choosing a Battery Charger
When it comes to choosing a new battery charger, it may sometimes be intimidating to select one, mostly because there are so many options available. Buyers who wish to opt for a high-quality product that can last for the years to come should follow a couple of tips that can help them make the right decision.
Selecting the Right Type of Battery Charger
By choosing to use rechargeable batteries, you can make sure that you do not have to purchase another set of batteries anytime soon. Reusing the batteries you need every day is possible thanks to the large variety of battery chargers available on the market. The first thing to consider is the type of batteries one is looking to recharge. Most battery charges are intended for AA or AAA batteries, and buyers should know what type their electronic devices require. Next, one should decide on the capacity of the charger, with the most popular choices being for four or six batteries.
It is always a good idea to have at least one extra pair of batteries for the time the other pair is recharging. Buyers should also be aware of the power input requirement of their electronic devices. This is measured in volts (V) and the charger should be able to deliver at least the same output. Some personal electronic devices cannot be used while their batteries are charging up, so buyers should plan using them accordingly.
Avoiding the Overheating of the Batteries
The efficiency of a battery charger depends on several factors, including the type of the batteries, the age of the device, charge optimisation, number of completed charges, and more. Two things that can damage the lifetime of a battery charger are overheating and overcharging of the batteries. In order to avoid this, buyers may opt for chargers that feature a charge monitoring system. These chargers monitor the cell voltage as they are charging the batteries and shut off the charging process once the battery charge is finished. Charging times may vary between eight and ten hours, depending on the capacity of the batteries and the type of charger. Another option buyers have when they want to avoid overheating is a charger with an embedded LED status indicator.
Storage Capacity of Battery Chargers
The storage capacity of a battery is the determinant for the charge a battery can store and send out to a certain electronic device before needing recharging. This is expressed in amp hours or milliamp hours. However, the actual power discharged by a battery is influenced by other factors as well, including voltage fluctuations, temperature, and discharge rate. By knowing the storage capacity of the batteries, one can approximate the number of recharges needed over a determined period of time. This information is especially helpful for users who need to use their battery-powered electronic devices when travelling.
Common Features for Battery Chargers
Different battery chargers come with different features and buyers who are not sure about the type they need to buy should consult them in order to see if a certain charger is fit for their needs.
Battery charges that have in the product description the terms 'worldwide use possible' can be used in most countries of the world. In order for this to be possible, chargers with this feature are able to run of an input voltage of 100V to 240V AC (alternating current). Buyers should make sure they have a plug set for different regions when travelling. Another useful feature for battery chargers is the short circuit protection. This function protects the charger from being damaged in the event of a short circuit.
Some models of battery chargers come with a refresh function, which means that they constantly pulse charges and discharges the battery with the purpose of shaking up the electrolyte and make it perform like a new cell. This is useful for batteries that have been charged over and over again and need a boost to get their storage capacity extended.
Types of Battery Chargers
The time required for a battery to get charged completely depends on a range of factors, with the most significant of them being the size and type of the battery and the type of charger used. Some of the most common types of rechargeable batteries are lead-acid, alkaline, nickel-iron, nickel hydrogen, nickel–metal hydride, lithium-ion, and nickel-zinc. The charging rate is an important thing to take into account when buying a battery charger, because a higher charging rate means an increased danger of overheating.
Those who are looking for quick charging should buy more complex chargers. As a rule of thumb, it is not possible to charge a certain type of battery in a charger that was designed for another type. Universal chargers are available and they can charge all cell types, but they tend to be more expensive because they need to incorporate sensing devices in order to apply the appropriate charging profile for a certain cell type. The table below illustrates average times for recharging different types of batteries using a four, eight, or 16 battery charger.
| Battery Charger | AAA (hours) | AA (hours) | C (hours) | D (hours) | PP3 (9V) (hours) |
| --- | --- | --- | --- | --- | --- |
| Four Battery Charger | 1.5–2.25 | 5–6.5 | N/A | N/A | N/A |
| | 0.8–4 | 1–5 | 1.4–6 | 1.4–11 | 1.7–4 |
| | 0.8–4 | 1–5 | 1.4–6 | 1.4–11 | 1.7–4 |
Buyers should keep in mind that the values above are simple guidelines and that actual charging times may differ significantly according to the type of charger used and the age of the batteries. In addition to that, charging times may also differ according to temperature of the room and a range of other factors.
How to Find Battery Chargers on eBay
If you are looking for a place where you can browse through and compare hundreds of types of battery chargers, eBay is a good place to do this. Battery chargers come in many different shapes and sizes and you can easily find what you need by performing a simple search on eBay.
All you actually need to do in order to find the right battery charger for your needs is to type the words "battery charger" into eBay's search bar and then simply look at the results you get. If you find the selection to be overwhelming, you can choose to refine your results according to your preferences, including type of battery you need, capacity, voltage, price, brand, and more. If you are looking for a particular model, you can search for it directly by typing the relevant keywords in the search bar.
When shopping for a battery charger on eBay you should be careful when it comes to the product description. This can provide you with all the information you need to know about a specific battery charger and you should make sure you read it. Remember to check out the location of the seller to save some money on delivery fees.
Conclusion
Being familiar with the basic characteristics of battery chargers can help buyers make the right choice when looking for a new device of this kind. The type of battery and the way it is used are essential factors to take into account when it comes to shopping for a new battery charger. Spending enough time searching for the best quality, brand, and price is a good way to make sure one purchases the right product.
eBay is a good place to start the search for a new battery charger, mostly because on this website buyers can find a large range of products and can browse through them with ease. The intuitive and user-friendly search system of the website can help anyone find the right product quickly. Whether one is looking for a new or used battery charger, the diversity of products available on eBay can transform their search into a pleasant shopping experience.