In today's fashion world, we see so many women wearing
fashionable clothing from dresses to suits from pants to
of course black leather jackets!
(Please vote YES on our guide if you agree. Thank you so much!)
A black leather jacket is a jacket that can be worn in most any occasion depending on the length and style.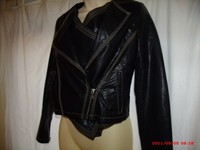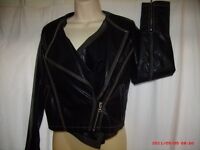 When buying a black leather jacket, consider where you will be mostly wearing the jacket.
For work, you may want to buy a longer style of jacket similar to a trench coat or a little shorter.
Wearing a black leather jacket outside of work, a much shorter style will suit most women the best.
No matter what occasion that one is wearing the jacket, it must be comfortable most of all.
If you love the style of the jacket, then add it to your wardrobe. Chances are that you will
find the perfect place to wear it.
New and Loved Fashion Warehouse
in London on eBay specializes in selling
brand name women's jackets, women's clothing, shoes, and so much more!
eBay Marketing
by TonyasDynamicDesigns