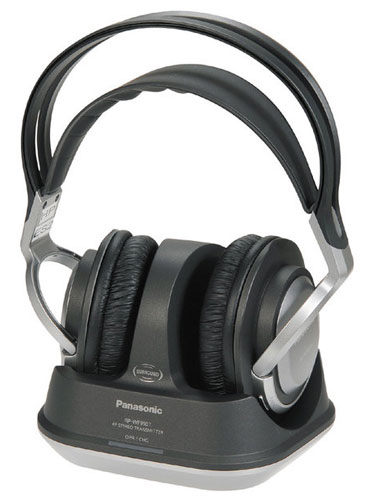 Cordless headphones for TV are the ideal solution for those who enjoy vibrant audio when watching TV. Many television sets have embedded speakers but these can often produce lower-treble sound. Paired with an average fidelity and what is often a low frequency range, market TV speakers can distort audio modulation when the volume increases. This makes it difficult to perceive onscreen speech and sometimes even music. Wearing headphones can help correct this problem. The audio is contained to the area around the ear and is often designed for high fidelity in low-treble frequencies. This allows viewers to listen at a safer volume level. It can especially be beneficial in keeping noise that others find distracting to a minimum.
However, headphones more often than not, have cords that are nowhere near long enough to comfortably reach from the TV connector to the couch. Cordless headphones eliminate this problem. Some even have features that regulate volume or automatically switch the sound from the speakers to the headphones when the latter are turned on. In addition, cordless headphones for TV have several different designs and types for buyers to consider before making a purchase.
Cordless headphones for TV can be purchased at electronic stores, audio equipment retailers, and through online marketplaces such as eBay .
Cordless Headphones Technology
As shoppers consider which cordless headphones are the best choice, they should consider the technology of each type to ensure that it best serves their intended application. There are three main categories of cordless headphones readily available on the market:
Technology

Features

Infrared

Line of sight use

Connects directly to TV audio cables

10-metre effective range

Radio Frequency

Transmit from anywhere in the house

Compatible with analogue, plasma, and HDTVs

More than 100-metre range

Bluetooth

Transmits through objects

Compatible with any wireless-capable device

Connectivity range of up to 10 metres
Since each type offers different possibilities to users, buyers should carefully consider how they intend to utilise the headphones. If there is no direct line of sight to the TV from the viewer's position, infrared headphones, for example, may not be the best choice.
Infrared Headphones
Infrared cordless headphones, designated as IR headphones use line of sight technology. This means that viewers using these headphones must be lined up with the TV transmitter in order for them to operate properly. The transmitter is connected to audio cables within the television set that utilise LED lights to focus a light beam towards the receiver. The light serves as pulses of signals the receiver then interprets as sound waves. Users should be aware that the effective range of these headphones is generally about 10 metres.
Radio Frequency Headphones
Another technology for buyers to consider are the Radio Frequency cordless headphones, also known as RF headphones. These headphones transmit audio frequencies through objects, enabling users to move from one room to another without loss of audio to the headphones. These headphones are compatible with analogue, plasma, and LCD HDTVs, as well. Because RF headphones broadcast in all directions, however, they lack the privacy that infrared headphones maintain. With a range of more than 100 metres, RF signals often overlap if more than one such device is being used at any given time.
Bluetooth Headphones
Bluetooth cordless headphones or the BT technology is the most recent of the three options. This technology can connect wirelessly to the viewer's TV, as well as to mobile phones and other wireless devices. It is compatible with plasma and LCD HDTVs. Bluetooth headphones also have a connectivity range of up to 10 metres.
Types of Cordless Headphones for TV
For those who want the best audio experience possible, gaining knowledge on the various types of cordless headphones for TV can be very beneficial. Out of the variety of designs and technologies, cordless headphones also have several distinct types to choose from. Two of these, supra-aural headphones and circum-aural headphones, are the most readily available. Understanding the difference between the two assists prospective buyers in making final decisions on which headphones may best suit their needs.
Supra-aural Headphones
Supra-aural cordless headphones are also known as on-the-ear headphones. They generally feature pads that sit on top of the ear itself rather than surrounding it. Most supra-aural headphones have a closed-back design to keep the device in place. Because they are small, they often fit well over the ear, providing good noise isolation. This feature also reduces the discomfort of overheated ears by providing better air flow to the skin.
There are a few disadvantages to these headphones, however. Due to their design, they typically do not have as much sound insulation as their circum-aural counterparts, discussed below. In addition, it can also be difficult to find ear cup sizes that match up perfectly with individual ears.
Circum-aural Headphones
Often better known as around-the-ear headphones, circum-aural cordless headphones cover the entire ear. They are available in closed and open-back designs but the latter offers users little noise isolation. Circum-aural headphones are popular due to their utilisation of drives that provide a large, spacious audio sound some compare to the effects of surround sound. Although these headphones create an effective seal around the ear, they can also be too big and bulky for active people. What's more, they are known to cause a "tubby" sounding bass in some instances.
Other Considerations
While technology and types of cordless headphones for TV are important, prospective buyers should keep in mind a few other considerations, such as power consumption and a solid base unit.
Most cordless headphones come with two components: the headphones and a base station that connects to the device the user wishes to use with the headphones. When looking for cordless headphones, then, buyers should choose a device that is compatible with their chosen application. This makes setup and installation easier while ensuring that all the features of the cordless headphones can be used properly. Since the base station determines the distance between the headphones and the device they are connected to, it is also important that buyers look for a model that offers them a useful roaming range.
The type of base station also depends on the technology of the cordless headphones chosen. Infrared headphones, for instance, limit movement while using them. The range of the base station should reflect that.
Last, buyers need to be aware of what types of batteries the cordless headphones require. Headphones that use a great deal of electricity drain batteries quickly, which can increase overall costs over time. Some models, especially ones that use a lot of power, often provide rechargeable battery options that reduce costs and increase the value of the headphones.
Buying Cordless Headphones for TV on eBay
Once you know what you want and why you want it, it is a quick process to purchase cordless headphones for TV on eBay. You should begin by entering your keywords into the search box that can be found on every eBay page. For example, if you want to see results for Bluetooth cordless headphones, enter "Bluetooth cordless headphones" into the search field. Depending on how many results you get, you may want to use the category or organisational filters to narrow the results based on price, condition, style, and more.
Each item listing allows you to peruse supplied pictures, details on the condition of the headphones, and any applicable shipping information. Many sellers also provide their preferred payment methods in order to expedite your order once you have made your decision.
It is recommended that buyers view the seller's information as part of their decision-making process. Clicking on the seller's name takes you to their profile page. There, you can view their location, eBay selling history, and feedback from other customers. You can also contact the seller to ask questions about his or her items.
Conclusion
The key to buying the best cordless headphones for TV is to start with the reason for obtaining them. Once the buyer knows why and for what the headphones are needed, making a design choice is simple. The best uses for cordless headphones are creating a better audio experience, reducing the level of noise distraction to others, or obtaining a more convenient audio setup.
The next step in finding the right cordless headphones is determining what technology best suits the buyer's needs. Bluetooth technology provides a different experience to infrared technology, for instance. Whether to buy analogue headphones or digital headphones is another decision buyers must make. Many times, this is determined by the type of TV they own. Last, there are various designs, some more comfortable than others, that are available to cordless headphone users.
Once buyers know what they want, they can purchase cordless headphones from traditional stores or online marketplaces such as eBay. eBay has a wide variety of used and new headphones from private and commercial sellers. For those who want to compare prices and types of cordless headphones for TV, this is an excellent place to start.