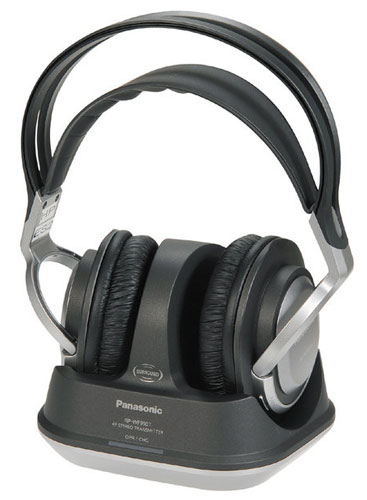 Headphones, headsets, and earbuds are all listening devices but each one is slightly different. Headphones are large with padded ear cups used for listening to music, voice, or television. Headsets are smaller and do not completely cover the ear, but look similar to a smaller version of the headphone. Headsets normally have the same features as a pair of headphones, but usually also have a microphone attached. Earbuds do not have a strip to anchor them over the head. Instead, they simply fit inside of a person's ear. Each of these have slightly different functions but operate on the same basic principles.
When looking for a quality pair of headphones, a great place to look is eBay. They have a vast selection of headphones, headsets, and earbuds. In the quest for the best audio quality, there are a few things that need to be considered: how the headphones are used, the types of headphones available, and the overall quality of the headphones.
Different Types and Uses for Headphones
There are quite a few different uses for headphones. One of the most popular uses is to listen to music or television without disturbing others. Many types of headphones have the ability to block out almost all sound, be it ambient noise or the sound coming from the headphones. Another use is for exercising, jogging, or working out at a gym. Gyms are often loud, and listening to music or audiobooks on an MP3 player or other device keeps the mind entertained while performing repetitive movements. Headphones can also be used while playing video games to create a better experience.
Professional Headphones
There are also headphones that are professional headphones. The professional headphones are used by DJs, entertainers, and other professionals. These headphones are normally heavier and provide a better sound quality in a loud atmosphere. Each of these uses requires a different type of headphones. The manufacturers of headphones, such as Beats or Bose, each produce a broad line of different headphones for different activities.
Earbuds
Earbuds are one of the most comfortable and lightweight types of headphones. Although technically not headphones, they perform the same functions as the standard headphones. Earbuds have tiny speakers that fit inside the ear and do not have a band that runs behind or over the head. They have similar sound quality to other types of headphones but less noise reduction.
On-Ear Headphones
There are lightweight headphones available as well, also known as on-ear headphones. These just cover the ear and are often collapsible and highly portable. People looking for a lightweight set of headphones that do not have large bands across the head or back of them should look into these on-ear headphones. They have less noise reduction than other types of headphones, but are considerably lighter and more portable. Many people who just want to listen to music on a bus, plane, or other semi-quiet atmosphere use these.
Full-Sized Headphones
Full-sized headphones are the largest type of headphones. Even though they have drawbacks, these are known to produce the best sound quality and superior noise reduction. They have cups that fit completely over the ears and pads to keep noise from overriding the audio that is being played. These are the type of headphones that are often used professionally.
Deciding on a Type of Headphone
When deciding on a pair of quality headphones, keep in mind all of the various styles of headphones that are available. Think about how they are used; if a pair of headphones are going to be used on a motorcycle or while jogging, earbuds are possibly the best. If they are going to be used in a semi-noisy atmosphere, a pair of lightweight headphones should do the job, and if using them in a very noisy atmosphere, then the full-sized headphones may be best.
Before purchasing headphones, it is best to compare all of the different headphones and their uses. Each type of headphone has its own pros and cons.
Headphones

Pros

Cons

Uses

Earbuds

Lightweight

Comfortable

Easy to use

Can be used with most audio players

Little or no noise reduction

Delicate

Cords can break

Not secured by a headband

Jogging

Hiking

Biking

Working out

Headsets, or on-ear headphones

Lightweight

Secured with a band

More noise reduction than earbuds

Come in over-the-head and behind-the-head varieties

Comfortable over-the-ear design

Covers ears

May not be comfortable for some people

Light noise reduction

Less stable than some headphones

Listening to books or music in semi-quiet environments

Non-strenuous workouts

Dictation or transcription

Full-sized headphones

Padded headband

Reduces most if not all noise

Covers the ear completely

Often has volume control

Extremely stable

Covers ears completely

Some are considered heavy

Blocks out emergency noises

Bulky

DJs

Recording artists

Listening to television or radio

Entertainers for cutting music

Post-production music
The type of headphones chosen depend almost entirely on what the user wishes to experience. If they are just out for a jog, they need something that is lightweight and does not slip. If they are listening to music at home, then a full-sized set of headphones provide a better listening experience.
Headphones Quality
Once buyers have chosen a pair of headphones, they should find them on eBay, a popular auction website. Buyers can do this by going to the eBay website and typing their search terms into the search box, and then clicking on search. For example, a person looking for full-sized headphones can type in "headphones", and a list with all of the full-sized headphones and headphone accessories available are populated.
Buyers should scroll through the listings until they find the listing that they want, click on it, and read the description. Although it is hard to tell quality from a picture, most eBay listings have a detailed description of the headphones as well. Buyers do well to read the description carefully.
Specific Qualities
When looking for specific qualities, like noise reduction, weight, impedance, cordless, corded, and output a person can judge the sound quality of the headphones for which they are searching. It is a good idea to be informed about the different levels in which these features are available, knowing how much sound the pair of headphones emits and how much power they draw. A good-quality pair of headphones produces clear, crisp sound without background interference. Since everyone's hearing is slightly different, the exact specifications are up to the consumer.
Comfort and Strength
The headphones or earbuds should feel comfortable. They should not slide or fall out and should not be too heavy. Their construction should be solid without any of the connections to the cords being visible. Since many headphones are adjustable, they should have a smooth adjustment mechanism. There should not be any ripping or tearing in the foam covers of the headphones.
Even earbuds should feel sturdy to the touch. The connections to and from a stereo or MP3 player should be a tight fit, but not so tight that it has to be forced. These connections should also be clean and solid.
Each person has a different idea of the quality they would like in a pair of headphones. When reading a description of a pair of headphones on eBay, make sure that all of the specifications that are desired are included. If there is uncertainty about policies or item descriptions, then click on the ask the seller link; using this can clear up any concepts that are not in the description for the product.
Buying Headphones on eBay
When purchasing a headset on eBay, all you need to do is input the type of headphones that you want into the search box and click search. Once the list of different headphones is populated, you can scroll through to browse the different types of headphones that are for sale. If you do not immediately find a set that is acceptable to you, then you can modify your search terms to narrow the results. Once you find a pair that fits your buying criteria, click on the listing.
When purchasing items from eBay, there are a few things of which to take note. Read the item description and the seller's shipping and return policies very carefully. These become important if the headphones arrive and are not exactly what you expected. Also, the listing page contains a star rating and seller feedback. Take a look at the feedback of past buyers to determine if you want to make a purchase from a particular seller. If there are any problems with the listing or there is not enough information available, be sure to use the ask the seller button.
Conclusion
Each person has a different idea of what they want out of a set of headphones. The quest for the perfect set of headphones is an individual one. The pair of headphones should suit your needs, personality, and listening level. There is no correct type of headphones for everyone. By considering how the headphones are used, the different types of headphones, and the different qualities of headphones, you can find a pair that accomplishes the level of sound quality that is desired.
Shopping for different types of headphones is easy on eBay. You can browse through the listings, compare them, and ask questions. Most of the sellers are happy to answer any questions that you may have about their products. Whether you are looking for earbuds, lightweight earphones, or full-sized headphones, comparing the products and remembering the purpose of the headphones is a good way to find and purchase the best audio quality headphones.