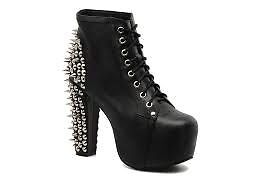 The Jeffrey Campbell brand is a most have for anyone who loves shoes, but if your like me and cant afford the price eBay is the place to go. It's hard buying any brand and having 100% confidents that it is what it says on the tin but with a little research you can be confident.
I got my Jeffrey Campbell's from eBay, I was lucky mine came as described and I got a bargain.

What to look out for?
Price - Look at the prices of other Campbell's being sold on eBay and on the Jeffrey Campbell website its self and other websites that sell the brand. It's easy to get a bargain you just need to look and research a little to get the best price. Remember to look at the postage as well! it all adds up in the end.
Quality - Always read the description. Most sellers will always write if their is any marks or damage to the shoes. I know a few people don't read the description and don't end up with the quality they had thought they were buying for. if your not sure ask the seller, they wont mind. don't be shy.
Fakes- it's hard to know until you have them in front of you but a few things I do just to check. I read all the information the seller has given me, if I'm still unsure I ask the seller. I also look on other websites that sell Jeffrey Campbell's such as their own website or Office's website which sell Jeffrey Campbell's etc just to see and compare them and the price!. I like getting boxes with my shoes and the J C boxes look pretty but I also use that to see if the shoes are fake most people wont have the brand box if they don't have the product.

Obviously these points aren't fool proof!
anyone can write a describe and leave out the fact there's a mark or chip in the heel, put shoes in other brand boxes and sell look a like's but these are just some hints and tips that I use when I buy My Jeffery Campbell's from eBay and mine have all been what I had thought and I love them. I hope this guide will help you.
I have written this guide as part of a promotion as I am a member off Buzz agents.